An Interview with Brad Pitt on the launch of Le Domaine Skincare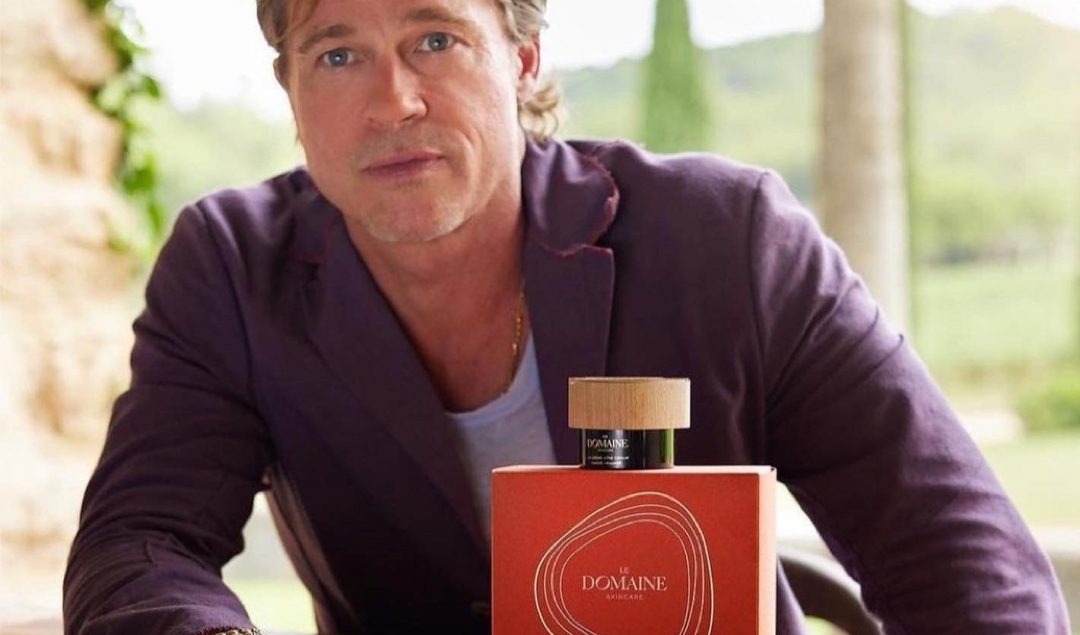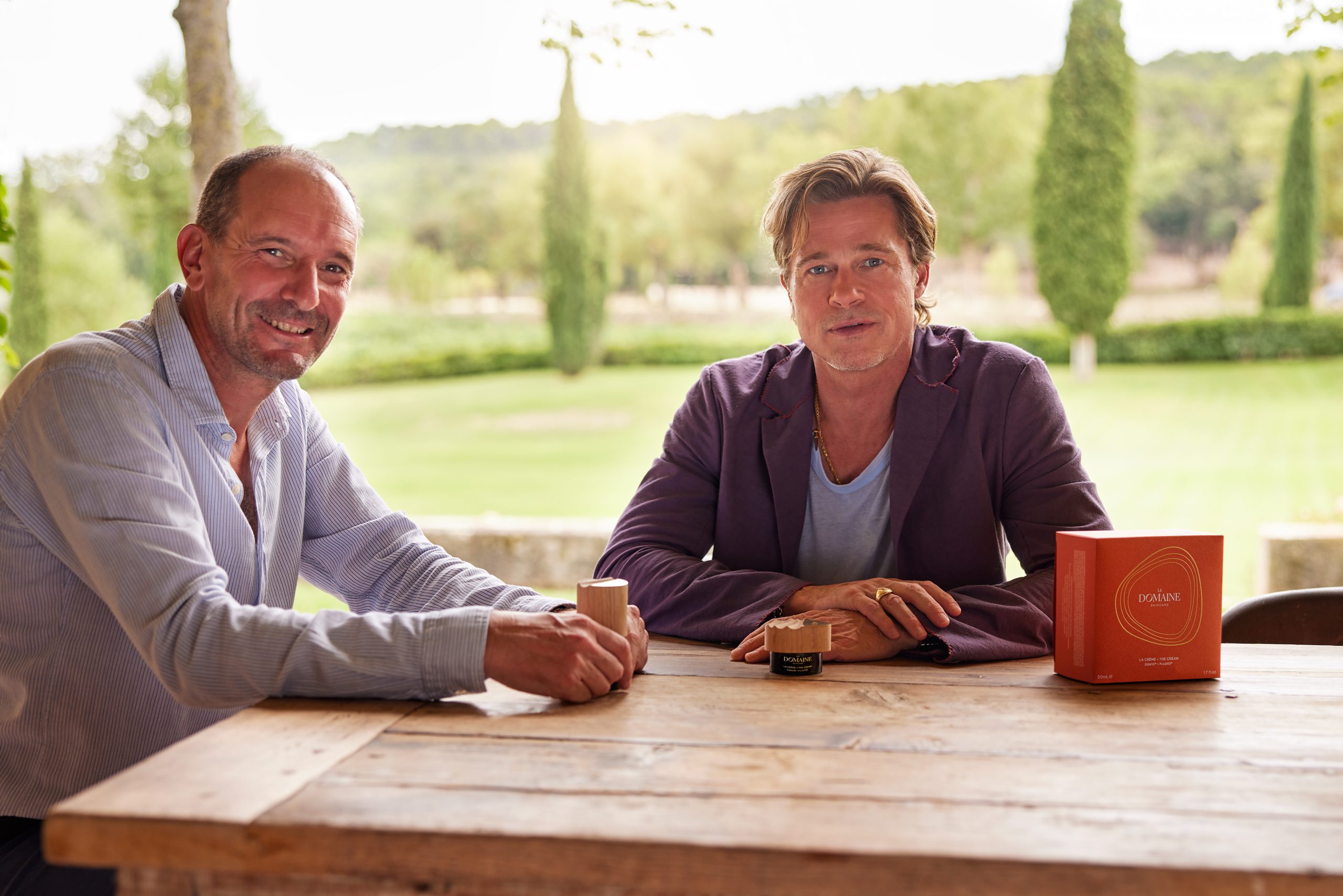 Brad Pitt is an American actor and producer. Since 2008, he has owned Château Miraval in Provence where he produces a world-class rosé together with the Perrin family.
AN INTERVIEW WITH BRAD PITT, MARC PERRIN AND THE CREATORS OF LE DOMAINE SKINCARE
Brad, how did you meet the Perrin family?
When I decided to relaunch our Miraval rosé back in 2012, I was introduced to them through a mutual friend. He praised their work at Beaucastel. Since we share the same values for authenticity and preserving nature and terroir, we immediately hit it off.
What made you decide to create a new skincare line together?
For a long time, I had tossed around the idea of creating a skincare line. When the Perrins told me about the research they had conducted with a professor on the antioxidant property of the grapes and leaves, it clicked. We rapidly moved on with the concept of developing a unique sustainable skincare brand merging state-of- the-art research with the best natural ingredients.
Did you give some guidelines for the skincare range?
I was involved in the creative process every step of the way from choosing the name and the brand identity to testing the products. I'm a big fan of every single one and use The Cream daily. It is my favorite one—I really like the texture because it's creamy, it moisturizes quickly. It makes my skin much more comfortable under the California sun.
What about the packaging design?
As you may already know, I'm a big fan of architecture and design and I loved the idea of upcycling oak wood from the wine barrels of the Perrin wine estates. We worked with a local designer to create this unique cap for the jars and bottles. It is made in France by craftsmen and each piece is unique. The result is both minimalist and sensory.
Will you embody the range?
This is not the plan. Le Domaine is not meant to be a celebrity brand. It is an anti-aging cosmetics range for every man and woman. I love the idea of a genderless line. When we created it with the Perrins, we agreed on the fact that we did not want a face to represent it.
Do you plan to source some local ingredients from Miraval in the future?
We already use some olive oil from Miraval in the Cream and hopefully in the near future, more natural ingredients will be sourced from our estates. I also have this passion for trees and have created an arboretum with many Mediterranean plants that are potentially interesting for the range.
After two years of renovation, we are reopening Miraval Studios. This is a very exciting project and we start to see great bands coming back to Miraval. More generally I want Miraval to be a place of artistic creation and creative collaboration. This is our plan for the future.
MARC PERRIN INTERVIEW
Marc Perrin is a fifth-generation wine grower; since 1909, his family has owned the famed Château de Beaucastel, located in Châteauneuf-du-Pape in the Rhône Valley. The Perrins's exceptional estate pioneered biodynamic methods, and prestigious wine has been made there for 2,000 years. Marc is CEO of Miraval-Provence and Vins et Domaines Perrin.
Marc, how did you meet Brad Pitt?
We had mutual friends in the United States. After he bought Château Miraval in 2008, he asked my family how to im- prove the quality of Miraval wines. We met to discuss it, and it turned out that we shared the same ideas and the same desires for the future of wine production at Miraval. We got along from the start, because we share the same values, and the same love and respect for the earth.
How did you come up with the idea of creating a cosmetics brand together?
The Perrin family has been producing wine in Châteauneuf du Pape since 1909, and ours was one of the very first estates to use biodynamic methods. Beaucastel is an exceptional estate where grapevines have been cultivated for 2,000 years. We are rooted in this fine wine growing tradition. We use 13 different grape varieties at Beaucastel, which is relatively rare. We know that grapes are beneficial to our health, and we wanted to see where else we could take that knowledge. We spent 10 years trying to understand exactly how it all works and how to compare varieties. We ended up with a formula that maximizes the antioxidant effects of the different varieties. After that, the idea of a cosmetics brand soon followed. The meeting with Brad Pitt created a natural opportunity to bring our ideas to life with a very authentic approach, rooted in terroir and the benefits that Nature has to offer. Our approach is firmly rooted in Nature, grapevines, and our relationship with the earth.
Why call it Le Domaine?
Le Domaine was a pretty obvious choice. The word encapsulates our terroir and our history. It evokes heritage, the passing along of family values we hold dear, and a sustainable form of agriculture.
What is the philosophy behind Le Domaine cosmetics?
I would say authenticity, first and foremost. You can see it in our focus on naturalness and products developed with high-quality ingredients, and in our commitment to research to create effective active ingredients.
We built this new brand like a start-up, envisioning a better world and cosmetics that have less impact on the planet. The brand also has philanthropic aims, providing financial support to ProGeLife, which conducts research into rare diseases.
Le Domaine is based on two pillars: Science and Terroir. How is that reflected in the products?
We created Le Domaine, a marriage of Science and Terroir, to slow the signs of aging and help us be at one with Nature and our own nature.
The carefully designed products are based on more than 10 years of research by Dr. Teissedre on active ingredients derived from Famille Perrin grapevines, and more than 20 years of research by Dr. Lévy on progeria, a rare premature aging disorder, whose mechanisms are also at work in natural aging.
What is your product positioning?
Le Domaine is the quintessential, authentic, premium, gender neutral anti-aging skincare brand; we are authentic in our research and active ingredients, authentic in our effectiveness, and authentic in our commitments.
You are launching a short line of only four products (a serum, a cream, and a cleanser in September 2022, and a lotion in early 2023). Do you have plans to extend the line? Yes, we have other products in development for the coming years, but we intend to keep the line relatively compact.
You attach a great deal of importance to limiting your environmental impact. How is that reflected in the packaging?
We wanted to limit our use of plastic as much as possible, and where it is unavoidable, we have chosen PCR (post-consumer recycled) sources. We have opted for glass jars and bottles, and ours are among the lightest on the market.
We also knew from the start that we wanted our packaging to be refillable and upcycled. For example, the oak for the stoppers is recovered from Perrin estate wine bar- rel scraps. What's more, each stopper is unique, sculpted individually by an artisan from the Jura, region of France. They evoke the furrows of a vineyard and play with light to give the material its special luster. The result is organic and appeals to the senses.
As for the paper packaging, it is sourced from FSC® (Forest Stewardship Council) certified suppliers. All partners involved in producing our packaging are French or Euro- pean and were chosen for the quality of their expertise.
Where can consumers find Le Domaine cosmetics products?
The Le Domaine line will be available starting this fall via the e-commerce site le-domaine.com as well as at a selection of high-end department stores and retailers. Le Domaine products will be distributed in Europe (France, the UK, Italy, Germany, Switzerland, and Benelux) and in the USA. Within three years, Le Domaine will be present on every continent.
PIERRE-LOUIS TEISSEDRE INTERVIEW
Dr. Pierre-Louis Teissedre graduated from the Pharmacy School in Montpellier in 1989 and earned his PhD from the University of Montpellier. He served as Associate Profes- sor at the University of California Davis in the Viticulture and Enology Department. Dr. Teissedre is a full professor at the University of Bordeaux Institute of Vine and Wine Science and was the Deputy Director of the INRA joint research unit UMR 1219 Enology with responsibility for the Œnopro group. Currently, he leads the Applied Chemistry Laboratory for joint research unit 1366 Enology. He is an expert in the Wine Technology group and chairs the Health and Safety Commission for the International Organisation of Vine and Wine (OIV). Dr. Teissedre is the head of Œnoviti International (67 partners) and runs the national enologist certificate as well as international relations for ISVV.
He specializes in research topics related to the phenolic compounds of grapes and grapevines: qualitative, sensory, and physiological aspects, the analytical chemistry of grapes and vines, the quality of wine during vinification and aging, food safety (contaminants) and health in enology science. He has cultivated many scientific collaborations, both industrial and academic. He has also authored more than 200 publications and papers in peer-reviewed international journals and is co-inventor on 13 patents.
Can you describe your work? What is your specialty?
I am a professor at the University of Bordeaux Institute of Vine and Wine Science specializing in Enology. I am also an enologist, and I teach students preparing for the national enologist certificate and studying for Master's de- grees. In my research laboratory, I work on topics including polyphenols in wine and grapevines.
How long have you been working with the Perrin family?
I've worked with the Perrin family for more than 10 years, finding ways to upcycle the grape pomace recovered after making wine. Pomace can be made from the peduncle and pedicels (green stems), skin and seeds of the grapes, or from just grape skins or just grape seeds. It contains unused constituents called phenolic compounds, including tannins and anthocyanins. During vinification, some of the phenolic compounds in the fruit pass into the wine, bringing certain properties such as taste and a red color. The Perrin family wanted to recover the rest of these compounds and find a use for them.
For Le Domaine, my role involves the chemical analysis and characterization of the polyphenols from grape pomace. I was able to identify the best possible combination of their varieties of grape to create the maximum antioxidant effect. With our cutting-edge tools, we identify and classify polyphenol extracts to obtain the best combinations and formulations of phenolic active components that will reproduce their full potential activity.
Can you explain the process of oxidation?
Briefly, oxidative stress is natural; it's a constant stress throughout our lives and as we age. It's a continuous pro- cess that becomes more pronounced as we get older. We need this oxidation to live, but it also damages parts of our DNA, among other things. Oxidative stress results from an imbalance between the production of free radicals and the body's ability to neutralize these toxic compounds be- fore they cause harm to a range of cell components. Our goal, then, is to control these processes by fighting the production of free radicals, because oxidative stress is now recognized as the fundamental explanation for phenomena related to aging.
How can you fight an inevitable process?
In order to fight oxidative stress and harmful oxidative chemicals in our body, we can add antioxidants through our diet (such as Vitamin C and E, carotenoids, and polyphenols), which is the case when we eat plenty of fruits and vegetables. We also have antioxidant enzymes that need to be activated by certain trace elements in our diet: zinc, copper, and manganese for superoxide dismutase, iron for catalase, and selenium for glutathion peroxydase. Multiple families of grape polyphenols are an excellent source of available natural antioxidants (in pomace, for example) whose powerful antioxidant potential is significantly higher than that of Vitamin E at equal concentrations.
How did your research on wine polyphenols lead you to create the active ingredient GSM10®?
My colleagues and I tested multiple grape varieties to as- sess their potential beneficial effects, including their ability to reduce hypertension. We studied the effects of Grenache pomace, Syrah pomace, and Carignan pomace to understand how their molecules behave. We observed a reduction of up to 24% in terms of hypertension, which is an oxidative condition, just like cardiovascular disease and diabetes. We compared the efficacy of the polyphenol molecules with pharmaceutical molecules such as Verapamil. Our work demonstrated that adding certain extracts from pomace could have an effect on chronic conditions that involve oxidative stress. We are currently working on using natural extracts from grape pomace to enhance the effects of a pharmaceutical product so that its concentration can be decreased.
For Le Domaine, for example, we formulated a powerful antioxidant derived from Grenache, Syrah, and Mour- vèdre grape pomace from Famille Perrin wines.
What are MMPs (matrix metalloproteinases)? What role do they play in the skin aging mechanism?
MMPs are a family of proteases involved in the proteolytic degradation of a number of proteins in the extracellular matrix as well as non-matrix proteins. As such, they must be carefully regulated. In general, they are infrequently expressed in healthy tissues, but their expression increases during physiological or pathological tissue remodeling processes, affected by factors that can modulate the expression of their genes. Under these conditions, too great an increase in their expression results in higher proteolytic activity and, therefore, tissue imbalances. Similarly, too little expression causes extracellular matrix accumulation. MMPs contribute to a wide range of phenomena, including angiogenesis, tissue repair, embryogenesis, and skin healing. It is important to regulate these by reducing the expression of pro-inflammatory cytokines and the production of reactive oxygen species to avoid degradation of the collagen and elastin fibers during the aging pro- cess in tissues such as the skin and blood vessels.
How is GSM10® different from active ingredients already on the market?
First, because it is created solely from natural active ingredients specific to the Rhône Valley terroir, where Famille Perrin has its estates, and second, for its patented antioxidant formulation, which is unique to Le Domaine.
What exactly is the effectiveness of the products in the Le Domaine line of cosmetics?
These creams can delay oxidation at the cellular level. They provide protection against oxidation if they are applied regularly, and over the long term they will limit skin aging. They also combat the risk of dry skin. When prevention with active ingredients is repeated regularly, it amounts to protecting yourself from the risks of cell oxidation, preserving the store of health in your skin, and limiting accelerated aging. In other words, it provides longterm protection.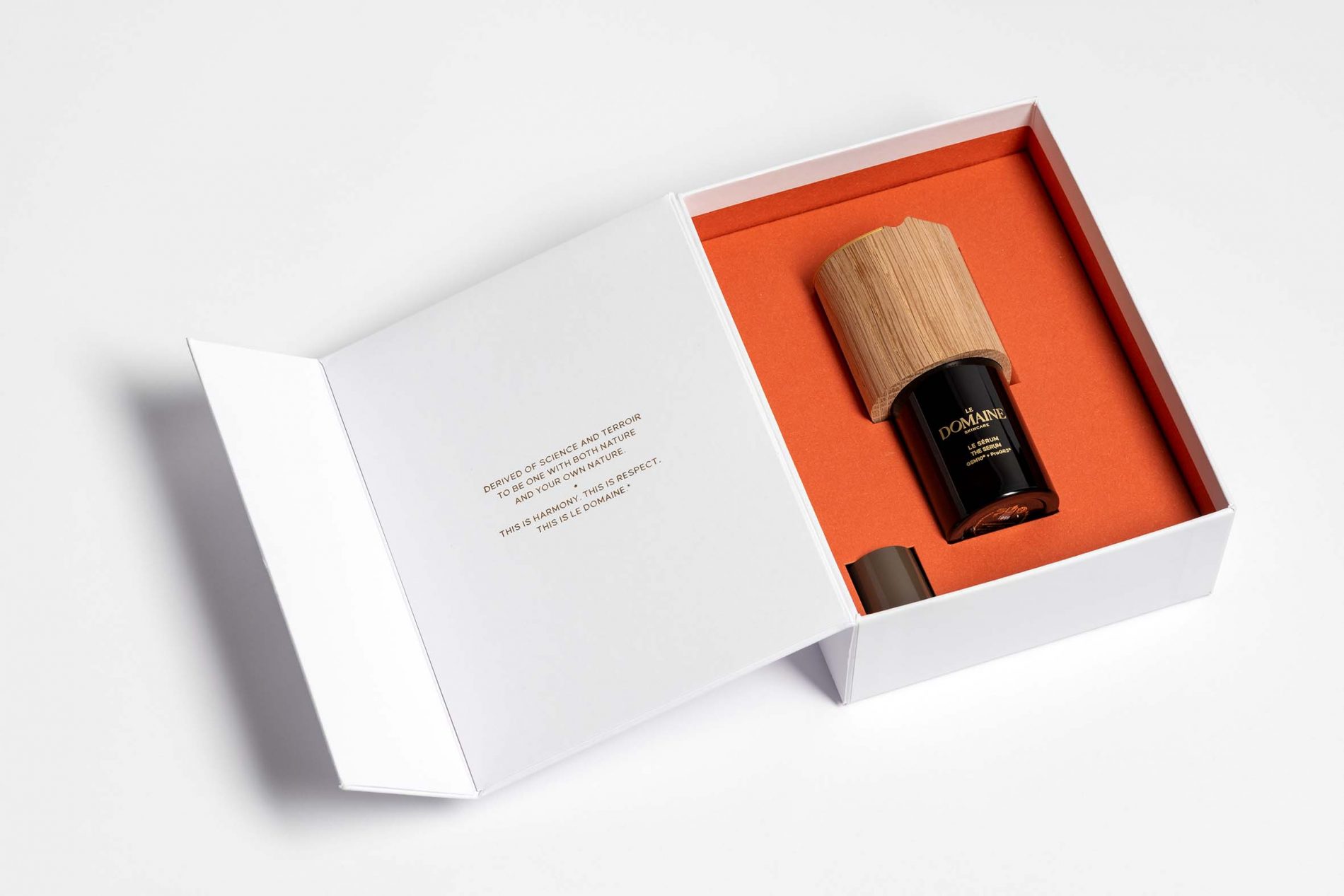 NICOLAS LÉVY INTERVIEW
Dr. Nicolas Lévy, M.D., is a clinician and professor of hu- man and medical genetics who has spent more than 30 years working with patients with rare diseases. He ran the Medical Genetics Department at La Timone Hospital in Marseille, France, as well as Inserm's Marseille Medi- cal Genetics research center. As the first Director of the Fondation Maladies Rares (Rare Disease Foundation), Dr. Lévy forged many partnerships between academia and the private sector so that expertise could be pooled to speed up the discovery of therapeutic innovations. Passionate about his research and driven by a desire to apply his academic work to therapeutic solutions, he has also launched multiple biotech start-ups. Dr. Lévy recent- ly left academia for a role in industry, working to develop solutions for treating rare diseases more efficiently. Throughout his career, he has been active in building connections between patients, diagnostics, and re- search in order to accelerate the development of inno- vative drugs with a high therapeutic impact on rare and ultra-rare diseases with unmet medical needs.
He is also the author of Les Maladies Rares et les Espoirs de la Médecine du Futur published by Buchet-Chastel.
You have been researching rare genetic diseases for 20 years. How did you end up collaborating with the Perrin family on Le Domaine?
The Perrin family had heard of my research on progeria, and in the very early stages of the project they approached me for scientific information about the biological mechanisms of aging. So we met, and I found their project interesting. It was very clear that we share the same values and have the same desire to develop effective cosmetics, of proven scientific value, that also rely heavily on natural ingredients.
What is progeria? How did studying the mechanisms of premature aging at work in this disease inspire you to create an active ingredient for the Le Domaine line of cosmetics?
Progeria is an exceedingly rare disease (affecting only one child in every 4 to 8 million). The disease is illustrative of premature, accelerated aging among children. Patients develop all the signs of clinical aging in the majority of their organs (excluding the brain). Their growth, bones, and vascular system are all altered, and the skin in particular ages very prematurely and very rapidly.
The mechanism involved in the development of this disease is the accumulation of a toxic protein: progerin. This buildup is concentrated in cell nuclei in the skin and most of the organs.
In the early 2000s, a team of researchers demonstrated that this mechanism is also part of physiological aging. Dr. Pierre Cau and I created ProGeLife based on that discovery, intending to draw on the treatment options for the disease as the basis for cosmetics products.
How did you develop the active ingredient ProGr3®? What extracts is it derived from?
Based on the knowledge we acquired treating progeria, we identified natural molecules present in plant extracts that help reduce the toxicity of progerin.
We developed a combination of three molecules: one de- rived from Resveratrol from grapevine tendrils, a second derived from Apigenin from chamomile extract, and a third derived from Catechin from green tea.
How did you test the efficacy of ProGr3®?
We conducted proper scientific studies using the same approach as in therapeutic trials. The formulas for all four skincare products were assessed through radical, rigorous testing methods that combined instrumental tests and in vivo clinical trials on a large group of volunteers (both men and women), conducted under dermatological supervision, with a test against placebo controls to clearly identify the source of efficacy.
By studying the cell models on skin fibroblasts (with in vitro tests), we were able to demonstrate not only the synergistic action of the three molecules in ProGr3® on the mechanisms responsible for progerin's toxicity, but also an effect on other biomarkers of aging.
Lastly, one of the most useful physical measurements of product efficacy is measuring the skin microrelief. All of these studies demonstrated that the products in the Le Domaine line of cosmetics correct skin abnormalities caused by natural aging.