Miss Dior: The New Eau de Parfum by François Demachy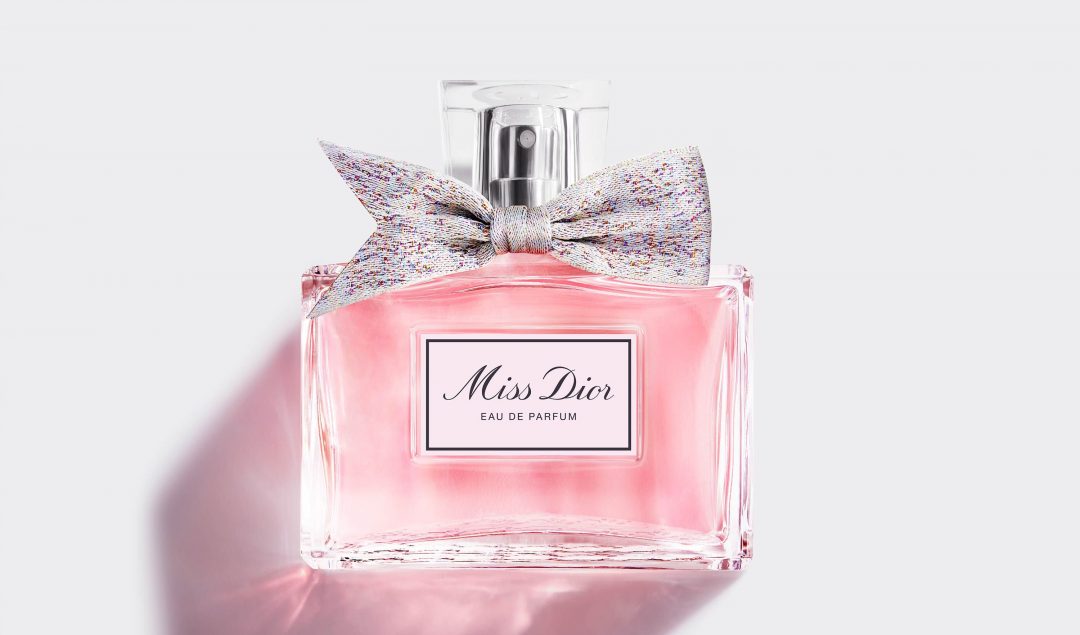 "Make me a fragrance that smells like love…"
In 1947, Miss Dior was born of the tremendous impetus and the imperious desire to put the magic back into women's lives, and to show them once again the shimmering colours of love. For Christian Dior at the time, following the dark war years, this scent was synonymous with happiness, poetry and harmony regained.
And with hope for a better future.
Let's wager that today, he would have given Miss Dior just as luminous a role. That of calling out to us and stirring our emotions. Of awakening us to all the beauty of the world that surrounds us. Sovereign Nature as smiles exchanged, the splendour of flowers and of shared love.
Everything is precious, everything counts.
Yes, the world has changed, and so has Miss Dior.
Confident and triumphant, she takes our hand with a joyful heart.
And she shows us, over and again, what makes the soul of Dior: being at one with beauty.
And celebrating it, wherever it is. Quite simply, loving it.
Miss Dior Wake up for Love! Wake up for Beauty!
PART I: THE NEW EAU DE PARFUM
Wake up for Beauty Flowers as a promise of happiness
Flowers, flowers! And even more flowers, in their thousands.
Miss Dior has always been a promise of happiness, and a fragrant feat that is spectacularly reinvented today, in an ocean of multi-coloured petals.
Its shimmering new "Millefiori" encourages us to rediscover the beauty that surrounds us, at Dior, luxury has always been a promise of bliss, and beauty the ultimate way to reconcile with life.
An ever-more luminous florality unfurls, more generous, yet still light. Immediately appealing and elegant, its composition combines a caress with freshness.
Composed by François Demachy, it still honours Roses, its cult signature note, but is now powdered with a noble Iris, and spiked with a sexy Peony. As velvety as a petal, as fresh as the forest undergrowth, sensual and enveloping, a surprising new Miss Dior makes its appearance.
Ever-more sophisticated, it is adorned with a brand-new Couture bow, a miniature marvel strewn with finely woven flowers. A few centimetres of absolute luxury tied at the neck of the legendary bottle.
Yes, Miss Dior changes, letting in a stream of lively warm light from armfuls of multi-coloured flowers. In a Couture gown or barefoot on the beach, inside and outside, luxurious and natural, she leads us in her wake.
To finally see a thousand colours of happiness again.
Sweet Love "Rose Surprise"
Grasse, April 2020. Not far from the "Fontaines Parfumées," François Demachy was experiencing the paradox of a radiant and … locked down spring. Everywhere, nature was blossoming, indifferent to the misfortunes of mankind. Then, one day, while he was with Carole Biancalana, a long-term producer of Centifolia Rose for the House of Dior, he discovered a rose unknown to him in her garden. A beautiful rose, rich above all in powerful fragrance nuances that
struck him. Velvety and fruity, sharp and elegant, it combined incredible facets with strength and finesse.
Immediately inspiring, "Sweet Love" was to become the starting point for his new Miss Dior Eau de Parfum, symbolizing momentum and an awakening of the senses.
All things considered, such a well-named rose simply had to meet the perfume of love.
"The "Sweet Love" rose, whose name suits it so well, was a discovery for me. First of all I thought it looked particularly beautiful with its generous petals in a beautiful, iridescent, pale, pearly pink. Then its perfume took me by surprise. What a spirit, what an enveloping and exuberant power with its unexpected, lively, fruity-sweet touches. It was the creative starting point for this new Eau de Parfum. I wanted to surround it with flowers and thereby obtain a bouquet that was both vivid and elegant, sensual yet weightless."
                                                                                                                  François Demachy, Dior Perfumer-Creator
A sensual stance, a floral fever
A profusion of flowers that bewitch and awaken, enlace and spur on, provoke a light that is both enveloping and refreshing.
The new Miss Dior Eau de Parfum is spectacularly reinvented with armfuls of colourful, pearly fresh and sensual velvety flowers.
Powdery, exuberant and fruity, soft and sharp, this Miss Dior is sensual, multiple and astonishing, as it unfurls a new floral profusion, supported by the elegance of woods.
Wake up for Flowers!
Seemingly embroidered with a thousand blossoming flowers, the new Miss Dior Eau de Parfum is a dazzling bouquet. Centifolia Rose adds the sensual power
of its honeyed and peppery notes. From the Grasse partner domains, whose harvests are reserved exclusively for Dior perfumes, this flower-symbol is an ode to a unique terroir. A celebration of beauty, as obtained thanks to a thousand expert and preserved techniques.
This rich and profuse bouquet extends an invitation to Christian Dior's favourite flower, a light and joyful Lily of the valley, whose fresh floral nature is heightened here by a green note, that feels like a damp and verdant touch of delicate dew.
Another newcomer, expressive Peony adds its presence to this floral symphony. Colourful and sexy, generous and sharp, it unfurls its femininity spiked with a note of Apricot. Also new, is a tender and noble, powdery and very elegant Iris, adding a patina to the bouquet and providing sophistication.
All in all, it is a rich and contrasting "Millefiori" bouquet, where velvety sensuality holds an ongoing conversation with subtle freshness.
Tender woods
In a beautiful, caressing finale, cocoon-like Musks settle in, offering their imprint for the long haul. With them, a touch of Papua Vanilla mingles with a hint of Benzoin and of Tonka bean. All this sweetness finally comes to meet a creamy Sandalwood envelops the base, making all the other notes shine without ever impeding them.
Reinvented, Miss Dior's floral nature shines with joy. Never has it been so luminous, so fresh and velvety. Attractive, it plays the card of wonderful sensuality, while remaining elegant and light.
PART II: THE COUTURE DREAM
A new bow for the Miss Dior bottle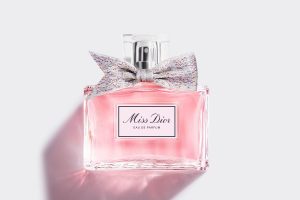 A few centimetres of absolute luxury tied at the neck of Miss Dior.
Elegant with a hint of sass, the so-called "dagger," or "swallow's tail" Miss Dior bow, is a universal signature, a sign of Couture recognition. It is reinvented today with exceptional luxury and expertise. To embrace the neck of the bottle, an exceptional ribbon was created in the secretive ateliers of one of the biggest ribbon makers in France, dedicated for decades to making creations for Haute Couture shows. Developed over long months on traditional wooden weaving looms, a jacquard ribbon woven from some 396 threads was created. Every centimetre of it contains some 12,000 thread crossings. This precise, exquisite creation sees a myriad of pastel flowers sown on every jacquard ribbon. These few centimetres of ribbon required as much creativity, time and attention as those that decorate the most beautiful runway dresses.
The new Miss Dior Eau de Parfum therefore reveals the exploit of an exceptional, colourful and pointillist bow, with a random flowering pattern that makes each of them absolutely unique.
This "Made in France" Couture signature is a gem of expertise and of age-old techniques, appearing on every bottle.
A luxurious, precious gift, tied at the neck of Miss Dior, all over the world. Interview with Julien Faure, creator of exceptional ribbons
What is the history of the Faure ribbon makers?
For five generations now, since 1864, the Faures have been creating and producing exceptional ribbons in Saint-Just-Saint-Rambert, in the Saint-Étienne region traditionally dedicated to this artisanal craft. We are the guarantors of an exceptional French expertise and we have the privilege of working with the greatest French luxury Houses, in particular of Haute Couture and Watch- making.
Had you ever worked with a major Perfume House before?
No, not until now. Dior Parfums were the first to have the idea and the audacity (!) of a collaboration with an art craftsman such as myself. Miss Dior is a major first for us, as it's rare for an exceptional ribbon maker to work on a bow for a perfume bottle.
What was the process that led you to the final result?
We explored many paths for several months before achieving what we wanted. We developed numerous floral motifs and tried several complex effects before deciding on this jacquard ribbon entirely covered in an all-over floral pattern.
What was the desired effect?
Using the jacquard treatment, our aim was to have an almost abstract, pointillist blossom appear on this ribbon. The result is very modern, like a spray of very fine blue, pink and yellow flowers that completely cover the ribbon.
Were there any technical challenges in creating the ribbon?
We demonstrated the same exact standards, in terms of creativity and quality, as for a ribbon destined for a Haute Couture dress. Our long and meticulous research led us to the creation of a particularly fine, multi-coloured thread, so that the ribbon would remain soft to the touch. The thread is the result of a series of steps, beginning with printing transparent bobbins which were then cut into multicoloured threads.
On which type of weaving looms was the ribbon designed?
We always create using the antique 19th century wooden looms, which are the only ones with the shuttle weaving technique. Tests for exceptional ribbon are always done on these machines, which we keep and restore for this purpose.
Could you say that each bow decorating a Miss Dior bottle is unique?
Yes, absolutely, because the flowers are embroidered in a random way. As such, each Miss Dior bow is absolutely unique, in true Couture spirit. It was a challenge that we are delighted to have taken up!
Miss Dior, the dress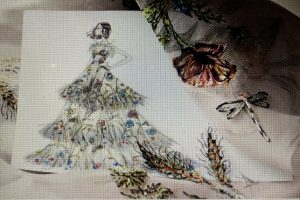 "Millefiori", a bouquet that promises an escape
Inspired by the irresistible vitality of the first-born Dior perfume, Maria Grazia Chiuri designed a new dress that is both spectacularly feminine and modern.
Embroidered with a myriad of "Millefiori" flowers, it seems inhabited by a wonderful garden, brought to life by armfuls of multicoloured wild flowers that blossom on fine pleated silk. A somewhat wild floral flight almost
comes to life before our eyes, then climbs and seems to irresistibly invade the bustier and the "Corolle" skirt.
Bright blue, fuchsia pink and sunny yellow flowers display intense, sassily vivid colours, set on hand pleated and creased silk Gazar, which is then overdyed in a palette of colours moving from nude tones through to warm grey. These unusual wild flowers drawings are at crossroads between classical influences and an extremely contemporary approach. Incisive lines which express a free- wheeling encounter between Dior hyper-femininity and confident, triumphant modernity.
This delicate graphism, crossed with a touch of rock'n'roll, signals an exceptional work of embroidery, the fruit of a technique that requires as much time as skill. Each flower is first hand-painted, then printed, before being embroidered one by one traditionally, using a blend of multicoloured cotton and silk threads.
Aimed at accentuating the design of each flower, this technique allows them to show through in places, in a strikingly beautiful, embroidery-painting dialogue.
Brilliant, patient and inspired, the expert seamstresses in the Dior Couture ateliers worked for five hundred hours to make this unique dress blossom.
PART III: THE NEW FILM
Miss Dior, the Film
A sublime, warm golden light bathes the landscape, caresses her face and envelopes the images of director Manu Cossu. A vast field of grass ripples in the wind, welcoming her like a natural bed. Never has Miss Dior been so free, never has looked so beautiful.
Lively, she rushes forward, running, shouting and laughing, and above all, taking action.
With style and character, Miss Dior is a modern girl who is confident and                                                                                    strong- willed.
A heroine by Dior, in the image of the strong femininity, free from constraints, as created by Maria Grazia Chiuri from her very first collections.
She is the one who leads the dance and reawakens the colours of a liberated life.
Whether in an embroidered "Millefiori" dress, or barefoot in the sand, it is a Technicolor dream of luxury.
She is at one with Nature, diving into an ocean of flowers, making the birds take flight with a single, magical gesture.
Eternally in love, she says "yes" to him, "I love you," and more. Universally in love, she marries the sky, the sea and the Earth. With arms wide open, she embraces the world and its beauty. And says to us, with a smile, that we must stay wide-awake.
Wake up for Love! Wake up for Beauty!
MSRP:
Miss Dior Eau de Parfum, $138 (100ml), Dior.com Miss Dior Eau de Parfum, $108 (50ml), Dior.com Miss Dior Eau de Parfum, $82 (30ml), Dior.com
ON COUNTER DATE: September 1st, 2021
AVAILABILITY: Dior.com and department stores nationwide