Giorgio Armani Beauty Presents its Global Debut of the Armani Yacht Club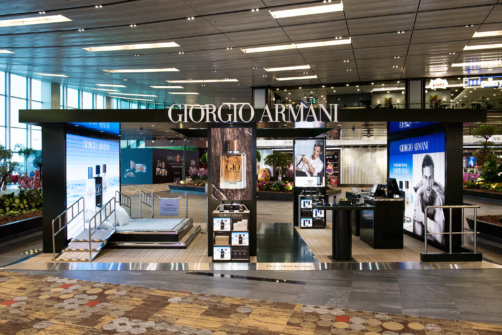 Leading Italian luxury fashion and beauty brand Giorgio Armani Beauty invited global travelers to reimagine a cruise down the iridescent Mediterranean Sea aboard its first Armani Yacht Club animation, created exclusively for Singapore Changi Airport in partnership with The Shilla Duty Free and Changi Airport Group. Located next to The Shilla Duty Free at Changi Airport Terminal 1, Transit Departure Area from 28 March 2018 to 26 April 2018, the yacht club concept is also the first in Travel Retail Asia Pacific to welcome the sensual Acqua di Giò Absolu, the brand's new fragrance for men, for its iconic Acqua di Giò Homme franchise.
An Invitation to Come on Board the Armani Yacht
Reflecting designer Giorgio Armani's passion for life out at sea, the Armani Yacht Club animation concept recreates the serenity and sophistication of his luxury yacht. From the light birch wood floors and deep green walls reminiscent of military ships, to the generous contemporary interior and cut-out ceiling that allows light to stream in from above, every detail reflects Giorgio Armani's philosophy and love for simplicity, elegance, comfort and function.
An Interactive, Digital and Experiential Shopping Experience
Travellers are encouraged to discover their favourite scent, as well as to explore the olfactory world of the Acqua di Giò Absolu and Armani Code fragrances through an exclusive fragrance barometer digital application. The immersive digital experience allows travellers to select three favourite key notes from a playful barometer sailing tool, which will in turn reveal the matching olfactory range. Consumers can then navigate the barometer sailing tool to adjust the perfume intensity level and discover their final perfume blend from Giorgio Armani that best encapsulates their personality.
An entertaining photobooth with a simulated water zone is available for consumers to indulge themselves in a yacht-sailing atmosphere. The chadburn can be turned to switch between digital visuals shown on the backdrop to take photos – steer to the left to explore Acqua di Giò Absolu; or steer right to immerse in the festive and seductive world of the Armani Code.
"We are thrilled to invite travellers to join us on board the Armani Yacht for an unforgettable journey to discover our new fragrance, Acqua di Giò Absolu," says Mr. Tony Khajenouri, General Manager of Giorgio Armani & Designer Fragrances. He adds, "We are pleased to partner with Changi Airport Group and The Shilla Duty Free Singapore for the exclusive debut of the Armani Yacht Club animation in Travel Retail Asia Pacific."
Ms. Teo Chew Hoon, Group Senior Vice President of Airside Concessions at Changi Airport Group says, "About 170,000 passengers pass through Changi Airport every day, making it the ideal launch pad for brands to unveil their latest products to an international audience. We are delighted to partner with Giorgio Armani on this multi-sensory pop-up concept that will appeal to the cosmopolitan male traveller's modern lifestyle."
"The Shilla Duty Free enjoys a close working partnership with Changi Airport Group and brand partners to consistently present innovative concepts, enhancing the shopping experience for travelers. We are confident that the Armani Yacht Club animation will engage, re-energise, and excite our shoppers, who will be the first in the world to experience it when they shop with us," says Ms. Raelene Johnson, Vice President of Global Merchandising Division, The Shilla Duty Free.
Exclusive Consumer Privileges
The Armani Yacht Club animation will be present at Singapore Changi Airport, Terminal 1 Transit Departure Area from 28 March 2018 to 26 April 2018. Consumers at the Armani Yacht Club animation will be treated to a complimentary engraving service for a fragrance leather case, scented nautical bracelet or Acqua di Giò Absolu travel spray for every purchase of an Acqua di Giò men's fragrance.