The Fragrance Foundation's The Creatives 2018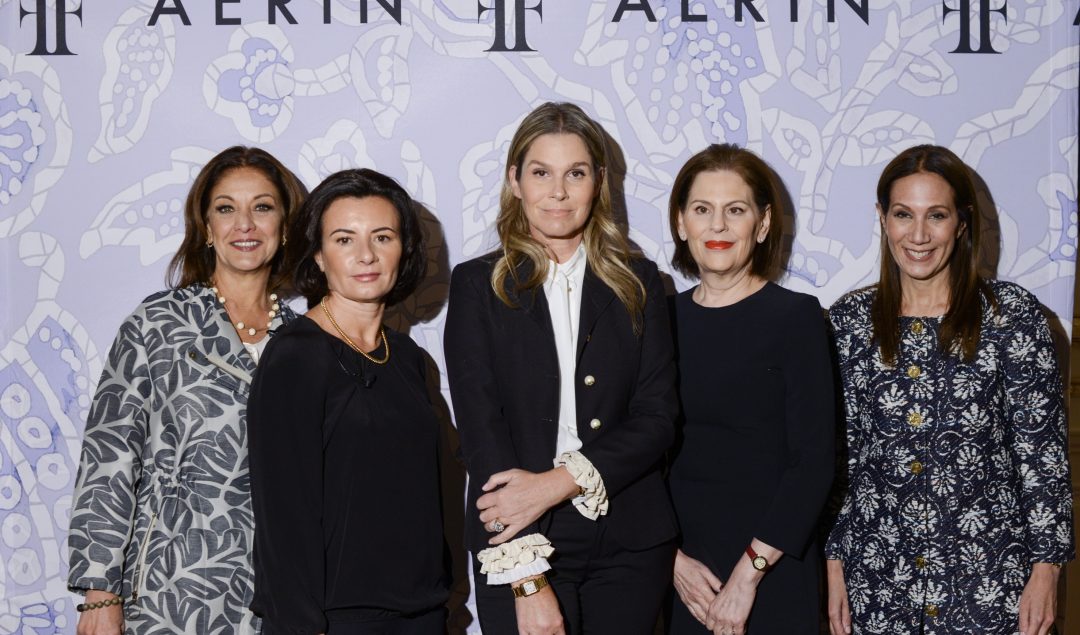 The Fragrance Foundation hosted its third annual Creatives with Aerin Lauder, Karyn Khoury, and Honorine Blanc on Tuesday, March 27th, at The Metropolitan Club in New York. The event was moderated by beauty journalist Jane Larkworthy.
Fragrance Foundation President Linda G. Levy welcomed guests saying, "the event was designed to inform, enlighten and inspire."
The morning featured a conversation with Aerin Lauder, founder and Creative director of AERIN and the Style and Image Director of Estée Lauder; Karyn Khoury, Senior Advisor, Creative and Strategic Development of Corporate Fragrance for The Estée Lauder Companies; and Honorine Blanc, a Master Perfumer at Firmenich.
Asked how the AERIN brand began, Ms. Lauder said she initially showed her cousin the idea for her own brand, which is more than beauty—it's lifestyle. After presenting it to focus groups and writing the business plan requested by The Estee Lauder Companies President & CEO Fabrizio Freda, AERIN -the brand, was born.
Asked about her grandmother, Estee Lauder's influence, Lauder said,"She definitely influenced me… For example, we launched multiple fragrances at once," speaking to the AERIN fragrance collection. "That's because you wouldn't just have one fragrance. She would say you wouldn't wear the same dress to play tennis as you would to go to dinner."
"Lauder takes after her grandmother in a lot of ways," said Karyn Khoury, who worked with Mrs. Estée Lauder on the creation of Estée Lauder Beautiful.
"Mrs. Lauder was a perfectionist," said Khoury. "While this was before the days of text and email," she said, "Mrs. Lauder wasn't afraid to call her on Thanksgiving or a Christmas vacation when she had an idea. Her granddaughter did something similar," said Khoury. "One night I got an email from Aerin that said, 'Please don't kill me,'" she said with a laugh. The brand was just months out from a big launch, but Lauder had asked, "Would we ever do a lilac fragrance?"
After much discussion and debate (there was some pushback, as lilac wasn't trending), the plan had changed. The end result: Aerin Lilac Path Eau de Parfum is now on the shelves. "It's all about responding to instinct," said Khoury.
Bringing personal fragrances to life is a team effort, in which everyone has a role. "It starts with Aerin's mood board," said Khoury, "full of fabrics and photos." It's usually inspired by a place she's been, and then Perfumer Honorine Blanc translates all of that into "an uberluxe Aerin way." "It's always about finding a unique ingredient…[and] creating texture and emotions," she said.
One of the most iconic AERIN fragrances is Rose de Grasse. For this collection, the team uses the most decadent florals. "One rose wasn't enough," said Khoury. "We use three of the most expensive roses, because," she paused, "she can!"
"My grandmother always had roses around the house," said Lauder. "That, and fresh tuberose in the hallway."
"Aerin is like Estée in that way," said Khoury, reflecting on her longtime collaborators. "Everything that came into her life fueled her creativity."
Written in collaboration with Jessica Maitlin.
Photo of Karyn Khoury, Honorine Blanc, Aerin Lauder, Linda Levy, Jane Hertzmark Hudis by Casey Kelbaugh.