Sue Phillips of The Scentarium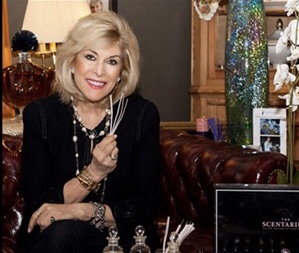 The Scentarium, founded by Scenterprises CEO and fragrance expert Sue Phillips, is a bespoke perfumery in the heart of TriBeCa. It is here where fragrance lovers get the unparalleled experience of creating their own personalized fragrance. Attendees are taken on a "fragrance journey" lead by Phillips, herself, where they learn about fragrance and all its many facets. 
This week, we were invited us to personally experience The Scentarium. So, our summer intern, Isabel Eide, jumped on the chance and was delighted to meet the recipient of the "Power Women in Business 2018's Innovator of the Year Award."
"The ambiance was warm, inviting, and covered wall to wall in fine fragrance," Eide said. "The gathering was incredibly intimate, setting the stage for a truly personal affair. Phillips began by telling us her own story, and what exactly lead her into the world of fragrance." With extensive experience in leading companies in the field such as Elizabeth Arden, Lancome Paris, and Tiffany & Co, Phillips is a leader in the ever-expanding fragrance industry. "It was truly unforgettable to learn from such an esteemed pioneer about the history of fragrance, and the various families and ingredients which make up the world of perfumery. For someone who has little knowledge of the industry, I took pleasure in learning about families which I previously knew nothing about: animalic, oriental, chypre. Each of these distinct families made up the larger wheel of ingredients: woody, mossy, musky, spicy. The multitude of components were further distinguished among base notes, mid notes, and top notes. Top notes being the initial, short lasting scent, middle notes being secondary, and base notes being the final, long-lasting aura."
"After learning about the many features of fragrance, Phillips invited us to the heart of her event: creating a bespoke perfume. She allowed us to sample approximately 15 different fragrances, which each fit into a specific category: fruity, floral, citrus, etc. It was here that I was able to select which blends reflected my personal and individual taste. I ultimately selected three different blends, consisting mainly of woodsy and floral notes, to create my custom fragrance. After creating my perfume, I decided to create another fragrance for my boyfriend. Given how particular he is about the scents he wears, his love for my creation is a true testimony to The Scentarium experience."
 The event was both educational and exciting, giving each participant a chance to indulge in the firsthand creation of fragrance. It was an experience that could be easily transformed for corporate and team building events, and for anyone who wants to experience the sheer joy of discovering the ingredients that are best suited to them. A personalized fragrance is very meaningful and empowering, and goes a long way to help develop confidence and individuality.
We thank Sue Phillips for inviting us to The Scentarium and highly recommend the experience.