MICHELLE GASS, REBECCA MINKOFF, GINA RAIMONDO, AND JILL SCALAMANDRE HONORED AT THE 2019 OUTSTANDING MOTHER AWARDS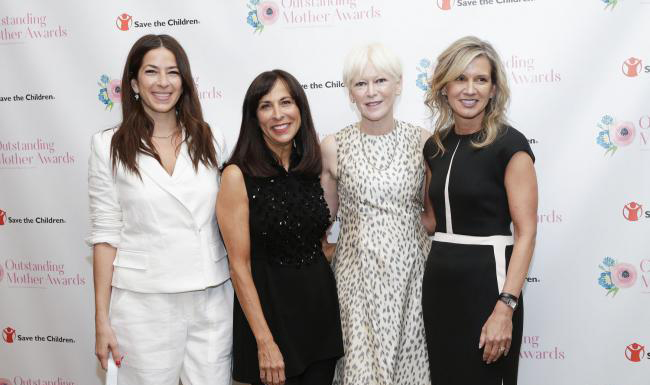 Luncheon Breaks Fundraising Record, Raising Over $750,000 to Benefit Save the Children's U.S. Programs and Advocacy
Honorees Share Insights on Maintaining Work/Life Balance
The National Mother's Day Committee today honored Michelle Gass, Rebecca Minkoff, Gina Raimondo, and Jill Scalamandre at the 41st Annual Outstanding Mother Awards, held at the Pierre Hotel. The four exceptional women were recognized for mastering a healthy balance between their professional and personal lives. The event raised its highest amount to date, more than $750,000, with proceeds benefiting Save the Children's U.S. Programs and Advocacy. The awards were presented by Mistress of Ceremonies and Executive Producer of The Bold Type and author of Love Rules, Joanna Coles.
During the event, the 2019 honorees shared insights on how they maintain the optimal work/life balance, and what has helped them to achieve their success:
Michelle Gass, Chief Executive Officer, Kohl's
"Balance is about intention not perfection. Balance means something different to everyone, and only you know when things are in balance for you. Don't let others define that for you."
Rebecca Minkoff, Co-Founder & Creative Director, Rebecca Minkoff
"I always make sure to walk my kid(s) to school every morning, or if I need to travel for work, I will limit my time away to five days, otherwise I will bring my kids with me. This allows me to feel that 'even' sense between work and spending quality time with my kids. It's the give-and-takes that are unique to each woman that she must explore for herself."
Gina Raimondo, Governor of Rhode Island
"Making time for family is essential. Every Sunday, I go to church with my family in the morning, and in the evening, we have a nice, home-cooked meal together. I also try to make time for exercise, whether it's going to yoga with my husband, going for a family hike in one of Rhode Island's beautiful state parks, or taking the dog for a walk. A little chocolate here and there helps too."
Jill Scalamandre, President, bareMinerals
"For me, balance is about being fully present in the moment. I try to give 100% of myself to the person I am with or the task at hand. I try not to fret about the past or what I have to do next."
Proceeds of the Luncheon Benefiting Save the Children's U.S. Programs and Advocacy
As part of its continued support of meaningful philanthropies dealing with issues affecting mothers, fathers and children, the National Father's Day/Mother's Day Council, Inc. has donated more than $30 million to date to deserving family-related charities nationwide.
Proceeds of the 2019 awards luncheon will be allocated to benefit Save the Children's U.S. Programs and Advocacy, a not-for-profit organization dedicated to making lasting positive change in the lives of children living in poverty in the United States.