CHANEL unveils it custom designed Fragrance & Beauty boutique on Saks Fifth Avenue's New Beauty Floor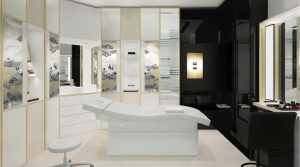 CHANEL unveiled its custom designed Fragrance and Beauty boutique at the Saks Fifth Avenue flagship store in NYC. Expanded to more than 1,000 square feet, this one-of-a-kind beauty destination offers an interactive, inspiring environment including the first CHANEL spa room in the U.S. With a focus on personal experience and unparalled service, the boutique aims to make clients feel personally engaged with the House of Chanel while discovering their latest makeup, fragrance and skincare offerings. The space is designed to accommodate clients who are stopping by for a quick visit as well as those who want a more private beauty experience.
"The new CHANEL Beauty boutique at Saks Fifth Avenue in New York City has been developed to offer the modern shopper a truly unique space in which to discover CHANEL makeup, skincare and fragrance in an inspiring new way," says Barbara Menarguez, General Manager of CHANEL Fragrance and Beauté. "We wanted to create a uniquely CHANEL experience for the Saks Fifth Avenue client who values the ultimate in service and luxury."
Positioned on the Fifth Avenue side of the new beauty floor at Saks, distinctive design elements in the space recall the codes of the House in fresh and unexpected ways.  Signature tweed textures, Coromandel screens, and the black, white and beige colour palette with gold accents mark the space as distinctly CHANEL.  Anchored by a large makeup discovery area surrounded by one-on-one consultation areas, clients are invited to touch and play with the latest colour collections and classic products or opt for a personalized makeup application. Top talent in makeup artistry will provide a curated and personalized beauty experience focusing on the individual customer. Beauty experts will offer "LES SERVICES DE CHANEL," signature services ranging from colour and skincare consultations to customized fragrance journeys. Fragrance experts will offer insight into the rich heritage of CHANEL fragrance, sharing insights from the House's cultivation of exceptional raw ingredients from its proprietary fields in Grasse, France and history of perfumer-created scents since the debut of the iconic No5. Inspired by the overwhelming success of the SUBLIMAGE anti-aging franchise, customers will have the opportunity to experience and learn about these cult products within the dedicated skincare area which will also showcase the full range of skincare collections. A vertical video screen will feature immersive content and the latest campaigns from the brand. Clients can also enjoy the modern convenience of mobile checkout. The adjacent CHANEL spa room, CHANEL Privé, features a private welcome area leading into an exclusively designed multi-sensory space for clients to experience the exceptional formulas and efficacy of the CHANEL skincare collection.  
CHANEL Privé, a dedicated CHANEL spa room exclusive to the Saks Fifth Avenue flagship, will offer a range of customized, multi-sensory treatments using CHANEL skincare products developed for different skin and lifestyle needs. Inspired by signature services from CHANEL au Ritz Paris, the world's only Chanel spa, each client experience is perfectly adapted to the expectations of today's women and men. Expert services include luxurious facial massage to revitalize the complexion and targeted anti-aging treatments created for both women and men. No attention is spared to regenerate the mind and body: customized beverages with beneficial virtues for the skin are offered with each service, while the perfectly adapted pressure of an intuitive hand administers efficacious and sublimely relaxing treatments. Professional CHANEL skincare products developed exclusively for CHANEL au Ritz will be incorporated into treatments along with the entire range of CHANEL skincare. Expert aestheticians utilizing exclusive massage techniques and extensive knowledge of the skin will create an experience only CHANEL can provide.
This retail environment is part of the larger renovation plan for Saks Fifth Avenue. CHANEL recently reopened the newly expanded Ready-to-Wear boutique on the third floor—the first renovation since the opening in 2008.
CHANEL, the international luxury goods company, was founded in France by Gabrielle Chanel at the beginning of the last century. The company, which is privately held, offers a broad range of luxury products, including Ready-to-Wear, fragrance, makeup, skincare, leathergoods, accessories, fine jewelry and watches, through a U.S. network of 24 boutiques and approximately 91 locations at select retailers. The House of CHANEL remains dedicated to luxury, fashion, style and image.
Saks Fifth Avenue, one of the world's preeminent specialty retailers, is renowned for its superlative American and international designer collections, its expertly edited assortment of handbags, shoes, jewelry, cosmetics and gifts, and the first-rate fashion expertise and exemplary client service of its Associates. As part of the Hudson's Bay Company brand portfolio, Saks operates 41 full-line stores in 22 states and Canada, five international licensed stores and saks.com, the company's online store.