This week on Influencer Issues, we want to feature the mother-daughter team who are the founders of Womaze —a free app dedicated to amplifying women's voices and sharing wisdom in a revolutionary way.
Below is the letter co-founder Becca Wiser wrote for Medium.com…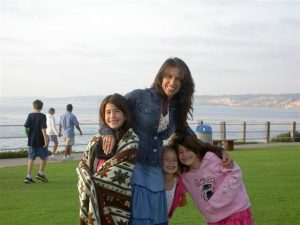 The first time my mom got her period, she had no earthly idea what was happening. Away at summer camp, her blood-stained underwear left her seriously questioning whether her days were numbered.
Raised in a very loving but traditional Latin household, periods were one of the mysteries she'd have to figure out on her own. After finally opening up to her camp counselor about her strange condition, her counselor smiled and said, "Corin, that's your period!" My mom (barely 11 years old at the time), swore then and there that if she ever had a daughter, she would teach her everything she knew.
Well, as it turns out, my mom has three daughters: my younger sister Hannah, my twin sister Leah, and me, and I can attest to the fact that my mom did, in fact, teach us everything she knew.
My mom taught us about purpose and resilience. Having been sexually abused by strangers on two separate occasions as a young girl, my mom went on to work with children who had been physically or sexually abused. This taught my sisters and me that it's not about what happens to you, it's about what happens next.
My mom taught us about strength and conviction. During her tumultuous, high risk pregnancy with twins, doctors told my parents that they should abort one of the twins in order to save the other, but a loud voice inside told her that both babies would be okay. She spent months on bedrest, visualizing healthy babies — daughters who would become strong and compassionate, and who would change the world. My sisters and I are determined to become the women my mom had envisioned.
I think of my mom as an 11-year-old girl, and I remember the promise she made to her future daughters. Today, as a 21-year-old, I've taken the same oath: to share everything I've learned, including the valuable lessons and tools that have shaped my life. The only difference? My sisters and I aren't waiting until we have our own daughters to raise empowered women. We're starting right now.
My sisters, my mom, and I all believe that we were put on this earth to support other women. And that's exactly why we created Womaze: our life's mission in the form of a mobile app. Womaze is the manifestation of our collective commitment; it's how we're living up to the promise we've made to the generations of women that came before and after us.
Mom, thank you for teaching me everything you know.
Love,
Becca
To download this free app on iOS and Android, visit www.womaze.com
You may also follow Womaze on Instagram @womazeapp