BeautyStat Cosmetics Launches Universal C Skin Refiner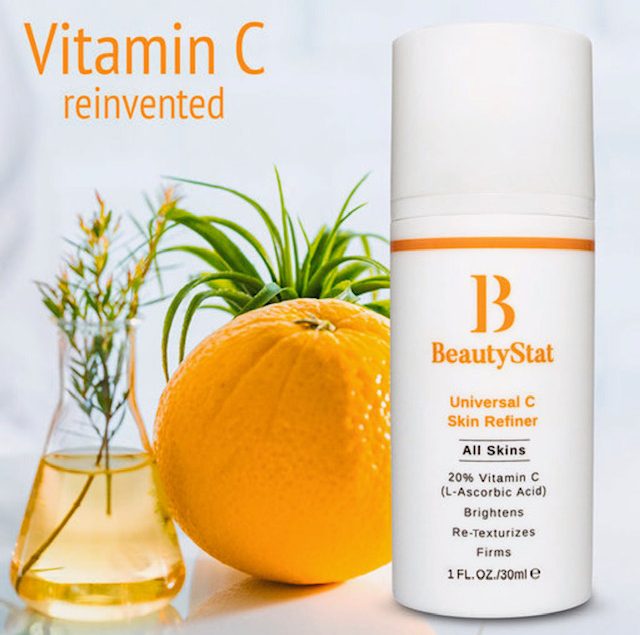 For nearly a decade, the BeautyStat blog and social media channels have been a trusted source for unbiased
beauty product reviews and trend forecasts.
BeautyStat's cosmetics chemist founder, Ron Robinson, has been regularly quoted and featured in
magazines and on television.He is a resident beauty expert for Allure and Refinery29. His dedication to
researching beauty ingredients and technologies is respected by beauty journalists, editors and influencers.
Now, after reviewing thousands of products and ingredients, Robinson's team has discovered the holy
grail of skincare –a technology that really works and addresses consumers' biggest needs.
Universal C Skin Refiner –a powerful, Vitamin C-based skincare product, very different from the others. It is formulated with 20% pure Vitamin C (L-Ascorbic Acid) and a patented encapsulated delivery system that contnues to work its magical full-strength results throughout use with no degrading of color or formula.
While many products contain a form of Vitamin C, this ingredient is difficult to contain and stabilize within formulas. Though inital generic product usage may show improved results on skin, efficacy fades, and results diminish or disappear.
Formulated with 20% L-Ascorbic Acid, the purest form of this benefits-driven ingredient, our Skin Refiner uses a patented encapsulated delivery system. Each particle is capsulated, or coated, in a water-repellent matrix that prevents oxidation, so color stays true. No degradation, no ugly color change. The formula remains consistent, delivering full-strength results from the first application to the last.
Additionally, Universal C Skin Refiner is enriched with Pure EGCG (Epigallocatechin gallate), the most important active component of green tea, which synergizes with Vitamin C for the strongest ant-aging protection. Squalane, derived from olive seeds, provides light moisture for even the most sensitive skin.
Tartaric acid provides the optimum pH level for skin absorption. These powerful ingredients work together to increase collagen synthesis, soothe inflamed skin, and brighten and even skin tone. Skin is refreshed, radiant, and healthy.
This product delivers immediate results. As part of a daily skincare regimen, this crème/gel glides onto skin improving smoothness and radiance from first use to last. In addition to lightly hydrating skin, it brightens, helps even tone, and re-texturizes from day one. Results over time. Fine lines, wrinkles, and dark/sun spots appear diminished. Redness and pore size will be reduced, and skin will appear refreshed and firmer with an overall healthier look and feel. Obvious skin improvements continue with each and every use. Allergy and dermatologist-tested. Fragrance-free.
In an independent clinical study, the formula is proven to*:
• significantly reduce the look of dark spots and discoloration
• significantly reduce the look of deep lines and wrinkles
• skin appears significantly firmer and tighter
Additionally, over 90% of consumers saw:
• reduction in appearance of fine lines
• healthier-looking skin
• younger-looking skin
• improvement in
• firmer-looking skin
And, 100% of consumers in this study saw:
• more even skin tone
• diminished appearance in pore size
Recommended for all skin types. Universal C Skin Refiner contains 20% pure Vitamin C, the optimum amount allowed. Though powerful, it is gentle for all skin types, even the most sensitive.
Available exclusively online, www.BeautyStat.com and @beautystat