TOM FORD AW20 Runway: Backstage Beauty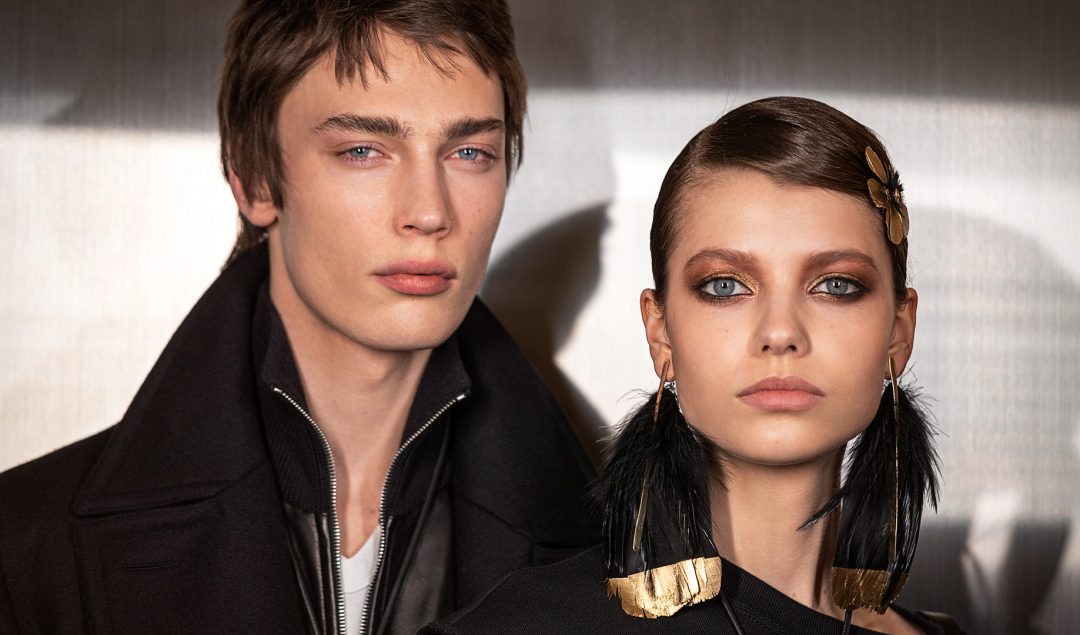 As a fashion designer, one is only able to present to the world one's true and deepest ideals of beauty once. Only once. If you are lucky, the world responds. – TOM FORD
The beauty look that Tom Ford sent down the runway for AW20 epitomized his philosophy of the face. On a canvas of flawless skin, light and shadow sculpt the features and create symmetric definition. A glossy nude lip trains the focus on the eye and completes the unapologetic and utterly sensual multi-dimensional effect. The result is that each woman's features are enhanced, bringing out her singular beauty.
A primed complexion is the pre-requisite to achieving a look of light and symmetry and skin is energized and primed with TOM FORD RESEARCH SERUM CONCENTRATE and CRÈME CONCENTRATE.
SHADE AND ILLUMINATE SOFT RADIANCE FOUNDATION SPF 50, applied using the new SHADE AND ILLUMINATE BRUSH, brings three-dimensional radiance to the face. Skin is transformed into the perfect smooth canvas to reflect soft light. The SHADE AND ILLUMINATE cream duo is a hero here, its dark shade invisibly contours the cheekbones, jawline and temples, helping to draw light to the center of the face, while the highlighter brightens cheekbones' high points, amplifying the sculpted effect.
The TOM FORD EMOTIONPROOF CONCEALER is gently blended under the eye to conceal imperfections and brighten the eye area, while the TOM FORD SKIN ILLUMINATING POWDER DUO in Moodlight brings ultimate illumination to high points. The brow is shaped and defined with light strokes of the TOM FORD BROW SCULPTOR pencil for a natural, filled-in look.
An intensely sensual neutral eye is created using tone on tone of richly pigmented color that delivers intense payoff. On lighter skin, the gold shade from EYE QUAD 04 in Suspicion is swept over the entire lid, then feathered upwards towards the brow. On darker skin, the copper- gold shade from 23 African Violet is used. To create head-turning dimension, light strokes of high-performance TOM FORD EMOTIONPROOF EYELINER in Espresso or Dominateur are feathered effortlessly into the crease and the shimmering, bright copper shade from EYE QUAD 03 in Body Heat is blended on top and extended into the inner corner of the eye. The lower lash line is smudged with the warm russet shade from 04 Honeymoon. Eyeliner rims the waterline to intensify the look and the TOM FORD EMOTIONPROOF MASCARA adds the final touch.
For men, grooming starts with SHADE AND ILLUMINATE to enhance each man's own face architecture. The twist-up CONCEALER FOR MEN corrects imperfections for a natural look and a touch of sun-kissed color is achieved using the collection's TOM FORD BRONZING GEL, applied with a brush. Brows are brushed upwards with the TOM FORD MEN'S GROOMING BROW DEFINER for a defined handsome look and lips are lavished with the TOM FORD HYDRATING LIP BALM.
For more, please visit TOMFORD.COM