Milk Makeup's Partnership With Salesforce
Since its launch in January 2016, Milk Makeup has seamlessly placed itself in the hands of beauty influencers and grown a cult following among a modern generation of mobile shoppers. The NYC and LA based brand immediately stocked the shelves of Urban Outfitters and Sephora and has since made appearances on several notable Youtube channels, such as Jeffree Star and Kathleen Lights for their effortless, multifunctional, and trendy products. The brand became an overnight sensation and penetrated all aspects of the social media world, from Instagram and Youtube to Snapchat. An extent of this success can be attributed to the brand's partnership with Salesforce Commerce Cloud.
Milk Makeup partnered with Salesforce Commerce Cloud in February 2016 and has since reported a triple-digit annual growth online. Salesforce is a San Francisco based, Customer Relationship Management (CRM) platform. The company focuses on simplifying and improving the customer's online experience, while ensuring that the experience of browsing and purchasing Milk Makeup online is as remarkable as the product itself. On the partnership with Salesforce, Milk Makeup's Ecommerce Director Morgan Fleming stated, "Switching to Commerce Cloud was a strategic business move and one that continues to give back to our customers and their overall shopping experience."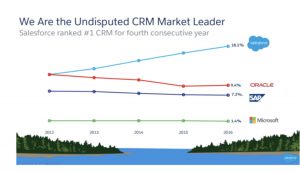 An emphasis on the mobile shopping experience is critical for Milk Makeup, as a reported 60 percent of web traffic is from mobile. In teaming up with Salesforce, Milk Makeup has cultivated a strong online presence and redefined the mobile shopping experience. Their website features an appealing rainbow aesthetic with bold visual aids and easy access to all products and information. Individual product pages provide full ingredient lists, as well as a pop-up tutorials from their Youtube channel. Furthermore, Milk Makeup seeks to engage their customers and ensure that their mobile experience is interactive and personalized through promotions and recommendations. By clicking on the "vibes" header each customer is able to meet the faces of the Milk community and the beauty gurus that have molded the brand.
Salesforce Commerce Cloud has allowed Milk Makeup to reach people of all ages and genders, its demographic ranging from ages 13-63 and its clientele averaging at 5 percent male. This complies with the brand's focus on individuality, self-expression, and slogan to "live your look".
"It's not about how perfectly you apply your eyeliner. It's about your lifestyle, and electricity as a person," stated Georgie Greville, acting creative director, in defining the brand.