IFF'S AVANT-GARDEN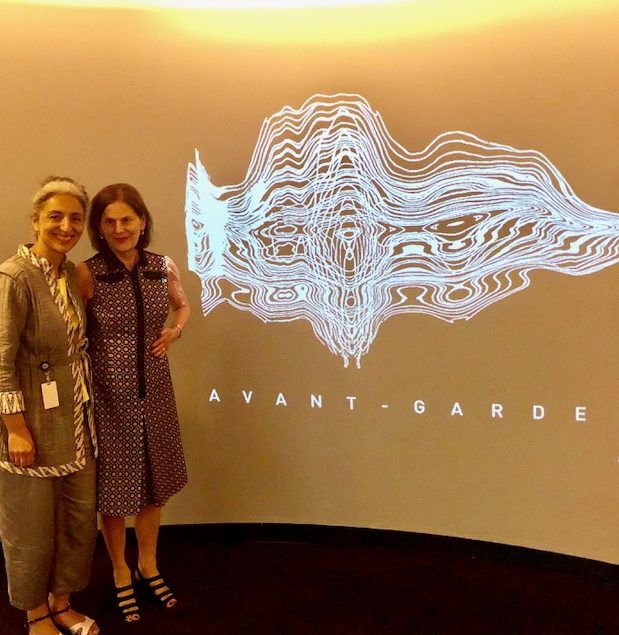 IFF'S AVANT-GARDEN is the fragrance house's answer to the question: What will the perfumery of tomorrow smell, sound, feel and look like?
IFF'S AVANT-GARDEN brings a broader reflection on human needs and interactions.
To imagine how scent might fit into the technological revolution that is blurring the lines between the physical, digital and biological spheres, IFF delved into the fundamental overlap of artistry and science.
With the belief that true innovation is born out of uncommon partnerships, IFF invited some of the world's most renowned scientists and avant-gardists from diverse fields to join New York Fine perfumers on this journey. The fruit of their collaboration is ten original interfaces that integrate scent into life, providing a deeper connection to self, others and the world.
Each scent in the installations on view shares a common design philosophy, placing IFF's vintage and contemporary molecules at the center of the formula. Beyond 'natural vs synthetic', the molecule becomes an engine of innovation and an art form in and of itself.
                                               –La Fabrica New York, IFF Fine Perfurmery in-house think tank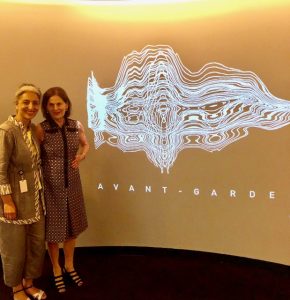 The Frag
rance Foundation is thrilled to partner with IFF to offer a behind-the-scenes look at Its Avant Garden. Together we share its creativity with a broad audience both within the industry & more importantly with consumers. IFF's Avant Garden is challenging people to think outside of their traditional conceptions of fragrance, which aligns perfectly with The Fragrance Foundation's mission: to inspire the world to discover the artistry and passion of fragrance, stated
Linda G. Levy, President of the Fragrance Foundation
IFF partnered with Dutch design studio Polymorf to bring AVANT-GARDEN to life.
As an interdisciplinary cross media collective, Polymorf designs by any media necessary to create speculative design and multisensory experiences using cutting edge technologies. As such, Polymorf acts as an innovative pipeline across industries by creating strategies for prototyping the future.
Their ground-breaking work engages audiences through fully embodied im- mersive experiences, from VR projects to theatrical performances to instal- lation pieces. Their research project, Sense of Smell, and installation piece, Famous Deaths, explore the possibilities of scent for storytelling, strategic communication and media design.
Famous Deaths was selected for the MIT Canon Moments of Innovation and the IDFA Doclab Interactive Documentary Canon. It also won the 2015 Art & Olfaction Award for experimental scent.
In its current projects, the collective works closely with various industries and universities all over the world, exploring the possibilities for scent and touch as multisensory strategies for story and experience design. By direct- ly influencing the affective response, they incorporate visceral meaning into their designs to reflect on the now, the post-human condition and the rela- tionships between humans and technology.
Polymorf is: Frederik Duerinck, Marcel van Brakel, Mark Meeuwenoord, Peter Boonstra and Wander Eikelboom.
COSMIC SLEEP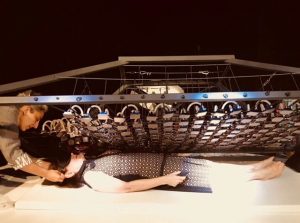 Sound and haptic installation, scent diffusion
A journey into the solar system and its planets, asteroids, comets and the sun expands our scope of sensations.
Embodying the life of a meteorite circling the sun, the otherwordly installation by Polymorf simulates the sensations of getting closer or farther from it, in elliptical orbits. Inspired by geochemist Denton Ebel's work, perfumer Loc Dong translates these sensations into new hedonics thanks to the unique textural and sensorial qualities of selected IFF molecules.
Artistic Concept and Interface Design: Polymorf Scientist: Denton Ebel
Perfumer: Loc Dong
Photo: IFF's Anahita Mekanik and Fragrance Foundation's Linda Levy
Scent:
Cosmic Sleep – a complex mineral amber built around an abstracted ambergris: an olfactory experience merging speed and temperature.
Featured IFF molecule: Grisalva.
Dr. Denton Ebel is a geochemist specializing in meteorites, and curator of the AMNH meteorite collection and exhibits. He is acutely aware of the sensory differences between iron meteorites, made inside planets, and carbon-bearing stony meteorite "left-overs" from the formation of the solar system. His research is strongly grounded in quantitative imaging of these rocks on polished surfaces and in three-dimensional CT scans, to obtain clues to the origin of the solar system. His group was involved in the MESSENGER mission to Mercury, analyzed comet samples from the Stardust mission, and studied impact-related material from the Cretaceous/Paleogene boundary.
The first Asian Fine perfumer, Loc Dong's olfactive education began in Saïgon, helping his grandfather prepare remedies for villagers. He arrived in the United States at the age of 11, primed to discover the 'New Continent.' Loc's focus on well-being permeates his joy as a perfumer, but at the same time, he is known for his innovative approach to molecules. Loc finds inspiration and energy in this dichotomy. His bright, colorful and outspoken perfumes showcase the unity of natural and man- made, familiar and enigmatic, the now and the what-could-be.
DIALECT FOR A NEW ERA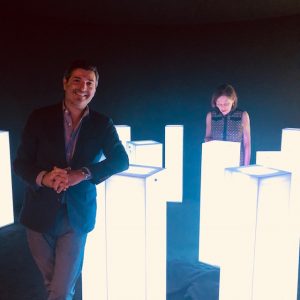 Lexicon installation, scent diffusion, wearable prototypes
Scent is placed at the center of human interaction, creating a dialect for a new era of social engagement beyond words and conventions.
The unique power of scent to conjure emotions inspires an intuitive
and universal form of expression. Partnering with linguist Asifa Majid
on four major functions of language – to know, reflect, act and bond – perfumer Laurent Le Guernec composes an invisible dictionary where IFF molecules are the building blocks of 16 creations. Each scent symbolizes a nuanced feeling beyond description by a single word. Through Polymorf's poetic interface, IFF molecules inspire more authentic connections with others and the world.
Artistic Concept and Interface Design: Polymorf Scientist: Asifa Majid
Perfumer: Laurent Le Guernec
Scents for Knowledge: Modern Self, Existence, Déjà Vu, Singularity. Scents for Reflection: Once Loved, Insignificance, Torment, Feelings. Scents for Action: Freedom, Changing, Disposability, Hacking. Scents for Bonding: Missing Out, Entangled, Without Regret, Not Ordinary.
Each scent is designed to provoke a reaction through its high concentration of molecules. The surprise factor facilitates the assimilation of these strong olfactory messages and pillars for new scent creations.
Featured IFF molecules: Ambertonic, AmberXtreme, Bicyclononalactone, Cashmeran, Coolwood, Cosmofruit, CristalFizz, Floral Super, Fragarone, PampleZest, Opalene, Operanide, Sinfonide.
Asifa Majid is Professor of Language, Communication and Cultural Cognition at Radboud University, The Netherlands. She investigates the nature of thought both in language and outside it by comparing diverse languages and cultures around the world. For instance, Majid has shown that while English speakers struggle to name even familiar smells, the hunter-gatherer Jahai find talking about smells easy. Majid has been awarded various prizes and awards for her work (e.g., Ammodo KNAW Award and Radboud Science Award) and received a NWO VICI grant to study olfactory language and cognition across cultures. She was named one of The Libertine 100 because "her innovative research opens up a whole new frontier of language and 'smell vocabulary'."
Laurent Le Guernec discovered the career path of perfumery at 18 and trained in Grasse where he developed his reverence for raw materials, especially the scent of white flowers. His purposeful style finds strength in purity. He infuses classicism into his creations informed by visual aesthetics. Like the accent of a beautifully constructed suit, the identity of Laurent's work is in the details. He has the rare ability to connect to the sensibility of the moment.
EROTIC ENGINE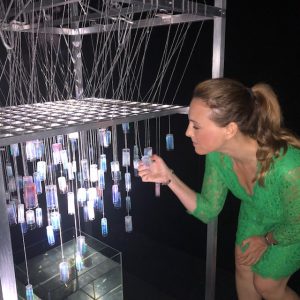 Mobile glass installation, scent diffusion
An exploration of the mechanics of sexual attraction at the core of the vegetal, animal and human worlds.
Looking at the flower as the scent factory for original attraction, biologist Carin Bondar and perfumer Celine Barel explore the core of relations within the vegetal, animal and human worlds. Artist Sarah Meyohas' installation magnifies Nature's power to attract, inviting the viewer to step inside the microcosm of the flower in action.
Artist: Sarah Meyohas
Scientist: Carin Bondar
Perfumer: Celine Barel
Scent:
Erotic Engine – an abstracted floral elixir to attract Featured IFF molecule: Ylanganate
In her work across media, Sarah Meyohas (French-American, born 1991) uses networks of information, power, value, and communication. Most spaces are shaped by the flow of desire through matrices of thought; this is the site of her work. Her 2015 cryptocurrency Bitchcoin and recent Stock Performance at 303 Gallery in New York have been featured in The New York Times, Time Magazine, Wired, Vice, Fortune, Artspace, and The Atlantic, and she has appeared on CNBC, PBS, and CBC. She was recently selected for the Forbes 30 Under 30 list. Meyohas holds a B.A. in International Relations from the University of Pennsylvania, a B.S. in Finance from the Wharton School, and in 2015 received an M.F.A. from Yale University.
Canadian Carin Bondar has a Ph.D. in Biology from the University of British Columbia. She is the writer and host of the web series Wild Sex (Earth Touch Productions) which has garnered over 60 million views. Her TED talk on the same topic has reached an audience of over 2.3 million people. Wild Sex, her book based on the series (Pegasus USA), was released in 2016 and her next book, Wild Moms, is due for release in 2018. Dr. Bondar can be seen on Outrageous Acts of Science on the Discovery Channel and Stephen Hawking's Brave New World on National Geographic. She is the host of World's Oddest Animal Couples (Netflix, Animal Planet).
Celine Barel is nourished by her Mediterranean heritage, creating from the smells of her childhood which shape her olfactory language. She is an extensive traveler with a taste for adventure and tribal cultures. Trained originally in luxury goods at companies such as Chanel, Louis Vuitton and Dior, her calling led to IFF where she learned the craft of perfumery. Her inspirations are many: Loulou de la Falaise, Talitha Getty, Veruschka – alluring anti-conformists who invented their own style – and irreverent photographers such as David LaChapelle and Ellen von Unwerth. Her work has appeared at the Museum of Modern Art, Parsons School of Design, and Robert Wilson's Watermill Center.
TWILIGHT
Computer animation, audio, scent diffusion
Smell re-introduces stillness as a pause from sensory overstimulation and a gateway into the realm of imagination.
Swiss philosopher Max Picard warns us: "Nothing has changed the nature of man so much as the loss of silence." In a consumer culture with too much of everything, our sense of smell allows experiences of presence, nearness and intimacy. Based on this reality, architect Juhani Pallasmaa believes we need the reduction or absence of stimuli to liberate the senses and re-sensitize them to their optimum capacity. Perfumer Natasha Côté responds with 'slow perfumes' that echo the silent and dreamlike qualities of Northern landscapes at twilight. Her compositions take form in a minimalist all-immersive space of awareness, memory and imagination.
Artistic Concept and Interface Design: Polymorf Scientist: Juhani Pallasmaa
Perfumer: Natasha Côté
Scents:
Odes to silence and slow perfumery, shedding superfluous scent architectures in favor of subtle olfactory details that stretch the imagination and passage of time.
Before Dawn – the abstract coldness and humidity of Floralozone enlivened by white pepper translates the feeling of a dewy cold atmosphere and stillness of Nature.
Afterlight – the molecule Coolwood expresses compelling aspects of Northern
Nature coming to life: brightened vegetation under daylight when each element of the landscape unveils its olfactory purity.
Juhani Pallasmaa (born1936), Architect HonSAFA, HonFAIA, IntFRIBA Architect, writer, Professor Emeritus (Aalto University, Helsinki). Juhani lived the war years at his grandfather's humble farm in Central Finland, and was tuned to natural phenomena, including the world of odors in the fields, lakes and forests. He intended to become a surgeon, but studied architecture and has worked in urban planning and architecture, as well as product, exhibition and graphic design. He has lectured and taught around the world and published 50 books on art and architecture, the interplay of the senses, and the significance of emotion, experience, place and atmosphere. Juhani's writings have been translated into 35 languages. The widest known books include: The Eyes of the Skin, The Thinking Hand, The Embodied Image, and Animal Architecture.
Natasha Côté has a degree in Marketing and Business. Working as a lab technician in a fragrance house fed her hunger and curiosity to learn more and become a perfumer. Her French-Canadian origins in an "easy, peaceful, innocent and joyful environment" find their way in her creations. She instills wit in her work and gravitates towards the projects that "cannot be done." Natasha joined IFF in 2015 and is currently completing a three year journey as an IFF perfumer in Brazil. "The place is so raw that you don't know what's going to happen next – one moment I smell the humidity, the next, I feel the cold air of the dense jungle, and finally, the heat, the woods and total exoticism."
MOOD CLOUD
City-Stress App, video animation, scent diffusion, drone activated balloons Personal well-feeling and urban experience converge as mood clouds spread relief based on city stress levels measured by a customized app.
As scent fulfills a broader role in society, it becomes part of the collective urban experience beyond confined commercial environments. The collaboration between Dr. Mazda Adli, specialist in urban stress, and perfumer Jean-Marc Chaillan gives form to a unique application
of scent as antidote for better living. City stress levels are measured through a customized app, guiding 'mood clouds' to dispense scented mist through the streets. The playful social interaction engineered by Polymorf disrupts the city's public space flow to dispel the unconscious cycle of isolation.
In this futuristic scenario connecting urban necessity to fine perfumery, IFF molecules act as agents of 'well-feeling' and trigger new sensations through 'healing'.
Artistic Concept and Interface Design: Polymorf Scientist: Mazda Adli
Perfumer: Jean-Marc Chaillan
Scent:
Mood Cloud – soothing drops of balancing mineral notes and comforting warmth. Featured IFF molecule: Bicyclononalactone.
Dr. Mazda Adli is Director of the Mood Disorders Research Group at the Charité – Universitätsmedizin Berlin and Chair of Fliedner Klinik Berlin, Center for Psychiatry, Psychotherapy and Psychosomatic Medicine. He has dedicated his research and personal engagement to the development and treatment of mood disorders and the investigation of factors which modulate individual stress vulnerability. His aim is to develop effective prevention strategies for stress-related diseases. In 2009 Dr. Adli initiated the annually held World Health Summit at the Charité as Executive Director. Under the patronage of the German Federal Chancellor and the French President, the World Health Summit convenes thought leaders and decision makers from academia, industry, NGOs and governments. In 2014 he founded the interdisciplinary research forum "Neurourbanism" which aims at investigating how city living and urbanization influences emotions, behavior and mental wellbeing.
Jean-Marc Chaillan breathes life into his vision by imagining the intended audience in their everyday life, and shares part of his olfactive world with those who wear his creations. Son of perfumer Raymond Chaillan, he went off to continue the family art by studying at ISIPCA. Jean- Marc's trademark approach lends exuberance, depth and sensuality to any brief. He is inspired by his travels and enjoys the beauty found in juxtapositions. Vivid, effervescent, delectable notes mix in his perfumes with the elements that are dark and sensual in a way that could only be described as Jean-Marc Chaillan's own kind of magic.