YSL Beaute x Lotte Duty Free #YSLBEAUTYHOTEL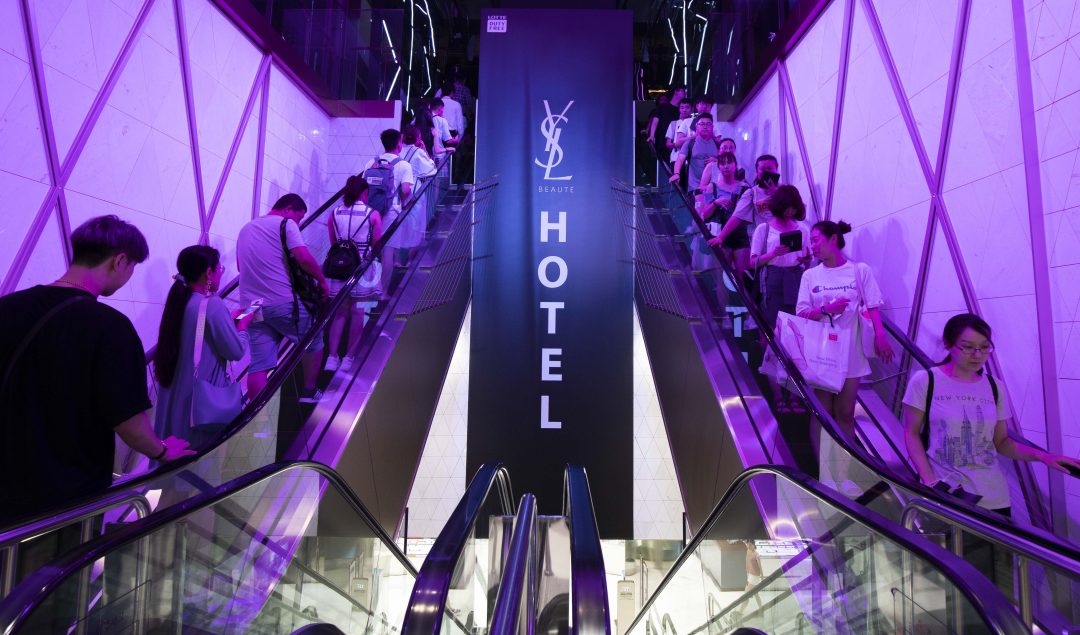 Yves Saint Laurent Beauté proudly unveiled its first ever collaboration with LOTTE DUTY FREE #YSLBEAUTYHOTEL in the exclusive Lotte Hotel STAR lounge.
The invite-only event, held from August 1st-3rd, was the hottest ticket in town, creating an electric buzz amongst the stylish, experience-hungry VIPs, influencers and celebrities on the guest list. It was the first party dedicated to Yves Saint Laurent Beauté travel addicts & LOTTE DUTY FREE VIP at a venue with a total space of 1,000 square meters. Out of the 2,366 guests attended 99%* of them remarked this is the most unique beauty event experience during their travel.
The Biggest POP UP EVENT in town
The irresistible town party had the honor to have 24 trendy Chinese influencers put in their appearances who shared their experiences on social media with the beauty community accumulating record breaking over 220,000,000 social media impression to date and counting mainly from KOL livestreaming. 2 P.M. was interviewed and had a talk show with the audience while award-winning singer Hwang Qi Yeol performed for the party-goers. The live band performance also added an ambience to create a mood of exotic interest. Yves Saint Laurent Beauté simply has a dedication to beauty and music!
#YSLBEAUTYHOTEL featured different hotel-themed experiential areas for guests to explore during their "stay", starting with the super-chic and minimalist hotel lobby, which provided a sleek, monochrome backdrop to guests' photos.
ROOM 1978: Named for the year in which Yves Saint Laurent Beauté first launched its beauty collection, Room 1978 encouraged guests to create their own narrative by recording their own exclusive videos atop a plush #YSLBEAUTYHOTEL bed, in the style of celebrity ambassadors of YSL Beauté.
MON PARIS ROOM unveiled a 360° panoramic view of an upside-down Paris on multi- faceted screens just to blow your mind. With the VR technology, consumers were instantly being taken to a virtual tour to feel the hustle and bustle of the French capital. Mon Paris VR experience was remarked by the guests as favourite experience in #YSLBEAUTYHOTEL.
LIP ROOM: The hotel also celebrated its cult favorite – its lip line, with a captivating pink retro room, filled with hypnotizing lip-shaped decorations, arcade games, and even guitar-hero. Guests couldn't wait to be immersed in the encapsulating neon overhead lights that go on for infinity, and confidently stroke a pose.
PERSONALIZED CHECK-IN EXPERIENCE
Adding to the VIP nature of this exclusive #YSLBEAUTYHOTEL event, NFC technology was used to create a truly unrivalled personalized experience for guests. On arrival, all guests received an NFC wristband each with an individual QR code for identifying and scanning purposes for the 9 check points. This technology also created a bespoke digital footprint of each guest's experiences, collecting their pictures and videos from around the #YSLBEAUTYHOTEL space, as well as the YSL product they tested and saving them to the event's own micro-site. Celebration of Yves Saint Laurent Beauté e-shop – Scan it, shop it, snatch it. Guests who completed all check points at the hotel will also be rewarded with 3 YSL coins to test their luck at the Crane machine zone to complete their #YSLBEAUTYHOTEL journey.
The party also marked the pioneering O-2-O campaign and celebrated the grand opening of the brand new Yves Saint Laurent Beauté e-Shop on lottedfs.com. The party vibe had soon been reinforced by many ravishing e-banners on Lottedfs.com with personalized invitation sent to over 200,000 Lotte VIPs. During the event, guests were encouraged to 'try before you buy', while every Yves Saint Laurent Beauté product tried at makeup master class and each check point was recorded by their NFC wristbands for easier online purchase in the future. This overwhelming joint online-offline and offline-online collaboration would undoubtedly ignite avant-garde glamor among modern shoppers. The party successfully severed as a landing page to recruit consumers for the future of travel retail. Indeed, 97% of guests acknowledged the opening of YSL E-Shop that night.
CLOSEST COLLABORATION WITH RETAIL CLIENT
Produced in close conjunction with LOTTE DUTY FREE, the event paved the way for a new era of creativity in marketing campaigns. LOTTE DUTY FREE brought their regional expertise to the project, inviting the K-Pop performers, identifying and managing their VVIP guest list, as well as coordinating logistics across the vast, 1000 square meter floor space. "We are extremely proud and excited to unveil the first ever collaboration between Yves Saint Laurent Beauté and LOTTE DUTY FREE in our new million-dollar Star lounge. This event will be the first of its kind in Asia. We have brought together some of the most creative minds in the industry to surprise our VIP customers with a one-of-a-kind event that had been in development for many months. #YSLBEAUTYHOTEL is an audacious, disruptive, and an over the top experience for our VIPs, celebrities, and KOLs in the beauty industry. This was the first of many events to surprise our customers shopping at LOTTE DUTY FREE." remarked SK LEE, Vice President of Merchandizing Division at LOTTE DUTY FREE.