CEW hosts talk with L'Oreal Chairman & CEO Jean-Paul Agon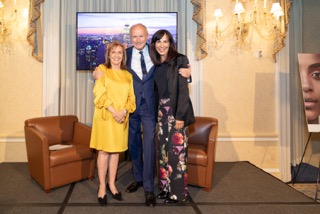 L'Oréal CEO spoke about Remaining Relevant in the Evolving World of Beauty
Jean-Paul Agon shared Insights from his 40+ Years of Industry Leadership with CEW Members
Jean-Paul Agon, Chairman and CEO of L'Oréal, the world's leading beauty company, will draw on his remarkable 40+ years of leadership to provide CEW members with insights into how beauty companies can stay nimble and adapt in today's rapidly changing marketplace.
 Agon, who calls L'Oréal his "soulmate" and "the undertaking of a lifetime," discussed the strategies that have transformed the brand and positioned it for continued success in the future.
 "L'Oreal has evolved dramatically under Jean-Paul's leadership," says CEW President Carlotta Jacobson. "We are excited for this rare U.S. speaking opportunity, so we may hear his inside story and advice for staying ahead in our rapidly changing industry."
 Agon spent his entire career at L'Oreal. Starting in sales and then transitioning to marketing, Agon was appointed head of L'Oréal Greece at age 24, later he led L'Oréal Germany and eventually created the L'Oréal Asia Zone. Through these international experiences, he came to understand the beauty desires of consumers throughout the world. In 2001, he was named President of L'Oréal USA.
 During his 11 years as CEO, Agon doubled the group's market value and spearheaded its makeover. He coined the concept of Universalization – a vision of globalization that respects local differences in desires, needs and beauty traditions. With this in mind, he created research and marketing hubs in every strategic market. Under Agon's leadership, L'Oréal has become the world leader in e-commerce, transforming the relationship between brands and consumers. Finally, he has made L'Oréal a world champion of sustainability – one of only two companies to hold the highest rating by the Carbon Disclosure Project in the key areas of combatting climate change, creating sustainable water management and fighting deforestation. The Ethisphere Institute has ranked L'Oréal as the company with the second best ethical reputation worldwide.