The Art of Fragrance Writing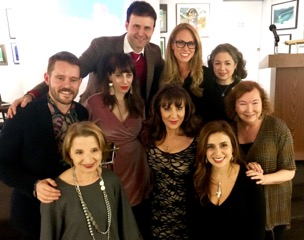 Writing about fragrance is no easy task. True to their mission of encouraging and supporting creative fragrance writing, the Perfumed Plume's unique and special event last night at The Society of Illustrators called on an expert panel of fragrance journalists to talk about what inspires them to create the award-winning scent stories they write. With wit, humor and exceptional skill, they each displayed their highly developed talent for writing about such an ephemeral subject to an enthusiastic audience. Panelists and audience participated in a fascinating blind-smelling and word association writing session that resulted in some evocative and provocative, spontaneous scent stories which were read aloud.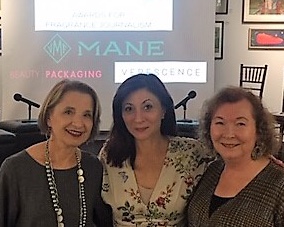 "What a fun and informative evening" said Miranda Gordon, Vice President, Fine Fragrance Marketing & Evaluation, at MANE, a sponsor of the event.  "I hope the Perfumed Plume does more hands-on events like this. The panelists were just exceptional and showed us all that writing about fragrance is a very special skill."
Panelists included: Andrea Bifulco, Rachel Syme, Michelyn Camen, Catherine Haley Epstein, Max Forti, Jessica Murphy, and Stephen Tracy.
Andrea Bifulco is the founder of Nose University, an educational company that teaches children and adults about the joy and importance of their sense of smell. Nose University offers exciting olfactive programs that explore the connections between smell and science, emotion, memory, writing and language. Before starting Nose University, Andrea worked in corporate fragrance development at the Estée Lauder Companies, scented print development at Orlandi, Inc., and fragrance R&D in the Estée Lauder Laboratories. She lives on Long Island, New York with her family and two young children – who are already olfactive experts!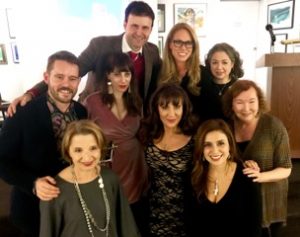 Michelyn Camen is the founder, publisher and editor-in-chief of ÇaFleureBon.com, a 3-time recipient of The Perfumed Plume Award for Fragrance Journalism and a winner of The Fragrance Foundation Award for Editorial Excellence. As an advocate of diversity and collaborative intelligence, in 2010 she launched the global fragrance site ÇaFleureBon (a translation from the French phrase that has a dual meaning; "this smells good" and "this good idea"). With Ms. Camen's background in fine arts and literature, there is a visual and literary slant to each article. ÇaFleureBon is a "scented salon" where all aspects of olfaction are explored through an artistic lens. Ms. Camen is a marketing and branding executive who is a recipient of Brandweek Marketer of The Year and Ad Age Marketing 100.
Max Forti is an entrepreneur and financial director by trait. However he has a passion for fragrances that started back when he was a child after trying Azzaro pour homme and falling in love with it after realizing the effect fragrances had on people. For the past twenty-five years fragrances have been a very strong and pivotal part of his life. He has developed a channel and other forums, groups, social media platforms and conventions dedicated entirely for the art of perfumery. As an avid and active member of the Fragrance Community he hopes to continue to share and inform folks in this exceptional and timeless art form for years to come.
Catherine Haley Epstein –an artist and writer who has received the 2017 Perfumed Plume Award in Fragrance Journalism for her work in Temporary Art Review on the use of scent as an art medium. A recent attendee of the Bread Loaf Writers' Conference at Middlebury College in Vermont, she has served on the Visual Artist grants panel for the National Endowment for the Arts, and in 2018 presented to designers at Nike's headquarters on the use of scent as a tool in art practices. In 2016 she was selected to exhibit her experimental fragrance project at the inaugural AIX Scent Fair at the Hammer Museum in Los Angeles.
Jessica Murphy has been writing perfume reviews for the blog Now Smell This since 2007 and she blogs independently as Perfume Professor. A trained art historian, she is fascinated by the historical and present-day connections between fragrance and other media. She teaches classes on fragrance culture at the Brooklyn Brainery and other venues in the New York City metro area.
Rachel Syme is a journalist and cultural critic. She writes about fragrance for The New York Times, as well as for magazines such as Elle, Esquire, and Racquet. She is also a co-creator of The Dry Down, a popular newsletter and events series in New York that aims to connect scent to memory and to introduce curious noses to the world of perfume. She is a three-time winner of the Perfumed Plume Award for Fragrance Journalism for her feature stories, including a report on the return of animalic scents and an essay about perfumers who attempt to capture the smells of tennis by creating new grass accords. She currently resides in Brooklyn with her husband, an organ of raw fragrance materials (her favorite is her chunk of pure ambergris) and far too many bottles of perfume.
Stephen Tracy — the founder of Keap Candles, a Brooklyn-based candle company working with master perfumer Christophe Laudamiel. Alongside pioneering a zero-waste approach to candles, Keap works to invite consumers into the creation of their fragrances—transparently discussing the artistry and complexity behind fragrances on their blog.