The Fragrance Foundation's Notables Class of 2019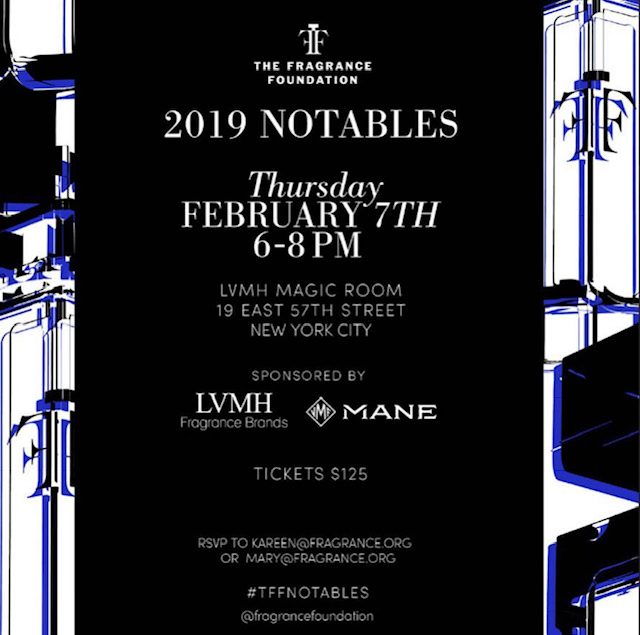 The Fragrance Foundation has announces the Notables Class of 2019. This year's class of 11 are being honored for achievements and influential voices within their respective companies and to the fragrance industry as a whole.
"We commend this outstanding group of talented individuals for their contributions to date and recognize their potential in the industry," said Linda G. Levy, President of The Fragrance Foundation. "The Notables will serve as advisers and thought leaders to drive future Fragrance Foundation strategies and initiatives."
The Notables will be honored during a cocktail reception sponsored by LVMH and MANE at the LVMH Magic Room in New York City on Thursday, February 7, 2019. 
The Fragrance Foundation's Notables Class of 2019:
Atelier Cologne – L'Oréal, Thomas Lamotte, Marketing and Events Manager
Cosmo International Fragrances, Nathalie Authier, Senior Creative Trends & Marketing Expert
COTY, Simone Bolotin, Senior Director, Influencer Marketing/PR
Firmenich, Julia Olivier, Senior Fragrance Development Manager
Givaudan, Liza Ketcham, Junior Sales Executive, Fine Fragrance
IFF, Christina de Matos, Account Manager
Interparfums, Adam Leibgorin, Senior Marketing Manager
MANE, Kaleigh Prokop, Junior Perfumer
Robertet, Katrina Guillermo, Senior Project Coordinator
Takasago, Rachel Greenspan, Account Manager, Fine Fragrance Sales
The Fragrance Foundation, Alissar Taremi, Director, Marketing
Event Social: #TFFNotables @fragrancefoundation 
For more information, please visit www.fragrance.org and follow The Fragrance Foundation on social media.