Spotlight on Actress & Influencer Renée Willett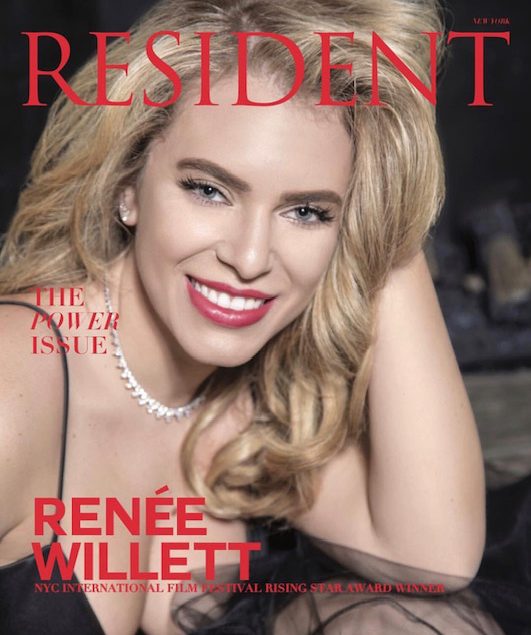 This week's Spotlight shines on New York-born actress, comedian, and influencer Renee Willett, who graces the cover of the February issue of Resident magazine and recently served as moderator on the Luxury, Lifestyle, and Loyalty panel at this month's American Influencer Association launch party. Renee's profile is definitely on the rise in the world of film and stand-up comedy.
At the young age of 26, she already has over 20 different acting projects under her belt (with more in the works), and the industry is definitely taking notice. This March, she will receive the NYC International Film Festival's Rising Star Award of 2019. But if acting in feature films and performing on stage weren't enough to manage, Renee is also currently working towards her MBA degree in film finance at the University of Southern California's Marshall School of Business.
You've seen Renee in films as varied as The Comedian, Blind, Sharknado 3, Beast of Burden, and The Yellow Birds, working alongside a plethora of prominent and respected actors, such as Alec Baldwin, Robert De Niro, Jennifer Aniston, Danny DeVito, and Demi Moore. And 2019 will be even busier for Renee. She has a number of big projects in the pipeline, including Cutman (with Val Kilmer), Ditch Plains (with Famke Janssen), and Run with the Hunted (with Ron Perelman and Michael Pitt).
In recent conversation with The Beauty Influencers, Renee mused about her dream project. "I would love to be a Marvel superhero or a lead in the upcoming Game of Thrones prequel. But I would absolutely love to star in a Judd Apatow film or work opposite Will Ferrell!"
Renee is also a working comedian who performs stand-up shows, improv and sketch comedy routines around N.Y. and Tel Aviv. She honed her skills at famed theater schools such as Upright Citizens Brigade and The Groundlings (whose alumni include Melissa McCarthy, Will Ferrell, Kristen Wiig and Phil Hartman). Her big break came after performing at Comic Strip Live, the longest-running comedy club in the world. She counts Andrew Dice Clay as her comedy mentor, after bonding and performing her material for him after a show.
Philanthropy is a very important aspect of Renee's life, and she engages in it on an international level. In fact she's a Global Ambassador for the United Hatzalah (a volunteer-based emergency medical service organization in Israel), who also named her as one of their outstanding '30 Under 30.' She helped raise $1M when she hosted their NY gala, according to Resident Publications, who also featured her recently on the cover of their February issue.
"Looking up to my parents and all the incredible charitable work they do, I was inspired at a young age to follow in their footsteps. I have become involved in the Young Leadership Boards of many organizations including United Hatzalah, The USC Shoah Foundation, Shalva, Robin Hood, Michael Milken Prostate Cancer Foundation, Harlem Junior Tennis and Education Program, etc.
Getting involved with organizations that I am particularly passionate about is meaningful to me because I know who it's directly affecting, such as mentally challenged children of all religions in Israel, underprivileged kids in Harlem with exceptional tennis talents, or NYC families affected by 9/11. If I can use my influence for anything, this is what I want to be using it for," stated Renee in an exclusive interview with TheBeautyInfluencers
When she's not acting, performing stand-up, or involved in charity work, Renee is traveling the world and documenting it for her over 500K Instagram followers. In just the past several months, she's travelled to Brazil, Argentina, and Thailand in partnership with the Four Seasons Hotels and Resorts. She also partners with other luxury hotel companies like the Park Hyatt and the Ritz-Carlton.
Follow Renee on Instagram @reneewillett