Aerin Lauder Hosts Sold Out BCRF Palm Beach Hot Pink Luncheon & Symposium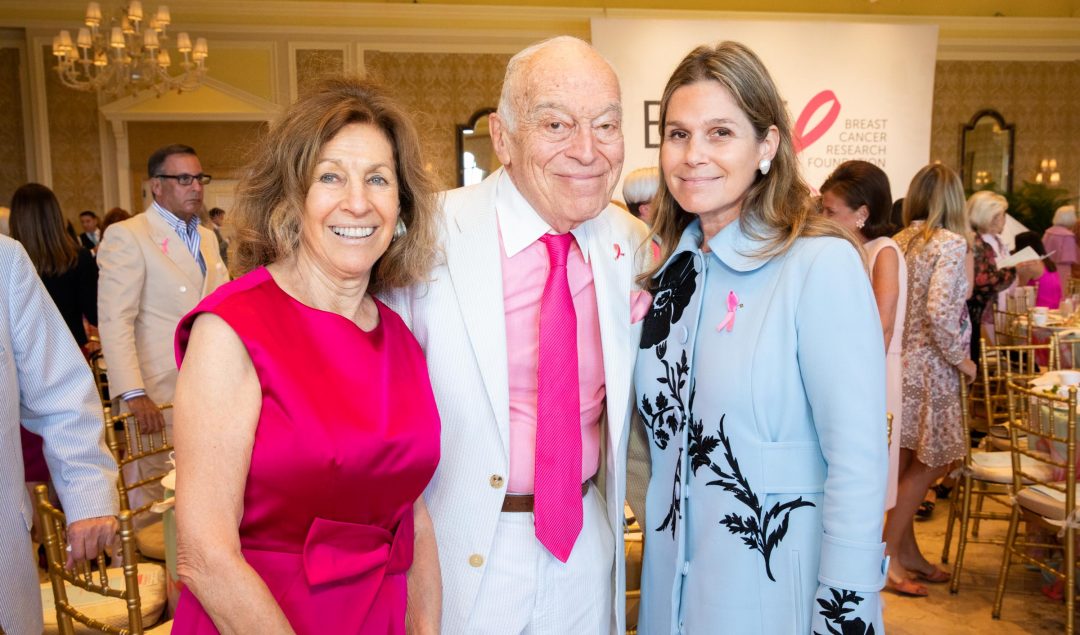 Event raised a record breaking $1 million + for lifesaving breast cancer research
The Breast Cancer Research Foundation raised more than $1.1 million at the 16th annual Palm Beach Hot Pink Luncheon & Symposium, a record for the event. Host Aerin Lauder and philanthropists from across the Sunshine State were among the 450 guests gathered at The Breakers Palm Beach to hear from preeminent breast cancer researchers and enjoy a seasonal fashion presentation by event underwriter Neiman Marcus. Proceeds from this highly-anticipated annual luncheon help fund BCRF's global legion of researchers 300-strong, including four scientists based in Florida. The Foundation proudly stands today as the largest private funder of breast cancer research in the world.
"When my Aunt, Evelyn Lauder, established BCRF 25 years ago, she envisioned a world free of breast cancer. Today, we are much closer to achieving that vision. There are 3.5 million breast cancer survivors in the U.S., and none of this progress would be possible without you," said Aerin Lauder, addressing the Palm Beach community.
Notable attendees included: breast cancer survivor and tennis champion Martina Navratilova, Leonard & Judy Lauder, Kinga Lampert, Tom Quick, Laura & Harry Slatkin, Gigi & Harry Benson, Emilia Fanjul, Lori Bernstein, Olga Blavatnik, Talbott Maxey, Felicia Taylor, Jackie Weld Drake, Ginger Feuer, Christina Baker, Cathie Black, and Ellen Newhouse.
This year's symposium, entitled the "Scientific Revolution in Breast Cancer," featured Dr. Larry Norton, BCRF Co-Scientific Director, of Memorial Sloan Kettering Cancer Center; Dr. Judy Garber, BCRF Co-Scientific Director, of Dana Farber Cancer Institute, Brigham and Women's, Harvard Medical School; and, Dr. Mina Bissell of Lawrence Berkeley National Laboratory.
"I'm thrilled by the groundswell of support from our friends here in Palm Beach," said BCRF Honorary Chairman, Leonard A. Lauder. "BCRF funds research, and only research. It's what drives us. Every breakthrough since 1993 can be traced back to BCRF funding, and we'll keep propelling that progress forward."
BCRF's distinguished Palm Beach Luncheon & Symposium leadership included: BCRF's Honorary Co-Chair, Leonard A. Lauder, and Board Co-Chair Kinga Lampert; Palm Beach Hot Pink Luncheon & Symposium Lead Chairs: Eileen C. Burns, Raysa Fanjul; Founding Chairs: Sandra G. Krakoff, Hillie Mahoney, Mary Alice Pappas, Frances Scaife, Judith P. Schlager; and Co-Chairs: Louise T. Braver, Merel Cayne, Betsy Green, Ronnie Heyman, Judy Lauder, and Sydell Miller.
The event was made possible by Event Lead Underwriters: Braman Motorcars, Louise and David Braver Philanthropic Fund, Eileen & Brian Burns, Florida Crystals, Nancy Goodes, Grandeur Peak Funds, Ronnie Heyman, Lambert Family Foundation, Kinga Lampert, Leonard & Judy Lauder Fund, The Ambrose Monell Foundation, Neiman Marcus, and UBS.