17th Edition of LUXE PACK NEW YORK Hits The Javits Center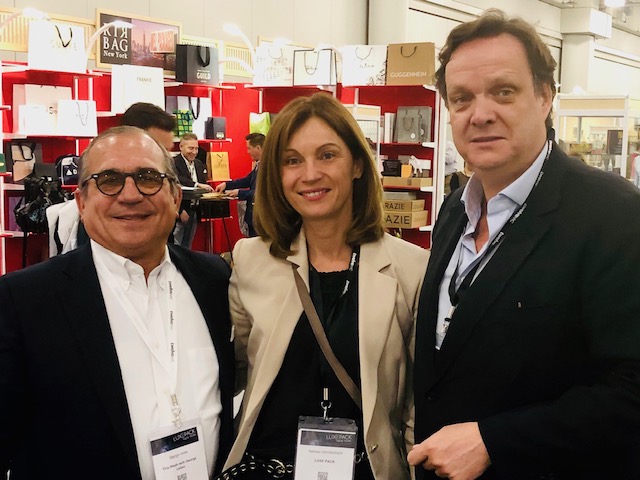 The 17th edition of LUXE PACK NEW YORK hit the Javits Center from May 6-7th, 2019. With 200 exhibitors and more than 3,800 attendees — a 4% increase from 2018, this was a record breaking conference program attendance.
"The move to the Javits Center was extremely well-perceived and had a great impact on LUXE PACK. The quality of the location and its great amenities, raised the overall atmosphere of the event while keeping LUXE PACK' high-standards and luxury vibes," stated Nathalie Grosdidier, General Director of Luxe Pack. "We hit a new records with great conference attendance with thousands of attendees. All exhibitors were extremely pleased with the new location. LUXE PACK NEW YORK 2020 will take place from May 6-7th at the Javits Center.
To view photos of the event, click here: https://www.luxepacknewyork.com/en/press/pictures-videos
LUXE PACK NEW YORK DOES NOT LET PACKAGING GO TO WASTE
"We want to highlight our constant focus on sustainability. We hosted the Green Awards, of course. In our practices, we are trying to be greener as well with reusable booths. Our newest initiative targets a zero waste show. In partnership with our show contractor, FB and Alma, we organized the collection, compacting and recycling of all the carpet and secondary plastic items," Grosdidier continued.
LUXE PACK IN GREEN COMPETITION 2019
Keeping sustainability in the forefront of the packaging industry, LUXE PACK New York honored two exhibitors for their contributions in creating new and impactful sustainable products and internal initiatives that ultimately minimize waste and improve our environmental landscapes.
This year's winners were selected by an elite jury of industry experts listed below.
And the winners are:
 "Best in Green Product"  is awarded to Nate Packaging —a global packaging company that designs, engineers, builds, and delivers high quality packaging beyond the visions and ideas.  We continually create the next evolution in product packaging to distinguish your brand to stand above your competition in the retail market place. http://www.natepackaging.com/about.html

 "Best in Green Initiative" is awarded to Ecological Fibers –FSC certified luxury packaging products that come from responsibly managed forests providing environmental, social and economic benefits. https://www.ecofibers.com/
Jamie MATUSOW, Editor-in-Chief, BEAUTY PACKAGING
Drew HADDOCK, Packaging, GLOSSIER
Cyntha GRANEY, Executive Director, Global Package Development, ESTEE LAUDER COMPANIES
Dana DAVIS, Vice President of Sustainability, MARA HOFFMAN
Leilanie BRUCE, Project Manager, BRIGHTWORKS SUSTAINABILITY
THE CONFERENCES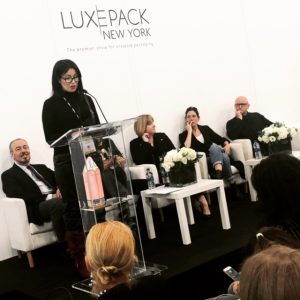 Eighty percent of this year's sessions were standing room only. The CBD and sustainability sessions, both on day one, were the best attended, however.
Introduced by LuxePack's Linda Villalabos, Designer Marc Rosen is always one of the most popular speakers, and attendance was standing room only for the seminar he moderated on THE INSPIRATION CROSSOVER with Valerie Aurilio of Landor; Rui Pereira of Google; Sandra Monteparo of Victoria's Secret; and Kevin Shaw of Stranger & Stranger. Inspiration is the common denominator that connects creativity, technology, marketing and innovation. Whether packaging a fragrance, a laptop, tequila or candy, allog these elements are channeled by the designer to inspire their creations.
BRIDGES BETWEEN FRAGRANCE & SPIRITS
Moderated by Alissa DEMOREST – Editor-in-Chief, FORME DE LUXE MAGAZINE
Irka TKACHENKO – Senior Designer, LVMH FRAGRANCE BRANDS /GIVENCHY & KENZO
Laurent HAINAULT – Founder & CEO, FORCE MAJEURE
Nicole BOURDETTE-KOSMIDER – Global Product Development Manager, BELVEDERE VODKA
CONNECTING WITH TODAY'S CONSUMER: THE ROLE OF CLAIMS AND TRANSPARENCY
Activism geared toward the beauty industry combined with distrust of big corporations has created a unique landscape. The current market reality is that consumers more engaged than ever with what they buy wanting to know EVERYTHING about the products they are using. Transparency and honesty in all aspects including ingredients, methods of farming, the impact of the package on the environment and of course safety and effectiveness, are all brand elements open for discussion.  This panel discussed what claims are the most coveted by today's consumers, what buzzwords to stay away from and how brands can thrive when all elements seamlessly come together.
Moderated by Daniela CIOCAN – Founder, ACCESS BEAUTY INSIDER
Sharon BLINKOFF – Counsel, LOCKE LORD
Jennifer STANSBURY – Managing Partner, THE BENCHMARKING COMPANY
Alicia GRANDE – Founder and CEO, GRANDE COSMETICS
THE FUTURE 100: TRENDS AND CHANGE TO WATCH FOR THE YEAR AHEAD
The ongoing political, economic and environmental upheaval continues to shape culture, consumer behavior and emerging trends.As a result, brands are evolving, taking on roles as civic leaders, wellbeing advocates and even stepping in to solve world problems. The Future 100 charts 10 emerging trends across 10 sectors, spanning beauty, food + drink, technology and more. This session highlighted the most important new consumer behaviors, zeitgeist shifts and innovation, examine how it matters and what organizations can leverage what's to come.
EMILY SAFIAN DEMERS – CREATIVE INNOVATION DIRECTOR, WUNDERMAN THOMPSON
ACCESSIBILITY — THE NEW FRONTIER
Generation Z is leading the way in demanding human equality and individuality from brands. This means you can expect to see brands embracing more skin tones, body types, and less abled bodies in the future.  How does this affect the design of packaging and the products themselves? What new technologies and production techniques lend themselves to the needs of this historically underserved audience?
Sheri KOETTING – Founder, MSLK
TECH TALKS
"Tech Talks" was new for 2019 and was very well received on day two. A select group of packaging experts took center stage and demonstrated industry technology advances designed to offer packaging products and services a competitive edge. Experts who specialize in brand protection, smart packaging, and/or digital packaging solutions included:
Moderated by Linda CASEY – Editor-in-Chief, BRAND EXPERIENCE MAGAZINE (BXP)
HUNTER LUXURY: Mike BANISTER – Director, Hunter Luxury &
Chris JONES – Sales Director EMEA, THINFILM ELECTRONICS
GUALA CLOSURES: Cameron WORTH – SHARPEND THE AGENCY OF THINGS
KNOLL PRINTING – Gary MONTALBANO – Co – Founder, CMS CONNECT
PACK-SMART INC. :Derek DLUGOSH-OSTAP – President & CEO, PACK-SMART INC
Liza NELSON – Senior Sales Account Executive, SYSTECH
FOR MORE INFORMATION ON LUXE PACK NEW YORK or to explore LUXE PACK MONACO on Sept 30th- Oct 2nd, visit: https://www.luxepack.com/