Jeremy Fragrance 2019 Fragrance Foundation Consumer Choice Fragrance Influencer of the Year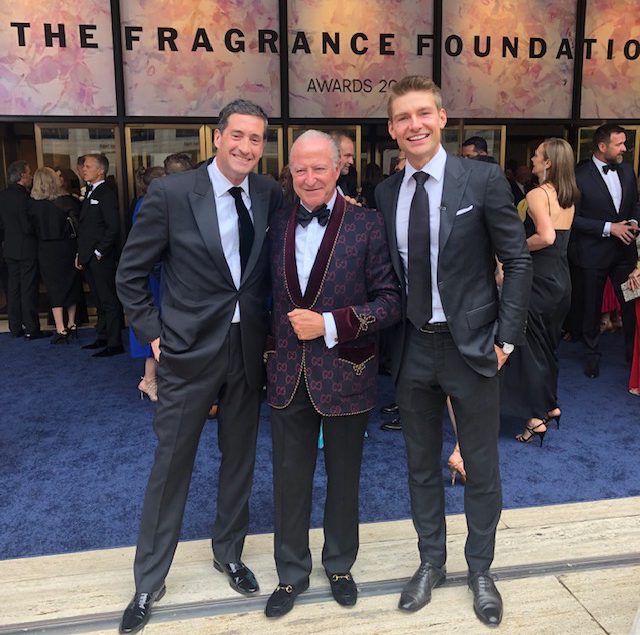 Jeremy Fragrance is the #1 Fragrance Influencer in the World.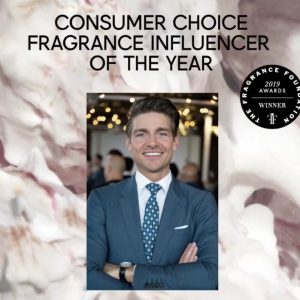 With more than 700,000 subscribers on YouTube and 100,000 followers on Instagram, and others on Facebook, he not only has a loyal and dedicated following of fragrance enthusiasts but a growing career in fragrance as well.
He raised approximately $800,000 in just 30 days with a record-breaking Kick Starter campaign last year and launched  his own brand, Fragrance One available at www.fragrance.one
His first fragrance, Office for Men, by Master Perfumer Alberto Morillas of Firmenich shipped in May.
For the second year in a row, Jeremy has captured the hearts of the fragrance world to win the prestigious Fragrance Foundation Consumer Choice Award for Fragrance Influencer of the Year 2019 — This award honors a creative fragrance influencer with significant reach through social media. It is judged on concept and execution, fragrance storytelling, resonance of message and reach throughout their body of work in 2018, according to the Fragrance Foundation.
The Beauty Influencers caught-up with Jeremy who still lives primarily in Germany, but is spending more and more time in New York and LA due to his popularity among brands lined-up to parter with him.
Here's what he had to say…
I'm a Fragrance Brand Owner as well as Fragrance Critique.
My journey started in 2014 and after two years of simple passion for fragrances, I decided to make this my full time job. Ever since then, I started a monk-like discipline, smelling 55 fragrance oils every morning, punishing myself with push ups when guessing the oils wrong, attending every fragrance relevant event in my reach, working with big brands, working on my own fragrance, basically dedicating my whole life to the topic of fragrances since I feel I can leave something special with this nice interesting fragrance journey. Its an adventure, dear readers!
I was born in Germany and always went the artistic way, as well as the entrepreneurial way. meaning I started at school theater, joined the youth dancers theater, went to the state theater, joined a boy band, became a fragrance reviewer on YouTube. I always liked the idea -like most people, I think, to constantly improve myself. And fragrances have always been a part of simply easily improving yourself and finding your signature style.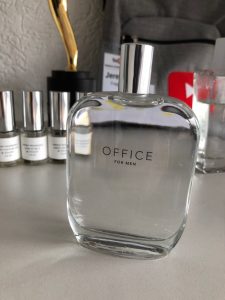 After four years of being an online Fragrance Influencer and especially winning my first award from the highly respected Fragrance Foundation, it was time to go the next level with my own fragrance brand. My dream perfumer pick for this project, the legendary Alberto Morillas  We scored over 6,500 bottles sold of fragrance within 30 days –sold blindly without giving away samples, that was very new in the fragrance industry.
The campaign had a record breaking $880,000 score of preorders in sales. I'm very happy and engaged since its finally my own product and its a great feeling if people buy and like what you produce, dear readers.
I have an online Campaign with GQ Germany about "The Modern Man" and I have been mentioned in numerous magazines around the world from FOKUS magazine in Germany to The Daily Nation in Nairobi. I mostly care about online since its easily linkable to my social media platforms. Just one click on the link and you are on my video. Magazines are still important however –one hundred percent! Its just cool to have a great magazine in your hand.
Next, I will be launching a Limited Edition Candle for the Cozy Winter time and many fragrances are in the pipeline if we approve them. At this stage, people expect nothing but the best of the best of the best. So a respectable follow-up after the big success of Office for Men will come.
I have either spoken to or worked with most of the big beauty companies. Its great that they respect the importance of a fragrance influence on social media. Its not only the traditional TV Commercial anymore. Nowadays people read and listen to what others experience with a perfume on line. This means the "Influencers" have a very important role in this big business of fragrances, dear, fantastic readers.
You can follow @JeremyFragrance on
www.youtube.com/jeremyfragrance
www.facebook.com/jeremyfragrance
For more information on Jeremy, visit www.jeremyfragrance.com