2019 Fragrance Foundation Awards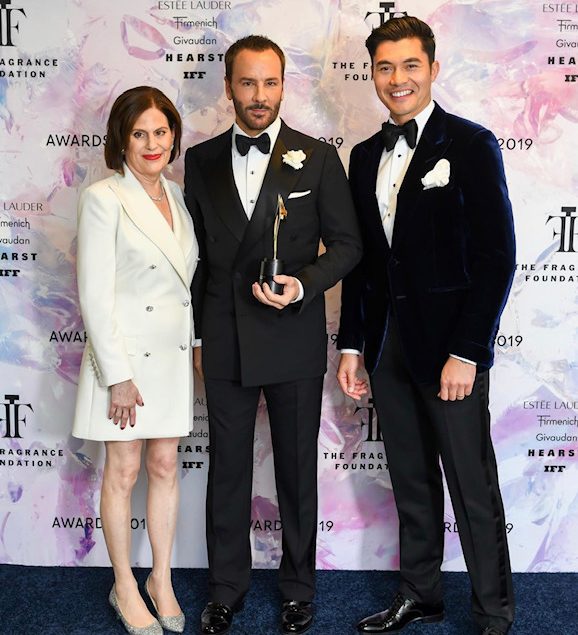 The 2019 Fragrance Foundation Awards—an annual event which celebrates the extraordinary talent and achievements of the fragrance world, was held on Wednesday, June 5th, in the David H. Koch Theatre at Lincoln Center in NYC. Hosted by award-winning actress Jane Krakowski,  the Awards honored iconic designer Tom Ford, IFF Master Perfumer Dominique Ropion, and Nest Fragrances Founder & CEO Laura Slatkin.
Actor Henry Golding, the dashing star of Crazy Rich Asians, presented the Award to Mr. Ford who was inducted into The Fragrance Foundation Hall of Fame. Accepting the award — his seventeenth Fragrance Foundation Award, Ford spoke eloquently about his life-long love of fragrance.  "Since I was a child, I was obsessed with the smell of things," he confided in a video tribute to his work. Before the end of the night, he would go on to win his eighteenth Fragrance Foundation Award, for Tom Ford Lost Cherry, which was named Women's Luxury Fragrance of the Year.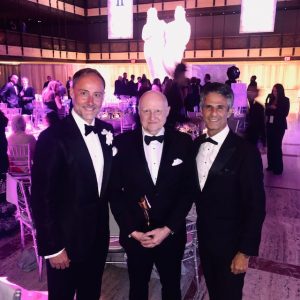 Dominique Ropion, Master Perfumer at International Flavors & Fragrances Inc (IFF), was celebrated as the 2019 recipient of the Lifetime Achievement, Perfumer Award. The award was presented by Nicolas Mirzayantz, Group President of Fragrances at IFF. When Ropion — who has created such classic scents as Mugler's Alien and Frederic Malle Portrait of A Lady. took the stage, the audience burst into thunderous applause and standing ovation for the great "master of flowers."  Also, as a historic first for The Fragrance Foundation Awards, the evening featured an exclusive ambient fragrance created by Ropion, called Fleurs d'un Soir, which translates to Flowers of the Evening, and included notes of orris root, rose, and jasmine.
NEST Fragrances Founder & CEO, Laura Slatkin, was recognized as this year's "Game Changer." Her husband Harry Slatkin, presented the award with a heartfelt speech about her hard work and immense impact on home fragrance and on autism – a cause near and dear to their family. After a brief film celebrating Laura's achievements, with testimonials from luminaries such as Leonard Lauder and Tommy Hilfiger, The Fragrance Foundation announced its new Give Back initiative will support NEXT for Autism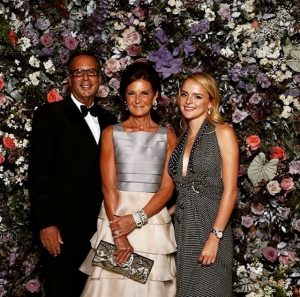 The star-studded event organized by Fragrance Foundation President Linda G. Levy was attended by such talent as Grammy Nominee Bebe Rexha; actress Michelle Pfeiffer – who recently launched her own line of fine fragrances with IFF called Henry Rose; designer Jason Wu, accompanied by Victoria's Secret model Martha Hunt; DJ, author and founder of HBFIT Hannah Bronfman, CoverGirl and dietitian Maye Musk; Harper's Bazaar's Glenda Bailey, Cosmopolitan's Jessica Pels, Carine Roitfeld – who also just launched her own line of fragrances called 7 Lovers, and Martha Stewart.
Between awards, Jerry Vittoria, Fragrance Foundation Chairman of the Board and President of Fine Fragrance Worldwide at Firmenich delivered a rousing speech about the future of fragrance and the challenges facing the industry, calling crucial attention to issues in the American market, where "many American consumers are intimidated by fragrances [and] some have been led to believe fragrances are dangerous." He counseled that "we must find a way forward with smart transparency," and reminded the assembled audience of industry leaders that "our united voices on this topic will be as important as any award given tonight."
2019 Winners
HALL OF FAME– Tom Ford
GAME CHANGER– Laura Slatkin
LIFETIME ACHIEVEMENT, PERFUMER– Dominique Ropion
FRAGRANCE OF THE YEAR – WOMEN'S LUXURY
Tom Ford Lost Cherry
Tom Ford Beauty
Givaudan
Louise Turner
FRAGRANCE OF THE YEAR – MEN'S LUXURY
CHANEL BLEU DE CHANEL PARFUM
CHANEL
Olivier Polge
FRAGRANCE OF THE YEAR – WOMEN'S PRESTIGE
Jo Malone London Honeysuckle & Davana Cologne
Jo Malone London
IFF
Anne Flipo
FRAGRANCE OF THE YEAR – MEN'S PRESTIGE
Dior Sauvage Eau de Parfum
LVMH
Parfums Christian Dior
François Demachy
FRAGRANCE OF THE YEAR – WOMEN'S POPULAR
Ariana Grande Cloud
LUXE Brands
Firmenich
Clement Gavarry
PACKAGING OF THE YEAR – WOMEN'S
CHANEL N°5 LIMITED EDITION EAU DE PARFUM
CHANEL
PACKAGING OF THE YEAR – MEN'S
John Varvatos JVxNJ
Revlon
John Varvatos & Paul McLaughlin
MEDIA CAMPAIGN OF THE YEAR – WOMEN'S
YSL Black Opium Eau de Parfum
YSL Fragrances
MEDIA CAMPAIGN OF THE YEAR – MEN'S
CHANEL BLEU DE CHANEL PARFUM
CHANEL
SOCIAL MEDIA CAMPAIGN OF THE YEAR
Marc Jacobs Daisy Love
COTY
FRAGRANCE HALL OF FAME
Donna Karan Cashmere Mist
The Estée Lauder Companies
IFF
Nicolas Calderon
HOME COLLECTION OF THE YEAR
diptyque 34 Collection
diptyque Paris
Givaudan
Olivier Pescheux
2019 PERFUME EXTRAORDINAIRE
Symrise
Emilie Bevierre-Coppermann
A Lab On Fire
Hallucinogenic Pearl
CONSUMER CHOICE WOMEN'S PRESTIGE
Marc Jacobs Daisy Love
COTY
Firmenich
Alberto Morillas
CONSUMER CHOICE WOMEN'S POPULAR
Victoria's Secret Tease Rebel
Victoria's Secret
Givaudan
Stephen Nilsen
CONSUMER CHOICE MEN'S
Paco Rabanne 1 Million Lucky
Puig
Givaudan
Nathalie Cetto
CONSUMER CHOICE FRAGRANCE INFLUENCER OF THE YEAR
@JEREMYFRAGRANCE