SYMRISE Master Perfumer Emilie Coppermann Receives 2019 Perfume Extraordinaire Award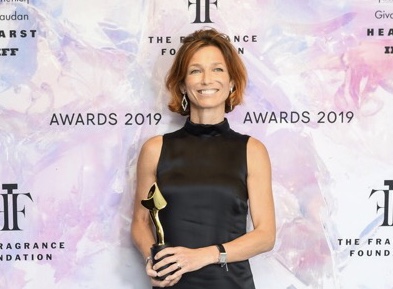 SYMRISE MASTER PERFUMER EMILIE COPPERMANN RECEIVES DISTINGUISHED PERFUME EXTRAORDINAIRE AWARD FROM THE FRAGRANCE FOUNDATION
Recognized for the creation of A Lab on Fire's Hallucinogenic Pearl
Emilie Coppermann received the prestigious Fragrance Foundation's Perfume Extraordinaire Award on the evening of June 5th, 2019 at Lincoln Center's David H. Koch Theatre in New York, hosted by Actress Jane Krakowski. The award was presented by acclaimed Fashion Designer Jason Wu and Anne Fulenwider, Editor-in-Chief, of Marie Claire magazine, at a black tie dinner in the presence of more than 900 guests from the global fragrance community, including celebrities and media, who came to celebrate the outstanding accomplishments of the brands, perfumers and visionaries of the fragrance world.
Coppermann was recognized for the creation of A Lab on Fire's Hallucinogenic Pearl fragrance. A Lab on Fire® is a limited-production fragrance house, based in Brooklyn, New York. It is a brilliant collaboration with the brightest talents in the industry creating original fragrances of the highest ingenuity, freshness and quality.  Each fragrance is designed by a famous nose to be contemporary, refined, and rich.  Each package design emphasizes simplicity and industrial chic.
Upon receiving this important Fragrance Foundation Award, Coppermann stated, "It was wonderful working with the artists behind A Lab on Fire who allowed me to express myself freely. I am so happy and especially honored to receive this award from my peers."
"For our fragrance to receive an award from The Fragrance Foundation is beyond an honor, it's almost surreal!  The best part is for a perfumer to make it happen with such a small brand like us.  That makes Emilie Bevierre-Coppermann even more awesome," stated A LAB ON FIRE
"We congratulate Emilie on receiving the Perfume Extraordinaire Award – perhaps the most meaningful award given by the Fragrance Foundation, as it is bestowed by our distinguished peers. It emphasizes Emilie's outstanding talent as a perfumer that is well recognized by the industry. She inspires her colleagues with her own creative work and has created many winning fragrances for Symrise, making her a key factor in our fragrances' success", stated Ricardo Omori, Senior VP Global Fine Fragrance at Symrise.
The 2019 Fragrance Foundation Perfume Extraordinaire Award Winner: Hallucinogenic Pearl includes top notes of ambrette seeds, bergamot, and pinkpepper berries; mid notes of violet, Iriseine De Laire, orris; and dry notes of suede, blond woods, and musks. Its olfactive family is floriental violet leather. Its style is vintage, sexy. Its mood is of "air warmed and stilled, the sky a hazy shade of blue. Here, free of all restrictions we stay up too late, rise too early, just to be here. Here, the gaze focuses, then looks past. Here, a sense of genuine divinity is felt between skin tones and Venetian blonde, leather and lace. And more, much more than this, we do it our way."
"As every artist does, Emilie Coppermann believes in the power of dreams. Indeed she discovered her passion for the world of fragrances at the age of fourteen. The magical encounter with the Perfumer of the Rochas House was a determining factor in her life. She then decided to study organic chemistry and learned the job of Perfumer at the prestigious International Institute of Perfumes, Cosmetics & Aromas in Versailles," states A Lab on Fire's web site, which also notes, that Coppermann is an accomplished woman and "mother of four children: another job she manages with the same energy and passion."
For more than 20 years, Coppermann has been working for the most prestigious fashion and designer brands. Her success relies on her capacity to follow feminine intuition. Her work has been recognized many times by her peers and institutions including the Lalique Prize of the Talents du Luxe in 2011 and the prestigious Prix Francois Coty in 2018.
Coppermann has created fragrances for both luxury and niche brands. Initially, she was drawn to the idea of creating fascinating fragrances when she was a teen. She systematically pursued her dream and wound up studying chemistry. Her talent was recognized by perfumers Jean-Louis Sieuzac, and Dominique Ropion —who took her under his wing while at Symrise (Florasynth). They taught her the fundamentals of perfumery. Coppermann counts Master Symrise Perfumer Maurice Roucel as another of her well respected mentors.
For more about A Lab on Fire Hallucinogenic Pearl, visit www.alabonfire.com