MAC DEBUTS NEW STUDIO FIX SOFT MATTE FOUNDATION STICK FOR MAKEUP ON-THE-GO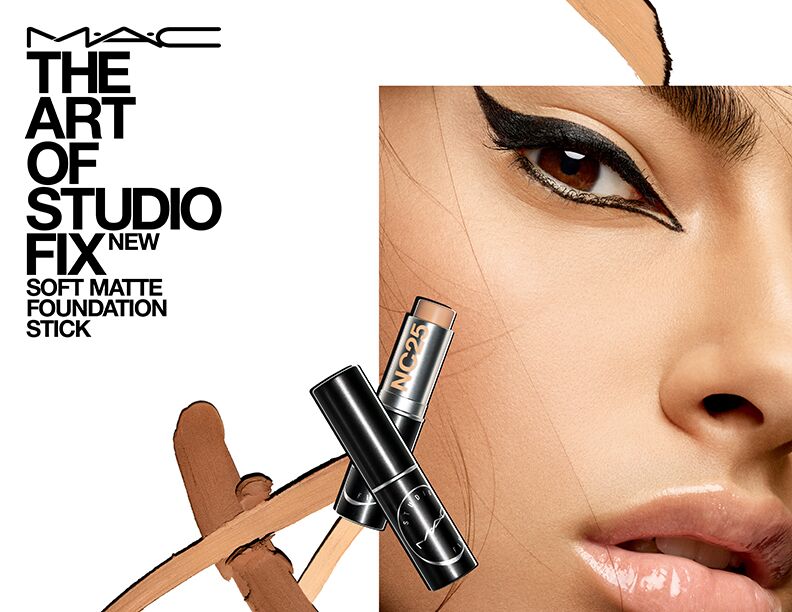 MAC DEBUTS NEW STUDIO FIX SOFT MATTE FOUNDATION STICK FOR MAKEUP ON-THE-GO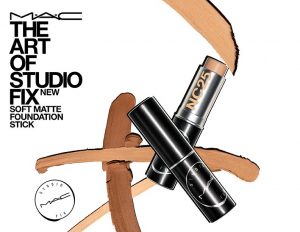 The Art Of Studio Fix just became super convenient, effortlessly portable, and easier to use than ever before! Get ready to swipe right! M·A·C Cosmetics announces the latest addition to its cult classic, mattifying Studio Fix family. One swipe Studio Fix Soft Matte Foundation Stick is a 24-hour, long wearing, medium coverage foundation that delivers hydrated flawless skin wherever you are, and celebrates every skin complexion and tone in a diverse spectrum of 33 shades. Designed to answer the foundation needs of all, the art of Studio Fix comes from a customizable mix of foundation products that encourages creativity and self-expression, expands technique and allows professional artists, makeup mavericks, trendsetters and enthusiasts to effortlessly experiment with the latest trends with ease.
EASY BLENDING, POCKET SIZED, LIGHTWEIGHT. STUDIO FIX SOFT MATTE FOUNDATION STICK IS ULTRA-VERSATILE
Swipe it directly onto your bare skin after an intense gym workout, touch up your sculpted makeup before a meeting, apply between courses on a dinner date, or achieve instantly photo-ready skin on a memorable night out where forever-on-Instagram memories are made.It also delivers a precise application for contouring and highlighting aficionados and is perfect for low-maintenance, makeup minimalists, who prefer a quick swipe to touch up problem areas, such as under the eye or problem T-zones. What ever your preference, M·A·C Studio FixSoft MatteFoundation stick has you covered.Studio Fix Soft Matte Foundation Stick masters the latest backstage trend of minimalist veil foundation. "There is a definite skin moment happening right now",saidTerry Barber, M·A·C Director Makeup Artistry in London. "We're not talking rawness here ,or the whole no makeup, makeup thing. It's premium skin; enhanced, plumped, smooth and packed with moisture. Matte in the past was associated with dryness and dullness, whereas the new matte is about soft focus and blur with no blanket coverage and light hitting in all the right places."It can be brushed on withM·A·C's170 Synthetic Rounded Slant Brush, 182 Foundation Brush,130 Synthetic Short Duo Fibre Brush, sponge pressed or used simply straight-to-face and tapped with fingers."For me, the sign of a great product is that you get high impact with just a fine layer of product."ALL AGES. ALL RACES.ALL GENDERS.A global leader in championing diversity since the 1990s,"ALL AGES ALL RACES ALL GENDERS"has long been M·A·C's rallying call for utmost respect for individuality. The Studio Fix range has been at the fore front of driving M·A·C's deeply held inclusivity philosophy forward. Studio Fix Soft Matte Foundation Stick works seamlessly with the unparalleled 65 shad es range of 24-hour coverage StudioFix Fluid Foundation, the 53 shades in the 12-hour long-wearing, ultra-matte Studio Fix Powder Foundation range, which controls oil and shine, and with 24-hour Studio Fix Smooth Wear Concealer, which boasts 33 shades. From the lightest to the darkest tonal options, the range is consistently evolving to address the world's differing skin undertones.The makeup artistry of the Studio Fix range is due to its total customizability and the ability for every artist to creatively express themselves, as they explore different high fashion textures, finishes, effects and techniques.
STUDIO FIX SOFT MATTE FOUNDATION STICK
NC13,NC15,NC16,NC17,NC18,NC20,NC25,NC27,NC30, NC35,NC37, NC38,NC40,NC42,NC44,NC45,NC50,NC55,NC60,NW13,NW15,NW18,NW20,NW22,NW25,NW30,NW35,NW43,NW45,NW47,NW50,NW55,NW60
Suggested Retail Price: $23.00 USD
STUDIO FIX FLUID SPF 15
C3.5,C4,C4.5, C40, C45,C5, C55,C8,N4,N4.5,N4.75,N5,N6,N6.5, NC5,NC10,NC12,NC13,NC15,NC16,NC17,NC18,NC20,NC25,NC27,NC30,NC35,NC37,NC38,NC40,NC42,NC44,NC45,NC45.5,NC46,NC47,NC50,NC55,NC58,NC60,NW10,NW13,NW15,NW18,NW20,NW22,NW25,NW30,NW33,NW35,NW40,NW43,NW44,NW45,NW46,NW47,NW48,NW50. NW53, NW55, NC57, NW58, NW60
Suggested Retail Price:$31.00 USD
STUDIO FIX24-HOUR CONCEALER
NC10,NC15,NC20,NC25,NC30,NC35,NC38,NC40,NC42,NC43,NC44,NC45,NC48,NC50,NC55,NW10,NW15,NW20,NW22,NW24,NW25,NW28,NW30,NW32,NW34,NW35,NW40,NW42,NW45,NW50, NW51, NW53, NW55
Suggested RetailPrice: $23.00 USD
STUDIO FIX POWDER PLUS FOUNDATION
C2,C3,C3.5,C30,C35,C4,C4.5,C40,C5,C5.5,C6,C7,C8,N3,N4,N5,N9,NC10,NC15,NC20,NC25,NC30,NC35,NC40,NC41,NC42,NC43,NC43.5,NC44.5,NC45,NC46,NC47,NC50,NC55,NW10,NW13,NW15,NW18,NW20,NW22,NW25,NW30,NW33,NW35,NW40,NW43,NW44,NW45,NW46, NW48,NW50, NW55, NW58
Suggested Retail Price: $31.00 USD
STUDIO FIX BRUSHES
#170S Rounded Slant Brush Suggested Retail Price:$35.00 USD
#182S Buffer BrushSuggested Retail Price: $53.00 USD
#130S Short Duo Fibre Brush
Suggested Retail Price: $42.00 USD
AVAILABLE North America September 5, 2019 at all M·A·C locations/online,1.800.588.0070 and maccosmetics.com