Hollywood Beauty Awards to Honor Danielle Lauder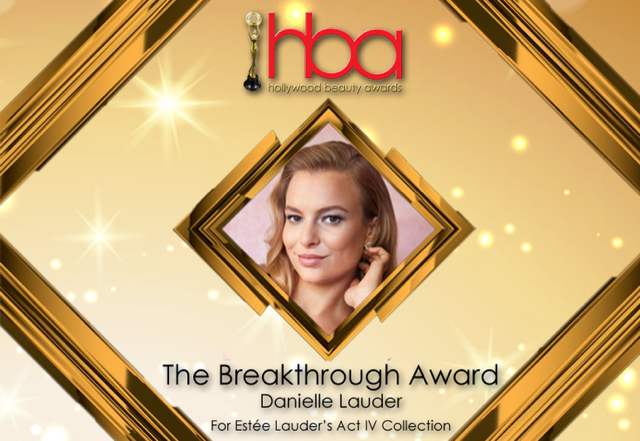 The 6th Hollywood Beauty Awards will honor Danielle Lauder with The Breakthrough Award for Estée Lauder's Act IV Makeup Collection
The annual Hollywood Beauty Awards (HBAs), founded by Michele Elyzabeth, will celebrate their 6th year honoring the architects of beauty on Thursday, February 6, 2020 at the Taglyan, recognizing talent in hair, makeup, photography and styling for Film, TV, Music, the red carpet and editorial, as well as special honorees.
Danielle Lauder, actress and the great-granddaughter of Estée Lauder, will receive The Breakthrough Award for her limited-edition makeup collection with Estée Lauder: Act IV.
Act IV, a cinematic reference to Danielle as a fourth-generation Lauder Family member, combines Danielle's beauty legacy with her passion for acting and love of Hollywood glamour.
As an actress, Danielle has had to master the art of makeup for different lighting as she goes from audition to in front of the camera. Act IV is inspired by the concept of looking beautiful in any light. The collection includes seven products for the Face, Eyes and Lips.
Danielle will accept the honoree recognition at the black tie dinner gala benefitting Helen Woodward Animal Center  –a private non-profit organization and no-kill facility in San Diego County committed to the philosophy of people helping animals and animals helping people for over 40 years. https://animalcenter.org/
The HBAs were established in 2014 for the purposes of recognizing excellence in hair, makeup, styling and photography. The voting board is comprised of past honorees, winners, professionals from the beauty industry; encompassing Journalists, Publicists and Beauty Experts. Beginning in 2019, the public was invited to participate in the voting process.
Executive Producers are Michele Elyzabeth, Pamela Price and Otis Stokes.
For more information, please visit: www.hollywoodbeautyawards.com