Veronique Gabai – The Brand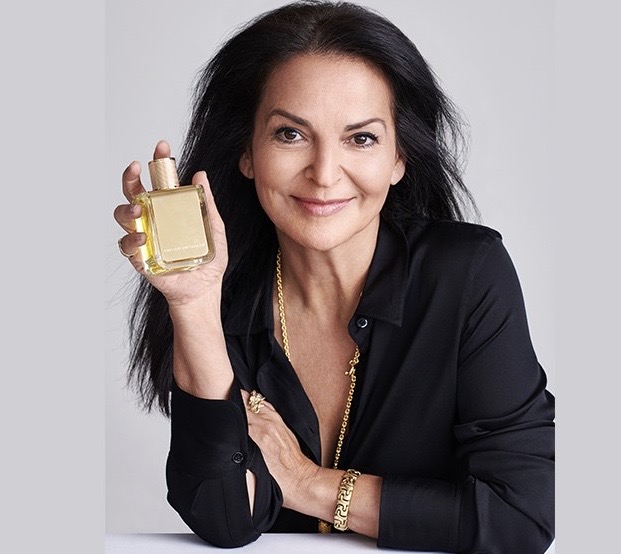 Veronique Gabai – has a passionate attachment to the culture, refinement, aesthetic, and pure beauty of France. Born in the Côte d'Azur, Mediterranean by birth ,and at ease in the world, she is  stylish, creative and happy.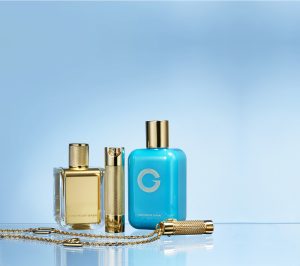 Beauty is an industry Veronique knows well as she has been working and developing fragrances and beauty products for more than twenty years, spending twelve of them at The Estée Lauder Companies as global president of Aramis and Designer Fragrances, Beauty Bank, and Idea Bank. She is a brand builder bringing creative thinking together with business acumen and a broad understanding of consumers, brands and business models.
Fragrance was always Veronique's passion. From a very young age, there was a calling in her heart to express her own vision, values, and personal lifestyle — one that would be inspired by France, and her beautiful native home, the Côte d'Azur. That desire was the birth of her eponymous lifestyle brand.
The Côte d'Azur is a place of lush nature, of an overload of sensations, colors and scents, breathtaking landscapes that take you by surprise and leave you forever changed. Nature is always present there, yet subtly organized for the pleasure of its people. Artists from all horizons have infused the region with sophistication and artistry. A sense of refinement and luxury is present in every moment of daily life. Whether it be at the beach, in the cafés, an impromptu dance party under the stars, or even in street markets. It is a lifestyle anchored in an uncommon balance of nature, culture, and glamour. It is a French exception.
The Veronique Gabai Brand is about bringing the golden promise of the Côte d'Azur together with a bright spirit and sultry golden looks. The line echoes the blue hues of the sky and the sea, the shimmer of the sun, and the clarity of the light. Breezy, luminous, sensual, and rich, like the Mediterranean it belongs to.
In addition to being inspired by the Côte d'Azur, Veronique takes inspiration from various other places and things. For one, her amazing parents that helped shape her values. Her mother was driven by an intense desire for freedom and personal independence, while deeply caring for her family. She gave Veronique her determination and her generosity. Her adventurous father was a free-spirit, a bon-vivant, a seductive man and a family man, both strong and sensitive. He gave Veronique his zest for life and contagious optimism. Years of traveling, discovering the world and its people, other cultures, different forms of art and expressions of creativity, working with exceptional artists and brands also played a big role in shaping who she is today. She also draws inspiration from the energy of the U.S. and New York, in particular. It has allowed her to live her passion – touching people with brands and creating memories through scent.
Veronique's unique line of luxury fragrances, beauty "must haves" and accessories are all interconnected, providing its ultimate signature. Conceived for people to enjoy and express themselves freely.
Her creations are inspired by the gorgeous places, flowers and plants growing in the magical backyard of her childhood. All products are created around the exquisite natural ingredients that come from the Côte d'Azur, and its historical fragrance center, Grasse. All perfumes are made in the South of France.
Bringing the kind of beauty that enchants the senses and lifts the soul, adding joy and meaning to every moment, these fragrances welcome everyone, and immediately make them feel more relaxed, stylish, confident, seductive and happy –like a smile shining from the heart.
"I have a desire to bring people closer together in a welcoming, peaceful and festive atmosphere and to give men and women inner confidence and a joyful smile with extraordinary products standing up to the test of time and crafted with talent, expertise and care," says Gabai.
For Veronique, it is important to add generosity to luxury, pleasure and magic to the experience, art and heart to every product and, ultimately, beauty to everyday life.
"My Côte d'Azur is a place made of humanism and hedonism, where the sun is like gold. Sunshine for the senses and for the soul: this is the promise of my brand," says Gabai.
THE LINE: Perfume, Beauty and Accessories
All products are carefully and beautifully crafted to perfection, and every piece can be personalized and adapted so you can own it, just the way you want. Enjoy, have fun and be yourself.
Signature Perfumes are extraordinary works of art, as they are, but can also be fine-tuned by one's own mood and personality by the layering capacity of the Booster Perfumes. Fragrances to spray from a gorgeous statement bottle or keep with you all day long nestled in a jewel close to your skin. Beauty products, added to your usual regimen, that bring the golden looks of the Côte d'Azur. Accessories to mix and match, create style and facilitate lifestyle with the Côte d'Azur on your mind.
THE SIGNATURE PERFUMES
The Signature Perfumes are all inspired by the Côte d'Azur, the beauty of the raw materials harvested in its fragrance center, Grasse. They all have a strong and unique olfactive signature, are breezy, infused with light, drenched by a warm balmy air. They bloom on skin, and deliver a long lasting, unmistakable, memorable "sillage". They are all part luminosity, part mystery.
THE PERFUME LINE
As you discover the nine perfumes, you will also discover the beautiful ingredients harvested for them, in the Côte d'Azur and elsewhere, the impeccable timing of nature, the science required to enhance it and the extraordinary talent of perfumers who master it all for our pleasure.
LUMIÈRE D'IRIS: A scent that hesitates between the flower and the wood, between the masculine and the feminine, to find its perfect balance marrying both, in an explosion of light, radiance and mystery. bergamot, mandarin, iris, rose, neroli, woods and a touch of amber. Ultimate Chic revisited by the Sunshine of the Côte d'Azur.
MIMOSA IN THE AIR: February, and suddenly winter gives way to the first sign of summer. Thousands of yellow tiny clouds of joy grow on trees and fill the sky with the promise of balmy, longer, softer days – Mimosa is in the Air and the vetiver accentuates its tender sensuality.
VERT DESIR: Fresh leaves softly crushed in the hands. Pure energy on the fingers; a splash of clean and fresh water infused with herb, mint, absinth, with a contrast of vetiver and dark sexy woods. An awakening of the senses. A jolt of desire, a yearning for human nature.
CAP D'ANTIBES: The fresh aroma of bergamot, the aromatic and balsamic Alep trees, the cedar woods, the breeze of the ocean, the airy bloom of fresh flowers, resin going through the wood signature. Cap d'Antibes is an invitation to discover the dry and shady gardens of the South. It is the scent of vacation and of nature in its glory.
JASMIN DE MINUIT: Jasmine at night, when the sun gives in and finally the air becomes gentle and cool. A clean, sparkling jasmine tempered by the soft winds and the air of the ocean. Enhanced by vetiver and patchouli, intense and sensual.
NOIRE DE MAI: The rose of course, but a black one! It starts with the fresh, humid drops of dew at dawn; it blooms at noon, full of color, drenched with sun, almost intoxicating if it was not for the breezy air that always refreshes it. But there is always more… Its complexion reveals a dark facet, an invitation to forbidden sensuality, with woods, moss and a touch of amber. Proud and Sinful.
SUR LA PLAGE: The scent of naked skin under the sun, refreshed by the salty waters, caressed by the balmy air, enriched by orange blossoms, magnolia, jasmine. This is the beach, an ode to sensuality, a dive in pure pleasure. Divine alone, sinful with a lover.
SOUVENIRS DE TUNISIE: A white flower tempered by fresh notes, this orange blossom absolute is drenched in water, blended with fresh bergamot and enticing neroli. The magnificent blend of sandalwood and orange wood in the dry down is lightly sweetened by fresh almonds, like in the pastries made on the other side of the Mediterranean Sea.
SEXY GARRIGUE: Night falls; with it, rises the yearning for an embrace, for whispers and caresses….skin against skin. The desire is fueled by the sensual heat wave coming from the Mediterranean forest, we call Garrigue, sprawling outside the house, charged with the noble and hypnotic scents of the cyste labdanum, Alep trees, patchouli, aromatic plants, golden resins and deep amber.
SRP: $290 (USD) – All Perfumes (85ml – 2.85 Fl Oz)
The BOOSTERS SCENTS are two very unique creations that can be worn alone (and oh so well!) or as a layer to the fragrance you like the most to enhance its brightness or its mystery. We made sure all combinations are gorgeous, so you do not have to become a scientist to explore, have fun and find your own unique signature!
EAU DU JOUR: Blending citruses of the highest quality, contrasted with soft woods, generous and open, l'Eau du Jour is an ode to Joy and Sunshine.  It will add optimism to any signature perfume.
EAU DE LA NUIT: An alluring composition of woods, amber and musks, mysterious and sinfully addictive, this fragrance lingers on skin, creating the constant desire for more. It will add sensuality to any signature perfume.
SRP: $290 (USD) – (85ml – 2.85 Fl Oz)
There are a few ways to wear the fragrances.
The Flacon: the gorgeous bottle has been conceived like a beautiful object to cherish and to keep for a long time. It can be refilled with the purchase of the Refill bottle or, when it opens, right in our store at the Fragrance Bar. It contains 85ml of perfume, so you can take it in the plane – we know we all travel. Our refill bottles contain 125ml of perfumes, and they are recyclable.
SRP: Perfume bottle $290 (USD) – (85ml – 2.85 Fl Oz) – Refill Bottle: $290 (USD) – (125ml – 4.2 Fl Oz)
The Flacon de Sac: a chic travel case carrying a 10ml spray bottle which is also refillable.
SRP: $150 (USD) – (10ml – 0.33 Fl Oz)
The boxes add the touch of luxury; beautifully crafted, adorned with the signature symbol, opening up to the generous heart of Mediterranean hues. An invitation for discovery.
FRAGRANT JEWELS
Nothing makes a statement like one bold piece of jewelry!
Fragrant Jewelry – another way to wear perfume, stylish, unique and personalized.
The Pendant – wear as a glamorous necklace or clip it on your bag or on your favorite pair of jeans! Sterling Silver or Vermeil (18K gold plated), beautifully hand crafted by master jewelers, this is Luxury on the go. The Pendant carries a 2.5ml spray of any of our Signature Scents. Make a statement!
SRP: Silver $850 (USD) – 18K Gold plated $990 (USD)
Set of 6 times 2.5ml – 0.08 Fl Oz $100 (USD)
Add for fun and personality one of the Signature Lucky Charms – the hand of Fatma for protection, a fish for good luck, a bird for freedom, a precious fuse for inner strength and the Sun for "joie de vivre." Check out the little diamond adding sparkle to the pieces.
SRP: Silver $250 (USD) – 18K Gold plated $290 (USD)
All jewel pieces can be worn on a chic Silver or Vermeil chain at different lengths to suit your style, as a clip-on with our clasps or on leather links for a relaxed look.
SRP: Chains and Clasps range between $90 (USD) and $850 (USD)
LES BOUGIES – Candles like beautiful objects of desire that enhance the mood of your home. Created in collaboration with the Aix en Provence artisan-company "Rose and Marius", the candles follow the same principle of versatility and refillable system that exist throughout the line. The Candle set comes with a gorgeous handcrafted, gold hand painted French china holder, in which you can place either the candle scented in Eau du Jour or the one scented with Eau de la Nuit.  Place any of the candles in the holder, light it and enjoy the escape to the Côte d'Azur. After usage, as the wax is totally cooled down, you can take out the candle and put the other one in, for a whole new experience!
SRP: $160 (USD)
THE BODY LINE – Divine formulas to enchant the senses, melt on the skin, leaving it glowing and nurtured, with powerful proven moisturizing benefits, to keep skin younger longer. The body products are scented with either Eau du Jour or Eau de la Nuit and allow once again a perfect layering with the Signature Perfumes.
La Crème – a luxurious formula, fast applied, fast absorbed, incredibly moisturizing with proven hydrating properties lasting 8 hours, for a night-long or day-long radiance, nurture and comfort. Highly concentrated in fragrance, and enriched with gentle Rose Water, La Crème is another way to scent your skin. It exists perfumed with Eau du Jour or Eau de La Nuit. Pick your own, drench your skin in moisture and spray any Signature Perfume…the layering always works!    
SRP: $100 (USD)
La Gelée Dorée – a watery emulsion, enriched in Rose Water, that glides on skin, immediately absorbed, and immediately drenching the skin in a cooling sensation of intense moisture. Its micro gold particles are left behind on skin, like a thousand droplets of gold, and will sparkle in the light and make your skin absolutely irresistible to the eyes and to the touch, like jewelry for the skin. It exists scented in Eau du Jour or Eau de la Nuit … Coming soon!
SRP: $100 (USD)
THE BEAUTY ESSENTIALS
A few hybrid products marrying moisturizing benefits, and instant shimmer will give a moisture boost and healthy glow to your skin. Use them alone for the fresh and healthy look of vacations or use them with your usual color cosmetics to enhance effects.
Sunshine Face Oil – Did you ever want to keep the gorgeous glow you get on vacation, when you are fully rested? This is what the Sunshine Face Oil does.
The Sunshine Face Oil is a versatile product, which creates amazing natural luminosity, and boosts the skin with many benefits. It contains a blend of exceptional natural oils the skin adores: organic Argan oil, for anti-aging and elasticity, Vitis Vita oil (derived from grapes) for hydration and firming benefits, organic Moringa Oil for anti-oxidant and anti-aging benefits, fermented Shiunko Oil which brightens the skin and gives the formula its gorgeous pink tone.
Cocktail a few drops of Sunshine Face Oil with your foundation, and it will add moisture, luminosity, and glow to the skin. Additionally, add a few drops in your palm, and gently press onto your cheeks, forehead and chin for a glowing multidimensional look at the end of your skin care routine and makeup. The Skin looks immediately radiant, glowing and rested.
SRP: $139 (USD)
The Goldie Highlighter – a stick that provides Gold Highlights for the face or the body in a simple fool-proof gesture. Ultra-reflective golden pearls are suspended in a glossy, transparent and creamy texture, that can be buildable to your liking from the most evanescent to the most dramatic effect. The texture melts upon application and is infused with a light vegetable emollient that makes the skin softer, hydrated and visibly luminous, without ever feeling heavy. Only soft gold dust stays on, for an aura of pure magic.
SRP: $90 (USD)
Sun-kissed Lip Finish – Sun Kissed Lip Finish combines incredible comfort with infinite shine possibilities. This lightweight, transparent, high shine formula is infused with golden pearls and can be used alone or as a shine finisher to any lipstick. Easy to apply, it provides a smooth, glossy look with zero stick and immediate appearance of improved volume, and clearer lip outline. This gentle gel formula is enriched with Natural Peptides which stimulate collagen and has remarkable restructuring and moisturizing properties. Lips feel voluptuous and simply look gorgeous.
SRP: $39 (USD)
ALL BEAUTY PRODUCTS CONTAIN NO PARABEN, NO TALC, NO CHEMICAL SUNSCREEN, NO GLUTEN, AND ARE VEGAN.
VERONIQUE IS PASSIONATE ABOUT PRESERVING NATURE – all of the Perfume bottles are refillable and re-usable. So is the Candle. The refill bottles are recyclable, as is the plastic bottle used for the La Crème and the jar used for the Gelée Dorée.  
Available at: www.veroniquegabai.com