FGI'S 23rd Annual Rising Star Awards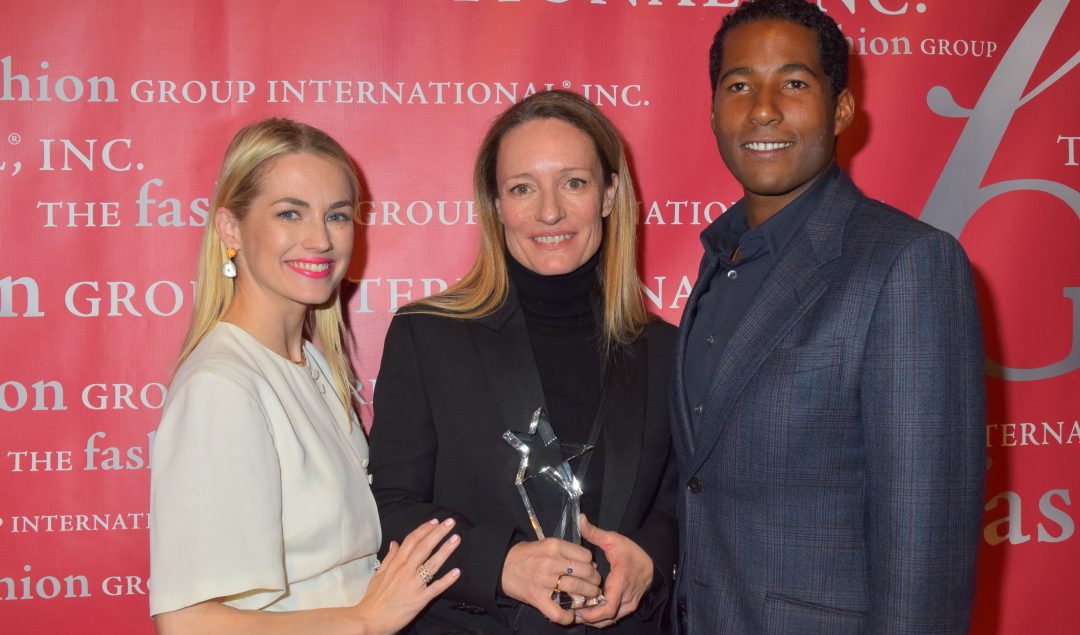 The Fashion Group International announced the winners of the 23rd Annual Rising Star Awards at Cipriani 42nd Street on Tuesday, January 28, 2020. The ceremony, which was attended by executives and influencers in fashion, beauty, interior design and publishing, included red carpet arrivals and a pre-awards reception followed by the luncheon and award ceremony.
Oscar de la Renta creative directors Fernando Garcia and Laura Kim delivered the keynote address. The Sustainability Award, sponsored by Maison De Mode, was presented to Lutz Morris by co-founders Hassan Pierre and Amanda Hearst. The Hilldun Business Innovation Award was presented by CEO Gary Wassner and went to Felita Harris, co-founder ENFORM.
THE RISING AWARDS WERE SPONSORED BY HEARST MAGAZINES, HILDUN & MAISON DE MODE.
TORY BURCH, A FORMER RISING STAR WINNER, WAS SUPPORTING SPONSOR
The list of finalists and winners (marked in bold) in each category were:
Beauty Legacy/Product Development
Presenter – Nancy Berger
WINNER: Estée Lauder Companies – Chloe Leeds
International Flavors & Fragrances – Caroline Dumur
Beauty Entrepreneur
Presenter – Dana Oliver
Augustinus Bader – Maureen Case
Em & El Organics – Emily Trower Young
WINNER: High Beauty – Melissa Jochim
Pause – Rochelle Weitzner
Accessories (Shoes/Handbags)
Presenter – Jonathan Adler
Bentz – Kim & Melissa Bentz
David's Collection – David J. Guarino
Lutz Morris – Tina Lutz
WINNER: Marias By Alida Boer – Alida Boer
Parisa Wang – Parisa Wang
Accessories (Scarves/Fashion Jewelry)
Presenter – Jonathan Adler
Alejandra Burguette – Alejandra Burguette
Fortune & Frame – Gretel Going
Lori Weitzner Design – Lori Weitzner
WINNER Stephanie BIJOUX – Stephanie Omens
Fine Jewelry
Presenter – Stellene Volandes
WINNER: Harakh — Harakh Mehta
Rachel Katz Jewelry – Rachel Katz
All Gender (winners in two categories)
Presenter – Rob Garrett Smith and Cory Wade
WINNER (APPAREL): Bossi Sportswear – Alex Bossi
Claire Fleury – Claire Fleury
WINNER (BEAUTY) Henry Rose – Michelle Pfeiffer
Rinat Brodach – Rinat Brodach
Strangelove – Elizabeth Gaynes
Womenswear
Presenter – Francisco Costa
Aknvas – Christian Juul Nielsen
Amir Taghi – Amir Taghi
Bespoke Southerly – Sheri Turnbow
Ferrah – Lela Orr
WINNER: Rakan – Rakan Shams Aldeen
Menswear
Presenter – Loris Diran
Phit Clothing- Phillip White
WINNER: Post-Imperial- Niyi Okuboyejo
Todd Hessert – Todd Hessert Inc.
Sustainability (Award sponsored by Maison De Mode)
Presenters – Hassan Pierre & Amanda Hearst
Artisans of IQ – Ileana Quinones
Em & El Organics – Emily Trower Young
Ferrah – Lela Orr
Harakh – Harakh Mehta
Henry Rose – Michelle Pfeiffer
WINNER: Lutz Morris – Tina Lutz