Firmenich Launches CreateForGood Program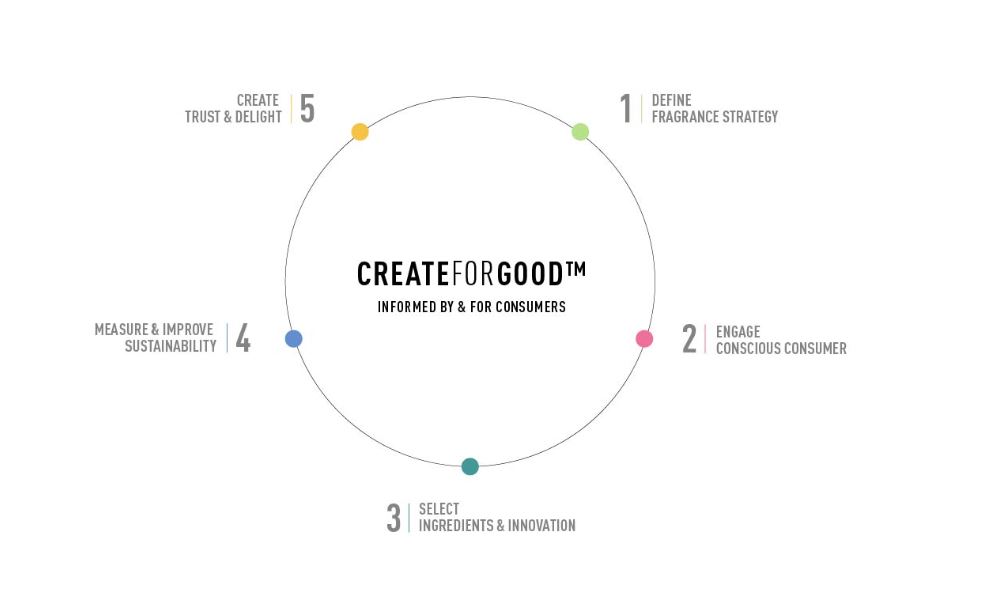 Firmenich has launched CreateFo­rGood, a unique five-step program that provides customers the keys to enhancing competitive advantage with conscious consumers focused on naturalness and sustaina­bility in fragrances.
Through brand alignment, consumer understa­nding, ingredient innovation, sustaina­bility measurement and fragrance eco-creation, CreateForGood delivers fragrances that develop consumer trust, while also providing sensorial experiences for pleasure and naturalness, as well as protecting the planet, people and society.
CreateForGood integrates an understanding of the role fragrance plays in brand purpose and product benefits. It brings together Fermenich's proprietary conscious consumer research with 5,000 consumers across key regions; tracking and analysis of Firmenich's palette across 1,700 ingredients; EcoScent Compass, a robust solution for fragrance sustaina­bility measurement; and a clear methodology for eco-fragrance creation.
CreateForGood works across five steps:
1. Determine how fragrance enhances brand purpose and product development.
Today, conscious consumers demand an even stronger brand purpose consistently executed across all touchpoints. Firmenich Conscious Consumer insights have revealed the important role fragrances play in a product to drive naturalness and sustaina­bility, alongside brand positioning and purpose. Brands can anticipate and examine all shades of naturalness and the appropriate sustaina­bility proof points of product development. Then, they can determine who they want to be, what they want in their products and how to best communicate their offer for conscious consumers.
2. Understand and engage with conscious consumers globally.
Consumers today also require brands to engage with them. Brands can go beyond storytelling and tackle story-proofing, with an integrated perspective, defining where they focus and how they differentiate their products. Research demonstrates that consumers support conscious consumption, with four main motivational factors: personal image and reputation, strong environmental convictions, pragmatic health concerns and brand equity. Brands can articulate engaging claims to build an educational and compelling narrative for conscious consumers.
3. Choose the right ingredients for desired impact and claims.
First, consumers want to know what is inside the products they use. Beyond the intrinsic nature of ingredients, they also want to understand the environmental and social impact. Firmenich's ingredient palette is permanently enriched to deliver on the latest regulations, certific­ations and expected claims and CreateFo­rGood: Firmenich Reinvents Fragrance Design narratives. Conscious consumers identify the criteria influencing their purchase decision, aside from price, as containing natural ingredients and eco-friendliness. The required creativity, performance and transparency can be achieved by developing a compelling palette of innovative ingredients that respond to consumer desires.
4. Measure and improve fragrance sustaina­bility impact.
Today, Firmenich can help brands measure and improve a fragrance's natural and sustainable profile, beyond intrinsic claims to address planet, people and society. Two years ago, Firmenich launched EcoScent Compass with the ambition of creating an industry standard. This robust tool includes ingredients' natural and sustainable properties, lifecycle analysis and social data, based on the most comprehensive methodologies (the European Union's Product Environmental Footprint, PEF) and globally aligned Key Performance Indicators (KPIs). It offers three scores: green properties (what's inside the fragrance), environmental impact and social impact.
5. Create fragrance solutions that deliver trust and delight responsibly.
Creativity is still essential; beautiful fragrances align and enhance the overall experience for consumers. Perfumers have an important role in ensuring creative delivery as promised. Brands can leverage tailor-made fragrances that comply with desired claims, safety requirements and regulations to delight today's uncompro­mising conscious consumers. Firmenich's Scent For Good Collection launched in January 2019, now includes over 300 eco-design fragrances.
"Eighty-six percent of consumers worldwide believe that fragrance brings pleasure to their lives," said Armand de Villoutreys, President, Perfumery and Ingredients, at Firmenich. "CreateF­orGood embodies the new era of conscious perfumery. We can help brands win, by delivering an authentic and positive sensorial experience that fully supports consumers' aspiration for a healthy and responsible lifestyle."
"Informed by and for conscious consumers, CreateForGood helps brands navigate complexity to select the ideal combination of creation, experience, claims and brand purpose," said Juliette Sicot-Crevet, Vice President, Business Development, Naturals and Sustaina­bility and knowledge management, perfumery.
"Consumers don't want to compromise; they want performance, naturalness and sustaina­bility in their consumer products," Gary Marr, Master Perfumer, at Firmenich. "CreateF­orGood offers a comprehensive solution to develop fragrances that delight, build trust and add value to our customers' brands."
"We have a whole new challenge: creating fine fragrances with emotional experiences that meet consumer expectations for naturalness and sustaina­bility, respect ethics and regulations and deliver a positive impact on our world," said Honorine Blanc, Master Perfumer, Firmenich. "That's what CreateForGood is all about."