RALPH LAUREN FRAGRANCES INTRODUCES NEW FRAGRANCE, POLO DEEP BLUE PARFUM, WITH A NEW FACE AND CAMPAIGN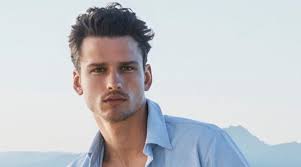 Ralph Lauren Fragrances presents a new addition to its global best-selling Polo Blue portfolio: POLO DEEP BLUE PARFUM. The new fragrance is inspired by the cool, deep ocean and provides the energy, intensity and power of the perfect wave, encouraging fans to #DiveInDeepBlue.
Embodying the casual sophistication of the Polo Blue lifestyle, Ralph Lauren chose model and philanthropist Simon Nessman to serve as the fragrance's global ambassador. Nessman launched his modeling career in New York at age 17 and has quickly ascended through ranks to the top of the industry, having appeared in several Ralph Lauren campaigns. Having grown up in coastal Canada, Nessman developed a passion for ocean conservation, which inspired him to develop an ecological research and education-driven organization, Cedar Coast Field Station, to support local activism in his community.
"It's an honor to partner with Ralph Lauren and Polo Blue on this campaign, which celebrates the beauty and power of our oceans," said Nessman. "There is a great thrill in getting to pursue my passion while making change in the world."
Nessman will make his debut in the new POLO BLUE campaign anchored by a stunning, cinematic story that invites viewers to the coast of Tahiti for the adventure of a lifetime. The exotic setting is home to some of the world's most powerful waves and was selected to celebrate the brand's ocean heritage. Nessman is joined by a cast of international men and women who share his passion for the water, including Hawaiian model and surfer Leila Dee Thomas, defending World Surf League champion Gabriel Medina, renowned underwater photographer Corey Wilson, actor and model Nate Gill and Gill's two-year-old son, Paxton. The film will be set to Come Fly with Me by Ruelle and featured across global digital and broadcast platforms beginning March 2020. Traditional advertising will also be featured in print publications.
POLO DEEP BLUE PARFUM is a powerful fragrance created to provide a wave of freshness at every level. It opens with a splash of refreshing citrus and Hawaiian green mango, which is amplified with CristalFizz™, a unique aquatic ingredient that boosts the intense freshness. Aromatic cypress and clary sage add another level of sophistication and sensuality to the heart of the fragrance. The scent peaks with the salty mineral Deep Ocean accord that energizes and activates an even deeper level of freshness. POLO DEEP BLUE PARFUM features a refreshing, intense blend of notes, including:
TOP NOTES: CristalFizz™, Hawaiian Green Mango, Grapefruit oil, Bergamot oil
MID NOTES: Cypress oil, Geranium absolute, Clary Sage oil
BASE NOTES: Deep Ocean accord, Musk accord, Patchouli oil, Fir Balsam resinoid, Ambroxan
POLO DEEP BLUE PARFUM will be available at select retailers starting March 2020. The POLO DEEP BLUE PARFUM line-up includes $105 for 125ml, $85 for 75mL.