INTRODUCING GUCCI ROUGE DE BEAUTÉ BRILLANT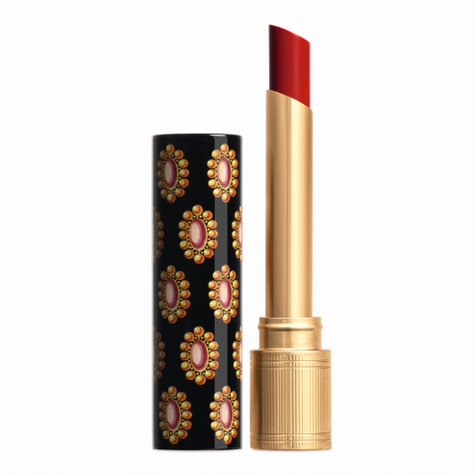 INTRODUCING ROUGE DE BEAUTÉ BRILLANT
Gucci Beauty is pleased to introduce Rouge De Beauté Brillant, a special lip colour set apart by unique benefits. A hybrid lipstick with a long-lasting dual-action formula, it delivers 24 hours of moisture and a beautifully pigmented shine. Creating luxury makeup that breaks with tradition, Alessandro Michele reenchants an industry by introducing a product that alone can respond to multiple needs, such as brilliant colour and nourishing properties, all in one.
Gucci Beauty Rouge De Beauté Brillant – Glow and Care Lip Colour
Deeply moisturising over 24 hours, long-lasting and with high shine power, Rouge De Beauté Brillant has the caring properties of a balm with lipstick levels of pigmentation. Delivering a veil of vibrant, glowing colour with an instant sensation of moisture, this hybrid lipstick envelops the lips with hydration and beautiful colour. Creating a luminous glowing finish and long-lasting shine, Rouge De Beauté Brillant serves as an in-between for a sheer and satin lipstick. Formulated with nourishing and antioxidant ingredients, the creamy texture highlights and preserves the natural beauty of the mouth, so lips look fuller and plumped to perfection. The formula Based on a precise combination of Flower Oils, Fruit Butters, and Hyaluronic Acid, the Rouge De Beauté Brillant formula helps to nourish the lips while delivering high shine colour. It is infused with luxurious and moisturising Black Rose Oil and Peony Oil combined with Jojoba Seed Oil and Karité Butter for 24-hour moisturising effects. The addition of Hyaluronic Acid not only provides immediate hydration, but long-lasting hydration too, as well as a subtle lip-plumping and smoothing effect. The design and range Beautiful shine and glowing colour combine in a vibrant range of 15 reds, pinks, corals, plum and natural shades. The design was given a full makeover, in order to represent and celebrate the uniqueness of Rouge De Beauté Brillant. Encased within an elegant slim gold bullet, the precious outer lid is wrapped in a unique black and gold print: inspired by vintage brooches, the choice of this peculiar pattern bears witness once again to the Creative Director's passion for collectable objects of desire.
Application Steps by Thomas de Kluyver
Get inspired by Rouge De Beauté Brillant vibrant range of colours and pick your favourite hue. With its creamy, moisturising texture, you can control the intensity through the number of coats applied, making it easier to try out new bold shades; – Apply Rouge De Beauté Brillant on bare lips, straight from the bullet: its deeply nourishing formula does not require any lip balm underneath and the natural warmth of skin will melt alone the product onto the lips beautifully; – Apply a single swipe for a subtle glow, or layer up to 3 times for a high-impact shine, colour and intense caring hydration; – Press lips together once for an even, glowing finish.
Bonus tip: for a more long-lasting finish, you can layer Rouge De Beauté Brillant with Crayon Contour Des Lèvres, drawing the pencil on top of the lipstick for a more natural look or underneath for a bolder impact.
The Campaign Campaign images shot by
Mark Peckmezian
with art direction by
Christopher Simmonds
immerse the viewer in a nostalgic breakfast in bed scene. Exploring the 80s suburban aesthetic, the collection of Rouge De Beauté Brillant lipsticks appear at home within a room filled with relics of a bygone era: heavy florals, delicate gold-tipped china, and beautifully curated breakfast trays of juice and tea. This quintessentially English scene is also captured in the where a female protagonist lounging on her bed watches an 80s style commercial dedicated to the new Rouge De Beauté Brillant lipstick.
WATCH IT HERE 
The new Gucci Beauty Rouge De Beauté Brillant lipstick collection is unveiled in a special video shot by
Jordan
Hemingway
, in which a female protagonist lounging on her bed watches a vintage-style commercial dedicated to the new high shine moisturizing lipsticks—available in a vibrant range of reds, pinks, corals, plum and natural shades. Discover more 
on.gucci.com/RougeDeBeauteBrillant
. Music: 'PUFFIN' BILLY' by Edward White (Main track)
The Line-Up Gucci Beauty Rouge De Beauté Brillant – Glow and Care Lip Colour in 15 shades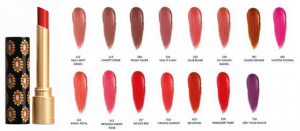 Pricing and Availability: Gucci Beauty Rouge De Beauté Brillant $42.00
Gucci Beauty Rouge De Beauté Brillant is available beginning April 2021 at Sephora.com