Givaudan Opens Flagship B2B Store on China's Leading Wholesale Website, 1688.com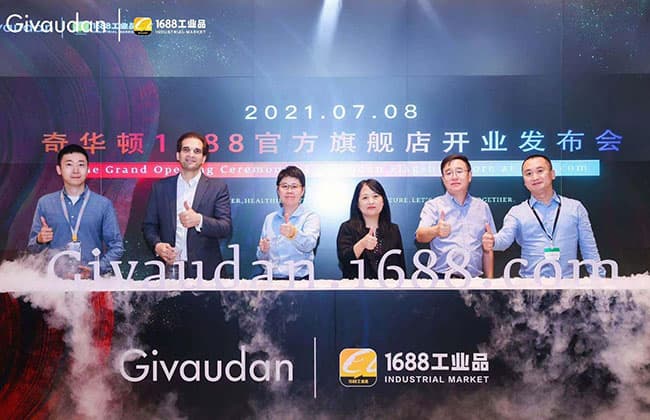 Givaudan, the global leader in fragrance and beauty has strengthened its e-commerce offering in China through the opening of its flagship business-to-business (B2B) store on China's leading wholesale website, 1688.com.
The B2B partnership is a first for Givaudan in Asia and for Givaudan Fragrance & Beauty globally. The webstore will offer customers a unified online and offline experience through seamless integration of Givaudan's digital marketing and digitalisation capabilities and its industry-leading perfumery teams.
"This partnership underscores the importance of the digital innovation in Givaudan's 2025 strategy. These digital capabilities are pivotal in expanding customer reach, while providing current and future customers with an extensive and efficient digital business service model that has the tools and insights to support sustainable growth through the digital sphere."

Ben Webb, Regional Head of Fragrances APAC, Givaudan
The new webstore at 1688.com builds on Givaudan's purpose of creating for happier and healthier lives with love for nature. This is reflected in the rich portfolio of consumer products, fine fragrances and active beauty ingredients alongside a mix of natural, nature-derived and wellness-centric fragrances that has the potential to enhance mood and overall wellbeing. Technologies that will be available to consumers through the platform include Givaudan's trademarked Dreamscentz™ and Vivascentz™ range.
Yaling Li, Givaudan's Head of Fragrances China and Korea, said: "Partnering with 1688.com will expand our reach amongst the growing gamut of local, regional and niche brands in China. With a presence on 1688.com, we look to grow the portfolio of products and innovations through a deep commitment that includes a combination of physical supply chain infrastructure and operational excellence. This will allow us to meet minimum order quantities from as little as one kilogram and provide customers with an accelerated supply of samples."
Wang Hai, Vice President of Alibaba Group and General Manager of China's domestic trade department said: "Consumption upgrading is leading a new round of industrial upgrading. It is necessary to build a digital flexible supply chain. From upstream industrial raw materials to downstream consumer experience, it is an inevitable trend to use the consumer-to-manufacturer manufacturing system to adapt to branding and personalised needs."
This partnership comes less than a month after Givaudan announced an industry-first B2C partnership with Alibaba's Tmall that will shorten end-to-end product development for fine fragrances from 40 to just four weeks.