Givaudan draws inspiration from nature with PhytogaiaTM and ThalassogaiaTM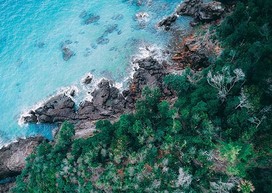 Givaudan draws inspiration from nature with PhytogaiaTM and ThalassogaiaTM
      Two innovative fragrance technologies bringing natural benefits of the environment in a  responsible way
Givaudan is delighted to unveil two new innovative fragrance technologies, Phytogaia TM and ThalassogaiaTM, which are inspired by nature allowing perfumers to bring the natural benefits of forests and the ocean into perfumes. They were developed according to our Naturality Guide TM principles and Company purpose, and designed in a nature -conscious way bringing multiple health and well-being benefits to consumers in all fragrance categories.
Inspired by the Japanese art of forest bathing, PhytogaiaTM captures the well-being benefits of molecules that are emitted by forest trees proven to bring a positive effect on people. These molecules, called phytoncides, provide well-being benefits when used in fragrances by improving consumers' mood, reducing stress and fatigue. Our Science and Technology team conducted analyses to understand their volatility and composition, then translated their findings into perfumery accords for perfumers to create fragrances that positively influence the lives of consumers.
Following the success of PhytogaiaTM, our Science and Technology team began to study oceanic atmospheres and coastal environments which led to the creation of Thalassogaia TM. Drawing from the inspiring surroundings of the beach, our scientists conducted ScentTrekTM analyses, using our headspace technology, to develop a collection of ThalassogaiaTM perfumery accords that mimic the composition of the marine environment. The collection of accords was designed to trigger the calming feeling of being near or in water and can be used in all fragrance categories, from air care to personal care.
Jeremy Compton, Global Head of Science and Technology – Fragrance, said: "Bringing new innovative technologies to life with sustainability top of mind is key for our fragrance business. PhytogaiaTM and ThalassogaiaTM harness the natural benefits of the environment and then translate these benefits into perfumery in a responsible way to ultimately positively impact consumers. These fragrance technologies are excellent examples of how we're committed to our Company Purpose of 'creating for healthier, happier lives, with love for nature'."
The development of innovative technologies derived from nature remains a key goal of our 2025 Strategy and our Company Purpose.