Creating Infinity: Louis Vuitton x Yayoi Kusama Parfums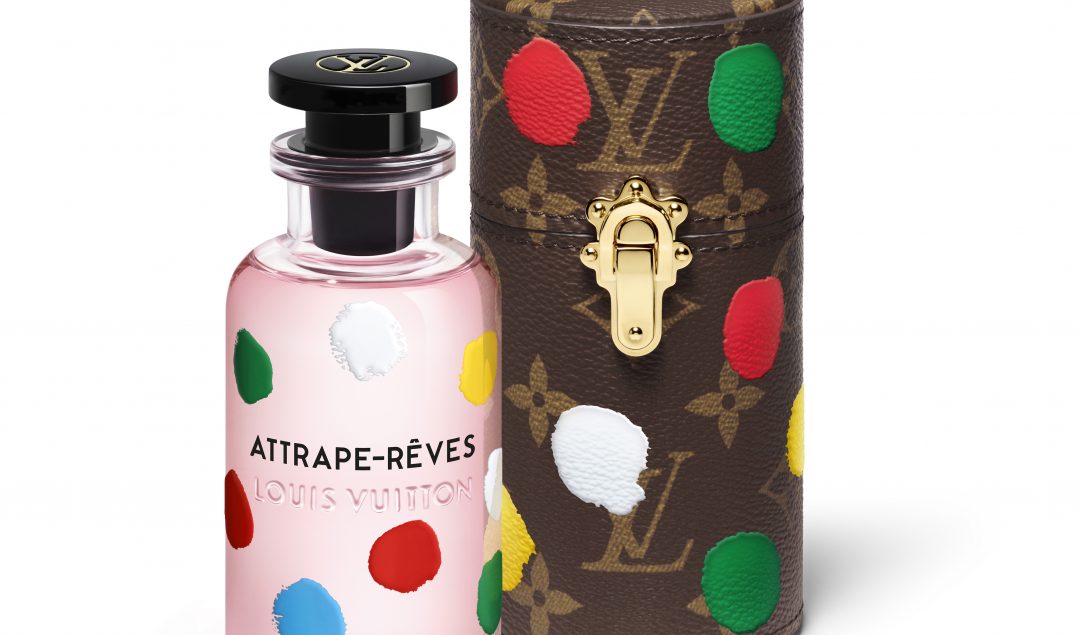 Pursuing the dialog started between Louis Vuitton and Yayoi Kusama in 2012, three iconic Louis Vuitton fragrances have been reinterpreted by the Japanese artist. True to her signature throughout the years, she applies her motifs ad infinitum, completely enwrapping the space.
The collection appears in two drops, with distinct thematic directions, reflecting Yayoi Kusama's motifs and motivations, enveloping the packaging, bottles and Travel Cases of three Louis Vuitton fragrances composed by Master Perfumer Jacques Cavallier Belletrud: Attrape-Rêves, Spell On You and L'Immensité. A selection of unique, exceptional creations dedicated to fragrances will also be unveiled within the collaboration.
Attrape-Rêves: a bouquet of peonies mingles with raw cocoa powder, and a hint of patchouli heart is enlivened by the fresh and sparkling notes of lychees.
Spell On You: a sensual tension thanks to precious iris pallida blended with sophisticated rose, as a love potion for the senses.
L'Immensité: a concentrate of freshness, pairing the crackle of ginger extracted with carbon dioxide with the bitterness of grapefruit.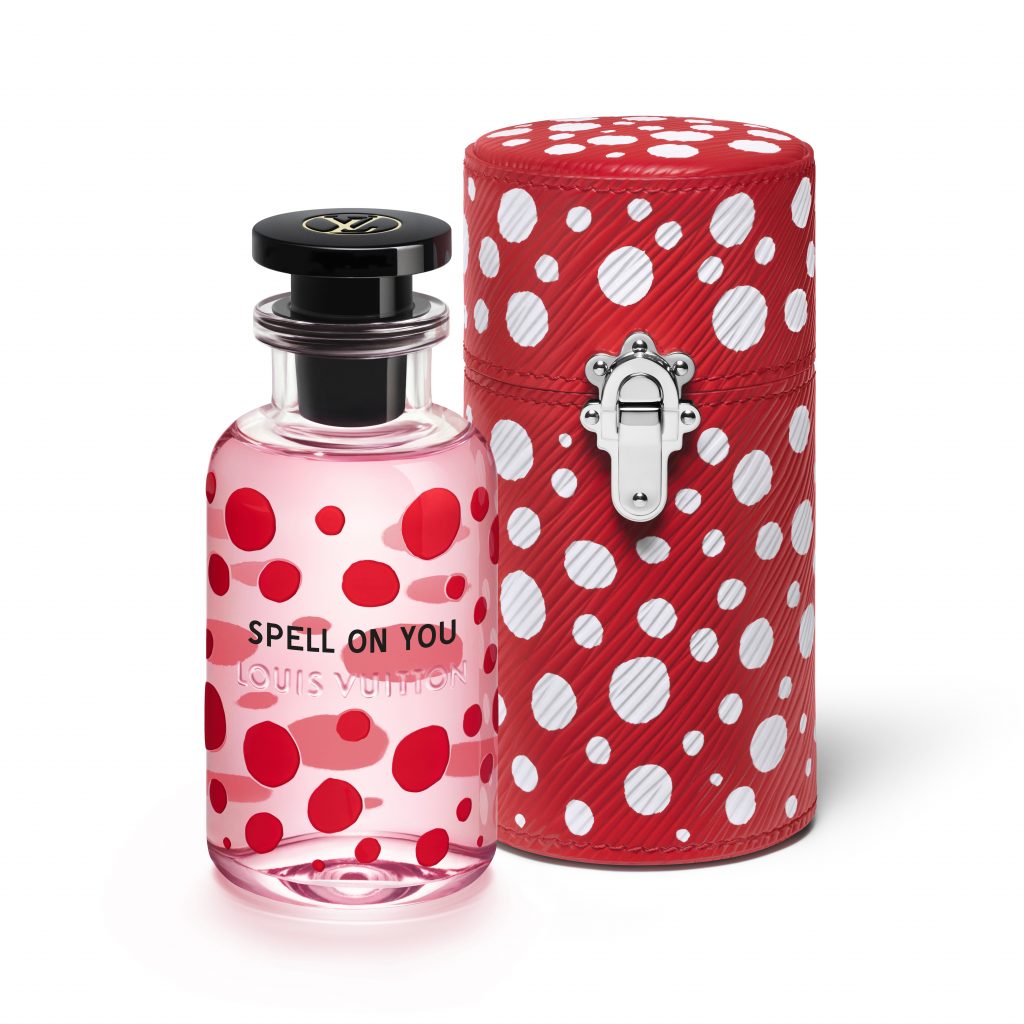 Drop 1: Painted Dots, Infinity Dots
To celebrate the collaboration and friendship between the artist and the Maison, the main theme of the collection was inspired by a Louis Vuitton trunk hand painted by the artist in 2012. The iconic fragrances are decorated with playful and vibrant Painted Dots with a unique tactile finish and a perfect colour matching: green, yellow, red, blue and white dots are applied over Attrape-Rêves and its canvas Monogram Travel Case while the men's fragrance, L'Immensité, is decorated with a gradation of black, silver, grey and white. Additionally, the artist gives a twist to the original Monogram Flaconnier, by painting bright dots all over it. A precious and colourful extraordinary trunk that invites the Louis Vuitton x Yayoi Kusama fragrances to travel.
The Painted Dots morph into another artist's recognisable motif: Infinity Dots. This repetitive dot pattern has become her signature over time and is applied in red and white on the obsessional fragrance Spell On You. The original Travel Case has also been taken over with printed dots on leather
Another obsession of Kusama is in her florals; an enigmatic and significant theme that she has used a lot in her life work, representing them in many forms: paintings, serigraphy, sculptures, installations. On Spell On You, the captivating flowers echo the ingredients of the sensual scent, bringing a crafted feminine touch to the collection. The delicate print is applied on the leather Travel Case and on the Ultimate Flacon, an exceptional oversized version of the Spell On You bottle, created by the designer Marc Newson, in Baccarat glass laid on a natural leather base.
Moreover, Yayoi and Louis Vuitton designers have chosen together a character from the artist's most
recent paintings to create an exclusive pattern: Faces. Humorous and smiley faces are printed over the Attrape-Rêves bottle, in a pulsing combination of colours.
Last but not least: Pumpkins. Kusama's love for pumpkins can be traced back to her early childhood as she began drawing pictures of them at elementary school for their humorous form and warm feeling. In a variety of bright colours, pumpkins are applied over the masculine fragrance L'Immensité with graphic playfulness.
The joyful print also appears on the Boîte Chapeau Flaconnier, an exceptional and delicate Monogram canvas box that secretly stores the entire Drop 1 and Drop 2 collections. Inspired by the "sac chauffeur" created in 1910 to protect the car wheel from rain and dust, one of the first Boîte Chapeau model was designed in 1924, when the hat became a symbol of elegance and distinction. It began to play a more important role beyond the elegant luggage as Louis Vuitton was the only brand to propose this type of sophisticated and timeless travel item.
Yayoi Kusama
From her inauspicious beginnings in 1929, in Matsumoto, Japan, Yayoi Kusama magically and determinedly transformed her own life. Spinning enchantment from the power of her art while on adventurous quests in the wider world in the 1950s and 1960s, from Tokyo to New York, she rescued herself in the process. She is the artist who has given a glimpse of the infinite in her artwork and, after what appeared as a hiatus to the outside world when she returned to Japan in the 1970s, she has emerged as perhaps the pre-eminent global artist of the 21st Century and certainly the most successful living, female artist.
The Louis Vuitton x Yayoi Kusama fragrance collection will be available in a selection of Louis Vuitton stores.
Drop 1 will be available in Louis Vuitton stores starting January 6, 2023.
Drop 2 will be available in Louis Vuitton stores starting March 31, 2023.
Eau de Parfum Attrape-Rêves – Louis Vuitton x Yayoi Kusama 100ml, 320€
Eau de Parfum Spell On You – Louis Vuitton x Yayoi Kusama 100ml, 320€
Eau de Parfum L'Immensité – Louis Vuitton x Yayoi Kusama 100ml, 320€
Travel Case Painted Dots – Louis Vuitton x Yayoi Kusama, 670€
Travel Case Infinity Dots – Louis Vuitton x Yayoi Kusama, 670€
Travel Case Flowers – Louis Vuitton x Yayoi Kusama, 670€
Flaconnier – Louis Vuitton x Yayoi Kusama, 7750€
Boîte Chapeau Flaconnier – Louis Vuitton x Yayoi Kusama, price upon request
The Ultimate Flacon – Louis Vuitton x Yayoi Kusama, price upon request