Rahua by Amazon Beauty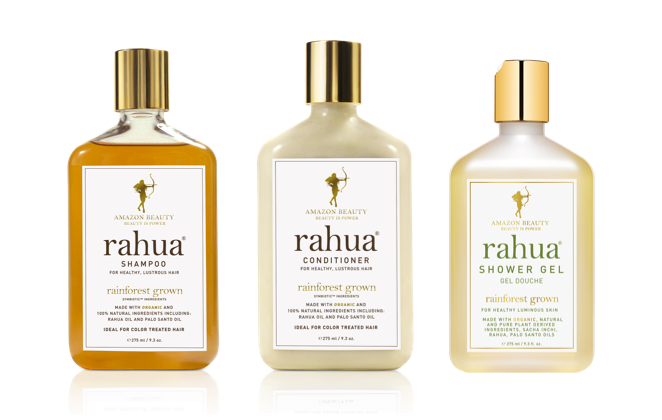 Rahua by Amazon Beauty is a sustainable luxury beauty company that celebrates its tenth anniversary this year. Founded by New York hair stylist and colorist Fabian Lliguin and his wife, fashion designer/trend forecaster, Anna Ayers, with a passion for Mother Nature and the Rainforest, Rahua has grown to become the luxury standard for clean beauty. With its mission to protect the Rainforest and bring the very best in hair and body care, Rahua products contain the best and most potent beauty ingredients that nature and the Amazon Rainforest have to offer.
The science we discover in nature enables Rahua to harness the power of plant-derived ingredients in order to deliver high performance in all of Rahua's beauty products. This is what makes the company an internationally recognized and highly awarded brand. The company's mission goes beyond its commitment to provide the best rainforest ingredients transformed into high performing beauty regimens – it raises the awareness of sustainability, as Rahua ignites innovative ways to protect the environment and the sources of powerful ingredients.
More than two decades ago, Lliguin – a native Ecuadorian of Quechuan descent – was introduced to the magic of Rahua (pronounced "ra-wa") oil. He observed the women from the Quechua-Shuar tribes while they prepared this highly potent, ancestral restorative oil by hand, in the same way that they have done for centuries. This Rahua oil is the secret to their thick and lustrously shiny hair. He returned to the United States with a small quantity of the omega 9 rich oil, and began testing it on clients in his salon. He witnessed their dry and damaged strands of hair miraculously spring back to life with renewed elasticity. Hair color remained vibrant for longer. Hair follicles and strands became substantially healthier. Irritated scalps were calmed and soothed. Further inspired by these remarkable results, he began to formulate innovative hair and body products utilizing his expertise as a hair stylist and colorist.
So, in 2008, the husband and wife team launched the Rahua brand by designing a purposeful beauty experience for consumers around the world. Today, Rahua's beauty collection includes plant-powered, high-performing, luxurious daily hair care, hair treatments, hair styling and nurturing body care products. Rahua has released the power of natural science derived from nature's ingredients for formulas with maximum efficiency and minimum environmental impact.
Rahua's Classic Shampoo and Conditioner
The plant-powered Classic Shampoo and Conditioner, two of Rahua® by Amazon Beauty®'s pioneer products and best sellers, were specially formulated to offer an enriching and luxurious daily routine, delivering a lustrous, healthy mane and a balanced scalp. Each precious ingredient is carefully chosen and sourced to protect not only your hair and scalp, but Mother Nature as well. The beautiful packaging, embossed with Amazon Beauty's signature archer logo, echoes the indulgent and effective formulas inside, elevating hair care as an art form in its own right. Naturally scented with the lightly fragrant oils of palo santo, otherwise known as "holy wood," the duo transports you from your shower to the lush depths of the Rainforest.
Fortify all hair types with the Classic Shampoo, which leaves locks luminous and soft by imparting omega 9 packed Rahua oil and natural, plant-derived nutrients. The Rahua oil's unique molecules are small enough to ll in porous hair, protecting and strengthening
it from the inside-out. Daily use yields stronger hair, a healthier scalp, and silky locks.
An enriching and luxurious complement to the Shampoo, the award-winning Classic Conditioner is ultra-hydrating; it effortlessly detangles strands with powerful Rahua oil and exotic plant extracts that maintain strong hair and manageability. Hair is instantly soft and manageable.
RAHUA CLASSIC SHAMPOO
Classic, fortifying shampoo for all hair types 275 ml / 9.3 oz.
RAHUA CLASSIC CONDITIONER
Luxuriously moisturizing, classic conditioner for all hair types 275 ml / 9.3 oz.
Rahua Shower Gel
Rahua's Shower Gel, a customer favorite, has a new look. The luxurious gel is showcased in Rahua's signature translucent bottle – a perfect addition to any bath ritual. It gently cleanses, nourishes and hydrates with powerful, Rainforest Grown Rahua (omega 9), Sacha Inchi (omega 3), and Palo Santo Oils for healthy, luminous skin. The formula features a curated selection of pure plant-derived ingredients, including Organic Hibiscus, Organic Arnica Montana Flower, Organic Vanilla, and Organic Olive Oil, for a restorative daily body care experience.
Each natural product in the Rahua Body Care Collection provides a deeply healing and transformative rainforest experience enhanced by refreshing and relaxing botanical scents. An invigorating blend of Lavender, Eucalyptus, Vanilla and Palo Santo enhances your daily regimen. The luxurious and silky formula penetrates deeply into the skin without any greasy residue, to add vitality, long-lasting glow and a smoother texture.
Rahua's co-founder, Anna Ayers, carefully developed the formulas for the Body Care Collection during a very special time in her life, while she was anticipating the birth of her child.
Ayers said, "I was looking for nourishing, protective and luxurious natural product experiences for my body and skin, that smelled lovely, without a strong fragrance that my body would reject. I was unable to find that special experience so decided to create it. At the same time, I was inspired to recreate the rainforest rituals I experienced in the Amazon, including showering under a cascading waterfall followed by the ritual of applying rainforest oils."
This experience resulted in the birth of the Rahua Body Care Collection.
RAHUA SHOWER GEL
An energizing plant-powered shower gel that gently cleanses and nourishes skin 275 ml / 9.3 oz.