Revlon Global Brand Ambassador Ashley Graham attends 2018 Met Gala; Makeup by Allan Avendano
WHO: Revlon Global Brand Ambassador, Ashley Graham
MAKEUP BY: Allan Avendano for Revlon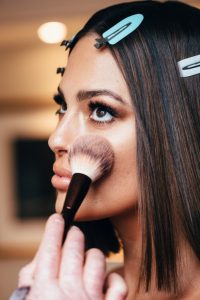 INSPIRATION:
"This year's Met Gala theme and Prabal's beautiful Gold & Bronze Gown really inspired Ashley's makeup for the event.
Ashley wanted gold and bronze tones on her eyes and this made me think of making her look like a Star in the Heavenly Bodies! To create the look on the new face of Revlon, I of course used all Revlon products!"
FACE:
After prepping Ashley's Skin with REVLON PHOTOREADY PERFECTING PRIMER, I applied REVLON PHOTOREADY AIRBRUSH EFFECT MAKEUP with a blending sponge for a sheer and luminous complexion.
For areas that needed a little more coverage, I spot treated them by dabbing on the REVLON PHOTOREADY CONCEALER.
I brightened areas of her face (ie. under the eyes, sides of nose) with REVLON COLORSTAY CONCEALER.
For dimension, I used the REVLON PHOTOREADY CONCEALER IN CARAMEL to contour under the cheekbones, the temples and jaw line.
I set her foundation with a light dusting of REVLON PHOTOREADY POWDER before adding a hint of blush. I used REVLON POWDER BLUSH IN MELON DRAMA to add a peachy tone to her tan complexion.
To add subtle highlights and even more contour to her face I used REVLON PHOTOREADY HIGHLIGHTING PALETTE IN SUNLIGHT DREAM by swiping my fan brush over all four shades in the palette and applying them to all the highlight points on her face.
Finally, for that extra drama that really put the look over the top, I used REVLON ELECTRIC SHOCK LIGHT IT UP HIGHLIGHTER (Available exclusively at ULTA, June 2018) all over the apples of her cheeks, on her brow bone, and Cupid's bow.
EYES:
I used REVLON COLORSTAY CONCEALER on her eyelids as a primer to really make the eyeshadows pop on her eyes.
I laid down a layer of REVLON COLORSTAY CRÈME IN HONEY before using the REVLON PHOTOREADY PRIMER, SHADOW + SPARKLE IN RUSTIC.  This had all the perfect colors to create a golden bronze Smokey Eye!  I applied all the shades in the palette and blended blended blended!  For more of that metal look, I applied REVLON COLOR CHARGE LOOSE POWDER IN GOLD DUST AND COPPER
To deepen the shadows on the eyes, I used REVLON COLORSTAY CRÈME GEL PENCIL IN DARK CHOCLATE
creating a winged liner and then smudging it so that there were no defined lines.
The lashes had to set off this look so I used the new REVLON VOLUMAZING MASCARA – 2 coats on the top and 1 coat on the bottom – to bring more drama to the eyes.
I filled in her brows with REVLON COLORSTAY BROW KIT IN DARK BROWN and then used the REVLON COLOR CHARGE LOOSE POWER IN GOLD DUST again to highlight the brow bone.
LIPS:
I applied REVLON ULTRA HD GEL LIPCOLOR IN SAND and REVLON SUPER LUSTROUS LIP GLOSS IN SAND STORM.
For an extra touch, I added a hit of REVLON COLOR CHARGE LOOSE POWER IN GOLD DUST on the Cupid's bow.