Dior presents Michelle Williams' Met Gala look by makeup artist Angela Levin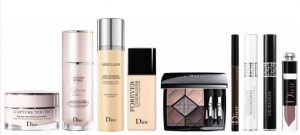 GET THE LOOK
INSPIRATION: "The look was inspired by this year's Met Gala theme – Heavenly Bodies: Fashion and the Catholic Imagination. I decided that a good foundation for such a day is the most important because you want the makeup to last and look amazing the whole night. I turned to Dior for their fantastic selection of primers to create a strong base that would keep the look fresh throughout the evening. 
COMPLEXION: Using a sponge, I started with a hydrating layer of Dior Capture Youth Age-Delay Advanced Creme, then a layer of Dior Capture Totale Dreamskin Advanced on the face and neck. Then I applied Diorskin Forever & Ever Wear. For foundation I used Dior Airflash #100 Ivory on a kabuki brush. The application was fast, easy, and flawless. Then I used Diorskin Forever Undercover #010 Ivory on the outer areas of the face. I contoured using Diorblush Sculpt #003 Beige Contour and added Diorblush #876 Happy Cherry to the apples of her cheeks.  I set everything with Diorskin Forever Extreme Control #010 Ivory.
EYES: I filled in her brows with Dior All-In-Brow 3D #002 Blonde and added some dimension with Diorshow Brow Styler #003 Auburn. To prep the lids, I first started with Dior Backstage Eye Prime. Using Dior 5 Couleurs #757 Dream, I started by swiping the middle gray color all over the lids and then intensified it by blending with the rest of the colors. I lined the upper and lower lash lines with Diorshow On Stage Liner #781 Matte Brown. I prepped the lashes for mascara with Diorshow Maximizer 3D and then added a couple coats of Diorshow Mascara #090 Pro Black. 
LIPS: I moisturized the lips first with Dior Crème de Rose #001 Rose Cream. I lined them with Dior Universal Contour #001 and then filled in with Dior Addict Lacquer Plump #516 Dio(r)eve."
– Angela Levin
DIOR PRODUCTS USED:
COMPLEXION:
Dior Capture Youth Age-Delay Advanced Creme
Dior Capture Totale Dreamskin Advanced
Diorskin Forever & Ever Wear
Dior Airflash #100 Ivory 
Diorskin Forever Undercover #010 Ivory
Diorblush Sculpt #003 Beige Contour
Diorblush #876 Happy Cherry
Diorskin Forever Extreme Control #010 Ivory
EYES:
Dior All-In-Brow 3D #002 Blonde
Diorshow Brow Styler #003 Auburn
Dior Backstage Eye Prime
Dior 5 Couleurs #757 Dream
Diorshow On Stage Liner #781 Matte Brown
Diorshow Maximizer 3D
Diorshow Mascara #090 Pro Black
LIPS:
Dior Crème de Rose #001 Rose Cream
Dior Universal Contour #001 Transparent
Dior Addict Lacquer Plump #516 Dio(r)eve