Patricia Field Opens Lower East Side Gallery
On Wednesday, May 30th, Patricia Field debuted her personally curated ARTFASHION Collection featuring one-of-a-kind, hand-painted clothing, accessories, paintings & sculpture.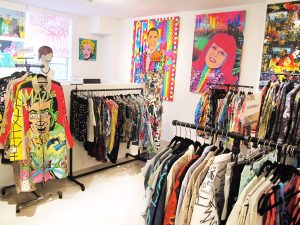 Beauty influencers including host Lara Eurdolian of @prettyconnected and her side-kick @pompomcharlie gathered to meet with Patricia, experience the collection and the @prettyconnectedshop charm bar, while enjoying light bites and beverages.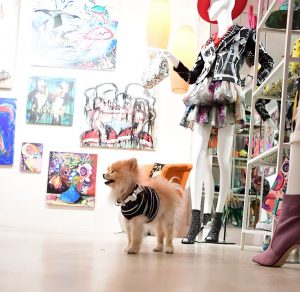 Exhibiting Artists include: Jody Morlock, Scooter LaForge, Ben Copperwheat, ThesePinkLips, StudMuffinNYC, Suzan Pitt JoJo Americo, Lara Padilla, SSIK, Suzanne Mallouk, Daniel Chimowitz, Steven Wine, Madly Made, Wolfeyes, House of Triviál, & David Dalrymple
Guests also had the opportunity to experience AR makeovers and a chance to try Patricia's iconic red hair virtually by event partner, YouCam Makeup.
The event marked the official opening of the Patricia Field Art Fashion Gallery, now open to the public, Monday – Friday, 10am-6pm, located at 200 East Broadway, Suite 3D, NYC
When Patricia Field sold her Bowery retail property, thereby closing her namesake boutique in early 2016, the fashion community mourned the loss of an iconic place that had become an internationally recognized destination for style seekers over the course of its 50 year lifespan.
Not one to remain idle for long, Field delved headfirst into launching her newest concept, one which had been percolating within her brain and within the walls of her famous shop for several years prior. And thus, ARTFASHION was launched.
ARTFASHION was born out of Field's long held ties to New York's art community, stretching back to her relationships with legends such as Jean Michele Basquiat and Keith Haring – who famously painted t-shirts and the windows of Field's Eigth Street store. The inclusion of artistic creations among the shop's offerings continued over the ensuing decades, and they always remained highly coveted by customers who had tired of mass-produced fashion and were often seeking one-of-a- kind pieces.
ARTFASHION now sees Field as a gallerist, working with a talented and tightly curated stable of today's visual artists who, through Field's guidance and expertise, have applied their painting skills to clothing. Although the concepts of art and fashion have never been mutually exclusive, Field's ARTFASHION collection exists, quite literally, at their ultimate nexus.
Field's new venture quickly began to take shape and grow. In less than two years since its inception ARTFASHION has produced runway shows and pop up shops across the globe, from New York to Berlin to Mykonos, in addition to two successful gallery residencies during Miami's Art Basel. The collection has also been picked up by prestigious retailers like Luisa Via Roma in Milan and Bergdorf Goodman, worn by celebrities like Cardi B, Miley Cyrus, Alicia Keys, and Beyonce, and is often seen in the editorial spreads of countless fashion magazines.
Along with ARTFASHION's growth came it's need for a new home – a permanent place where clients, stylists, and fans alike, could experience ARTFASHION firsthand and purchase pieces for their own collections.
This month the doyenne of downtown officially opens her gallery doors after a brief hiatus, now in a newly renovated commercial space on Manhattan's Lower East Side. Nestled inside the ground floor of an unassuming building on East Broadway, Field's new headquarters is an intimate space with a speak-easy feel, seemingly for art and fashion connoisseurs "in-the-know". The new space also houses Field's main office, a base of operations where her team runs her still-thriving online gallery, patriciafield.com.
Not a typical store or showroom, but rather a sleek gallery space reminiscent of an artist's studio, and filled with art (both wearable and not), all for sale. In typical Field style it is a colorful bazaar, every inch of the walls adorned with painted canvases and sculptures that compliment the bespoke fashion creations hanging on the racks below.
Field's famous staples items are also still on hand, such as 'VOGUE' and signature baseball caps, as well as Carrie tutus and the custom nameplate necklace made famous by Field on Sex & the City (available for clients made-to-order). These enduring classics now sit alongside new one-of-a-kind
ARTFASHION offerings like glamorous Swarovski encrusted Lionfish necklaces by Kevin McHugh, neo-punk silicone chokers by SSIK, and an array of hand painted shirts by Scooter LaForge, to name but a small few.
About YouCam Apps. With over 600 Million downloads globally, YouCam is the world's #1 suite of beauty Apps. YouCam Makeup is dedicated to transforming how consumers, content creators and beauty brands interact together. Our experienced team of engineers and beauty aficionados are pushing the frontiers of AR and AI technology to create the beauty platform of the future – a fluid environment where individuals express themselves, learn the latest about fashion and beauty, and enjoy instant access to the products from their favorite brands. Further information about YouCam Makeup can be found at perfectcorp.com. YouCam Makeup is available for free download on the App Store and Google Play.