NATURA Brasil introduces Collages – A Brazilian Scent Journey
NaturaBrasil presents the ethos of an amazing country bottled into an exquisite fragrance collection.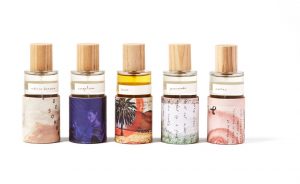 Each evocative scent gives a glimpse of travels throughBrazil, providing sensual snapshots of the heat, the lush flora, and the seductiveness of this unique country.
Angelica
The sultry air is tinged with a hint of sweetness; a drum beat thumps like a pulse somewhere in the background. The purple night sky brings temptation, mystique, and promise. Angelica is the Brazilian name for tuberose, a flower known for its mysterious qualities. Combined with zesty mandarin and aquatic flowers, this alluring fragrance is dark and seductive.
Jacaranda
The blue flowers of the Jacaranda tree begin to sway– as if they're doing an elegant dance. The tall grasses appear to wave hello. The cool and tender breeze ushers in a feeling of freshness–a renewed spirit. A combination of fresh and spicy, this bright earthy fragrance energizes with hints of papyrus, rose and grapefruit.
Madeira Branca
Hidden in the shade of the lush green forest is an unexpected sea of glass. A sleek and contemporary refuge that evokes a feeling of both coolness and warmth all at once. Madeira Branca was inspired by Brazilian architecture – strong and modern yet still immersed in nature – with hints of warm woods, spicy black pepper and calming musk.
Nectar
The fresh-cut grasses are still damp from the early morning dew. The succulent scent of ripe blood oranges mingles with the warm, balmy air. The sweet breath of nature clings to skin like an all-over tattoo. Like a second-skin, this soft, romantic scent envelops the body with sensual flowers, citrus, and warm amber.
Terra
The fiery sunset casts a soft amber glow on the surrounding sandy soil. Like a warm embrace, you can feel it lingering even after it's gone. With hints of soft woods, white flowers and vanilla musk, this earthy fragrance wears like a cozy, comforting blanket.
All fragrances are made with 100% organic alcohol and presented in all recycled packaging, adhering to NaturaBrasil's commitment to sustainable and ethical business practices.
Size 50 ml / 1.7 oz
Retail Price $95.00 per bottle
Available June 20th at naturabrasil.com and in flagship boutiques in Nolita and Garden State Plaza.