DKMS BLOOD BALL GENERATES MORE THAN $1 MILLION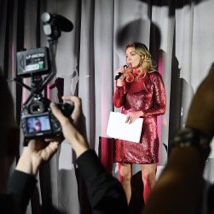 Launched by DKMS in 2014, The Blood Ball has become one of New York City's hottest annual parties that attracts over 300 upscale NYC-area professionals for an unforgettable evening of music, dancing, cocktails, hors d'oeuvres and special performances—all in the spirit of saving lives.
Over the years, this benefit has raised nearly $1 million in support of DKMS's efforts to register lifesaving bone marrow donors. 100% of proceeds from The Blood Ball will support the work of DKMS to connect patients with blood cancers like leukemia and lymphoma with bone marrow donors who can give them second chances at life.In just five years since its inception, the annual Blood Ball hosted by DKMS, an international nonprofit organization committed to the fight against blood cancer and blood disorders, has generated more than $1.1 million dollars for blood cancer awareness. Funds generated by the disco-themed benefit will help drive bone marrow donor recruitment, provide funds to cover donor registration costs and support patients from day one of their diagnoses.
"The contributions from our incredible Blood Ball benefactors and sponsors are invaluable in supporting DKMS' continued mission to defeat blood cancer by growing the bone marrow registry and helping find matches for patients in need," Katharina Harf, co-founder of DKMS and co-chair of the Blood Ball.
Every year more than 20,000 patients with blood cancer in the U.S. will require a bone marrow transplant to live, but nearly 70 percent will have to rely on finding a perfect stranger as a compatible donor. For many patients battling blood cancer and other blood diseases like sickle cell anemia, a bone marrow or stem cell transplant is their only opportunity for a second chance at life.
The event was hosted on October 18, at Spring Place in Tribeca in New York City. Sponsors for the evening included Rimmel US, Blavatnik Family Foundation, Krispy Kreme, Reckitt Benckiser and Clevertech.
To learn more about joining the bone marrow registry and how you can make a positive impact in the life of someone battling a life-threatening blood cancer or blood disorder, please visit www.dkms.org/register.
DKMS is an international nonprofit organization dedicated to eradicating blood cancers like leukemia and other blood-related illnesses inspiring both men and women around the world to register as bone marrow and blood stem cell donors. DKMS is providing patients with a second chance at life, working closely with families from diagnosis to transplant and beyond. The donor journey begins with a swab of the cheek that takes less than 60 seconds and can be the action that leads to a lifesaving transplant. DKMS, originally founded in Germany in 1991 by Dr. Peter Harf, has organizations in Poland, Chile, the United Kingdom and the United States. The U.S. office was started in 2004. Globally, DKMS has registered more than 8 million people. To join the fight against blood cancer or for more information, please go to dkms.org.