Better World Awards Honors Philanthropist Jean Shafiroff and Photographer Harry Benson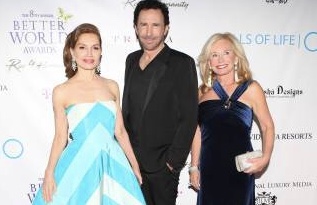 The Eighth Annual Better World Awards, themed Roc4Humanity, and benefitting Wells of Life was held on Wednesday, November 14, 2018, at The Loeb Boathouse where it recognized outstanding humanitarians who have made the world a better place.
Jean Shafiroff was presented with the Humanitarian Philanthropist Award, by New York State Assemblywoman Rebecca Seawright. Acclaimed photographer Harry Benson, CBE, was presented with the Humanitarian Arts Award by Kerry Kennedy, President of the Robert F. Kennedy of Human Rights Foundation. Philanthropist and author. Fred Schneider was given the Humanitarian Musician Award, and Claudinette Jean, wife of Wyclef Jean, was given the Humanitarian Helping Hand Award.
 The event was hosted by CBS Radio and CNN anchor, Rita Cosby, and Consuelo Vanderbilt Costin, CEO of SohoMuse.
Acclaimed by critics around the world as one of the greatest living guitarists, eight-time Grammy Award-winning musician, Jose Feliciano celebrated the 50th Anniversary of the hit song Light My Fire by performing it for attendees. Jazmin Grace Grimaldi, opera singer and daughter of Prince Albert II of Monaco, performed her soon-to-be-released pop single, Fearless. Grammy and Emmy nominee, Clayton Bryant performed a tribute medley to humanitarian artists who have made the world a "better place." 
Wells of Life provides clean drinking water in rural areas in Uganda, where clean, sanitary water is scarce. The Founder of Wells of Life, Nick Jordan, along with the organizations President, Pete Callahan, were recognized for their philanthropic efforts to save lives in Africa, one well at a time.
 Additional attendees included RHONY star Dorinda Medly and John Mahdessian, Randy Jones of the Village People, Skincare mogul Peter Thomas Roth, Sharon Bush, Martin Shafiroff, Gigi Benson, Michele Herbert, Geoffrey Bradfield, and model Ian Mellencamp. The event is endorsed by The Love Over All and Bob Marley Family Foundations.