CHANEL CHANCE: A Way of Being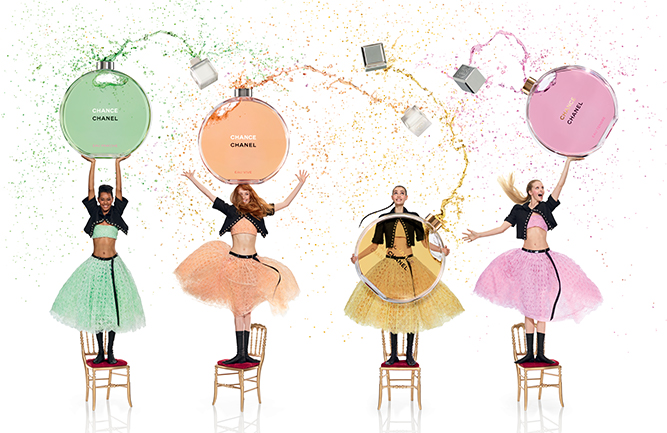 CHANEL REVEALS THE NEW CHANCE ADVERTISING CAMPAIGN CREATED BY JEAN-PAUL GOUD
For the launch of the CHANCE EAU TENDRE Eau de Parfum, CHANEL is revealing a new advertising-campaign for the CHANCE fragrance line on January 4, 2019. Continuing his longstanding collaboration with the House since 1990, Jean-Paul Goude has poured all of his creativity and allegorical talent into the campaign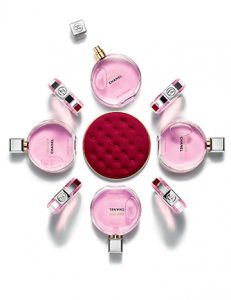 Moving on from playing games, Jean-Paul Goude opted to portray another theater of chance: the audition. For this campaign, Goude teamed with self-taught choreographer Ryan Heffington who shares his love of mixing genres and cultures, and with musician Sam Spiegel who also wavers between classical culture and hip hop. It was a perfect fit: "they are both perfectly in tune with me, taking a somewhat naive and spontaneous approach to the film that is similar to mine."
The result of their collaboration is what Goude refers to as a ""bref métrage"" or brief film: a short danced and filmed act depicting a reality that is athletic and yet graphic, sensual and stylized. A frenzied whirlwind of dancers and choristers perform coordinated movements and choreographed reactions that convey the spirit of the fragrance in the slightest gesture.
CHANCE EAU TENDRE Eau de Parfum is a floral-fruity fragrance that is even more intense and enveloping. Created by perfumer Olivier Polge in cooperation with the CHANEL Laboratory of Fragrance Creation and Development, it expresses a radiant and confident femininity with a feeling of absolute tenderness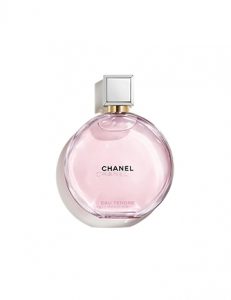 In 2002, CHANEL launched CHANCE, a floral fragrance with a joyful character. A surprising bottle, full of curves. A name that is almost a perfect anagram of CHANEL, a tribute to the long history between the House and chance.
"Chance is a way of being," said Gabrielle Chanel, who believed in her lucky star as much as she cultivated it. With confidence and determination, Mademoiselle seized this chance throughout her whole life. Attentive to all the signs that marked her path, a woman who loved chance encounters and the unexpected, she smiled at fortune and fortune smiled on her in return.
Still today, chance according to CHANEL is no random matter. It's a state of mind. A choice at every moment. An attitude. Optimistic? Obviously. Bold? Inevitably! Because it's not a matter of having a chance, but daring to take one when it presents itself.
CHANCE is the olfactory expression of this way of being, available in four variations. 4 women's fragrances with distinct personalities, but reunited by this same lighthearted, bright and joyful spirit. Wielding an instant and irresistible charm, jasmine is the signature that runs through the CHANCE fragrances. Because each day offers a new chance for the taking, the CHANCE line offers women fragrances to wear each day like genuine lucky charms.
CHANCE, the original fragrance with a heart of jasmine, orchestrates the surprising contrast between a fresh burst of pink pepper and citrus and the richness of a woody, chypre base with patchouli.
Joyful and sparkling, CHANCE EAU FRAÎCHE enhances the zesty accents of citron to brighten its jasmine heart, before gradually unfurling the elegance of a vibrant woody note on the skin.
Ever so softly, CHANCE EAU TENDRE nestles its jasmine heart in a cloud of creamy, musky notes with the tang of a delicately fruity accord of grapefruit and quince.
CHANCE EAU VIVE cascades onto the skin like a burst of energy. The surprising bitterness of a grapefruit and blood orange accord introduces the cedar-iris accord that upholds the heart of jasmine.
CHANCE EAU TENDRE EAU DE PARFUM AN AURA OF SOFTNESS
In 2019, CHANEL unveils a new interpretation of the CHANCE EAU TENDRE fragrance as an Eau de Parfum.
THE MOST TENDER OF THE CHANCE INTERPRETATIONS
With CHANCE EAU TENDRE Eau de Parfum, perfumer-creator Olivier Polge, in cooperation with the CHANEL Laboratory of Fragrance Creation and Development, reinterprets the floral-fruity signature. More intense, more enveloping, this version expresses a radiant and confident femininity. Its floral heart accentuates the fullness of exotic jasmine absolute, enriched with an essence of rose that shines a soft light at the center of the composition. More feminine than ever, this floral equation is draped in just the right dose of smooth and creamy white musk notes to create a clean, cottony effect. Immediately illuminated by the tangy whirl of the grapefruit-quince accord, CHANCE EAU TENDRE Eau de Parfum brings a feeling of absolute tenderness. Delicate and profoundly poetic, this new composition evokes a woman whose joy and inner glow gives her instant charm.
For the occasion, the round bottle with a gold neck takes on a silvery hue for the die-shaped cap.
#TAKEYOURCHANCE