CEW's 2019 Top Talent Awards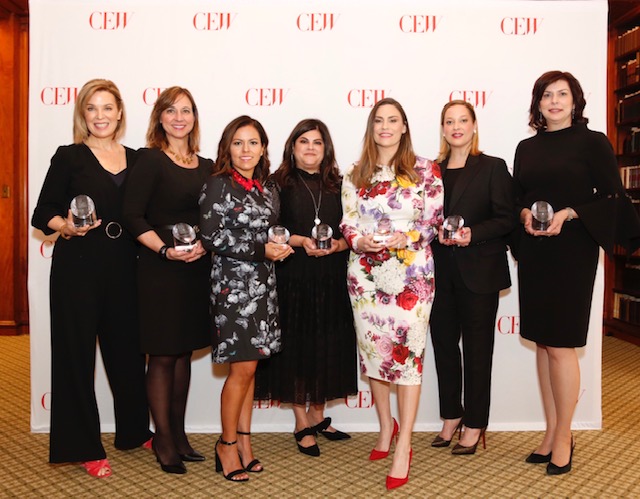 CEW Honors Rising Beauty Industry Leaders at Sixth Annual Top Talent Awards
Seven female beauty industry executives were recognized for the impact they are having on the industry when Cosmetic Executive Women (CEW) hosted the 2019 Top Talent Awards luncheon, Thursday, April 11, 2019.
The Top Talent Awards honor the performance and achievement of women who are making a mark on the beauty industry. What makes these awards unique is that the recipients are nominated by a CEW Board member or senior executive within their company and reviewed by a special CEW committee of the Board of Governors. Each nominee is looked at for the impact they have on their companies and the greater beauty industry, as well as their future leadership potential.
The 2019 honorees included:
Jennifer Cohen, Senior Director, Makeup, Sephora
Megan Crokos, VP, Product and Fragrance Development, Mast Global Beauty and Home, Bath & Body Works
Marcie Hoklas, Senior Director/DMM Beauty Company, Walgreens-Boots Alliance
Rachel Painter, Vice President, Research and Development, The Estée Lauder Companies
Suzanne Pengelly, SVP, U.S. Sales and Education, bareMinerals
Mary F. Rodrigues, SVP, Marketing and Ecommerce, RéVive Skincare 
Salina Urben, Senior Regional Education Manager, Clarins
"For 65 years, CEW has helped women in the beauty industry achieve, advance and inspire," says CEW President, Carlotta Jacobson. "We are delighted to honor these seven inspirational women for their achievements and look forward to hearing them share their stories during our awards ceremony."
CEW's other programs to recognize achievement include the Achiever Awards, which honor outstanding female leaders in the beauty industry, and the Female Founder Awards, which acknowledge entrepreneurs for their leadership and innovation. Like the Top Talent Awards, their purpose is to inspire future leaders, as well as support the advancement of women in the industry.
The sold-out event was held at The Union League Club in New York City. Sponsors include Marie Claire, Symrise, 24 Seven, Simple, Milani, L'Oréal, Imtech graphics, COVERGIRL, Yonwood/PKG, QVC, Revlon, Beauty Inc, WWD, Moblty, Kaplow Communications and Marketing Solutions Inc.
About the 2019 honorees:
Jennifer Cohen serves as Sephora's Senior Director of Merchandising for Makeup and is responsible for scouting and incubating emerging brands, as well as discovering trends and category opportunities. Since joining the company in 2008, Jennifer has helped advance Sephora's makeup brand portfolio by nurturing brands from infancy to become top performers, including Marc Jacob's Beauty, Kat Von D Beauty, Huda Beauty and Fenty Beauty. On the latter, Jennifer played an integral role in orchestrating Sephora's history-making first global beauty brand launch. Jennifer began her beauty journey at Nordstrom selling makeup and skincare behind the Clinique makeup counter. During her 10-year tenure at Nordstrom, Jennifer's passion for beauty led her to roles that supported all beauty categories and to become an accomplished merchant leader.
 Megan Crokos is Vice President of Product & Fragrance Development for Mast Global Beauty and Home, Bath & Body Works. In this role since 2013, she leads ideation and defines big picture strategies for all Bath & Body Works beauty, personal care and home products, with more than 1,200 new skus with more than $4 billion in annual sales. Megan joined Mast in 2007 as Director of Creative Product Innovations for Beauty Avenues. In 2009, she was promoted to AVP of Product and Fragrance Development for all of its personal care products in the US and Canada, and in 2012, she added Creative Fragrance and Innovations of Product Development. Prior to Mast, Megan spent more than 20 years creating and marketing cosmetics, skincare, body care and home products for brands including Estée Lauder, Clinique, MAC, Jo Malone, La Mer, L'Oreal/Lancôme, Calvin Klein Beauty and Revlon.
 Marcie Hoklas is Senior Director/DMM Beauty Company, Walgreens-Boots Alliance.
In this role, she continuously challenges herself to bring to life new formats, new
designs and enriched customer experiences. Marcie began her career at Nordstrom at the Clinique counter, while attending classes at Columbia College Chicago, eventually leading the Nordstrom Beauty department. Later, she moved to Walgreens, where she held a variety of roles, most notably in buying and category management. Marcie's passion and expertise have allowed her to create enormously transformational change, both at Walgreens and in the industry. Her contributions including growing Cosmetics from $800M to $1.2B in sales and more recently, doubling growth of Dermatological Skincare.
Rachel Painter is Vice President of Makeup Research & Development at The Estée Lauder Companies, responsible for leading total Makeup Innovation. She heads Estée Lauder Brand and Tom Ford Formulation and MAC. She's committed to delivering consumer-inspired breakthrough technologies and creating new products to drive growth in established and emerging brands. Rachel has worked in many areas of the business during her 25 years with the Estée Lauder Companies. Starting as an Analytical Chemist, she then went into Formulation and developed and patented several technologies, including the first-ever Cushion Compact product. She became Director of Product Development for La Mer and Jo Malone, and went on to lead Estée Lauder Brand, Origins, La Mer, Bobbi Brown, and Aerin Lauder R&D Makeup Formulation. In 2014, Ms. Painter became VP and Site Leader of the Estée Lauder Canadian Innovation Centre.
 Suzanne Pengelly is Senior Vice President, U.S. Sales & Education of bareMinerals & Buxom. In this role, she focuses on the U.S. commercial wholesale strategy & execution. She has nearly 20 years of beauty experience with a proven track record of success in developing business strategies, managing sales, organizing and developing high caliber teams and delivering strong results. Suzanne previously ran the Direct to Consumer division for philosophy, including QVC, ecommerce and freestanding retail stores where sales increased double digits under her leadership. Suzanne also worked with Peter Thomas Roth, launching the business on QVC and leading business development efforts.
Mary F. Rodrigues is a visionary beauty and marketing executive with significant experience in leadership roles. In her current position as SVP, Marketing and Ecommerce, RéVive Skincare, she has been instrumental in extracting and setting up the company as a stand-alone entity. Her guidance and steady focus have helped RéVive to achieve exceptional growth. Mary's experience includes 15 years with Esteé Lauder and a presidential role at indie brand MDSolarSciences. She was selected to join Andrew Cuomo's Regional Economic Development Council, where she was a member of the Executive Committee and Co-Chair of the Marketing Committee. Earlier, she led strategic development with creative agency AJ Rodrigues Group and provided digital, social and marketing consulting for a roster of clients.
Salina Urben is Senior Regional Education Manager, Clarins, where she educates advisors, retailers and clients, assisting in content and material development of multi-channel training programs such as instructor-led trainings, e-learning and educational videos, and representing the education department on social media outlets. Salina started her career as a Beauty Advisor at Clinique in 1997 and was soon running her own counter. She proved herself to be a strong leader and business builder for the Prescriptives brand, as well as managing several Shiseido accounts within the New York Metro region before joining the Christian Dior education team in 2005. At Dior, Salina facilitated the educational training and development for sales associates throughout the Northeast and Mid-Atlantic markets. Salina joined Groupe Clarins in 2011.