Cosmopack NA Presents First Factory Activation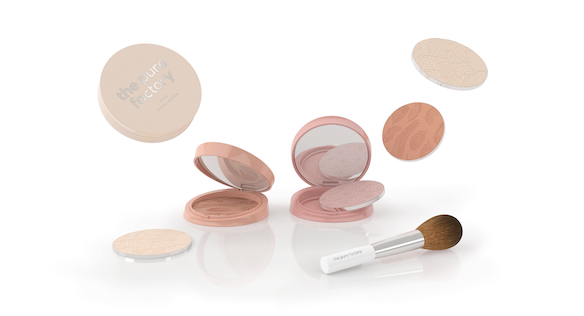 Cosmopack North America presents first Factory activation showcasing the production steps of The Pure Factory's clean beauty highlighter
Cosmoprof North America (CPNA) –the largest B2B beauty exposition in the Americas, will present The Factory during Cosmopack North America at this year's show from July 28-30, 2019. Cosmopack is an exhibition within CPNA dedicated to contract manufacturing and private label, machinery, primary and secondary packaging, applicators, ingredients and raw materials. With the Factory, Cosmopack is the only trade show that recreates the entire manufacturing process of a cosmetic product live, thanks to the participation of a selection of Cosmopack exhibitors. In its first edition at CPNA, the Factory will be producing The Pure Factory face highlighter.
Featuring the best of technological innovation in the supply chain, The Pure Factory will showcase all of the production steps to produce the facial highlighter, a weightless pressed powder that will give attendees' complexion a delicate, smooth and sophisticated glow. Its creamy and blendable texture is perfect to draw the light on face and body, creating the perception of depth and angles. A soft veil which reflects the light amplify the natural radiance of your skin.
The highlighter is made up of a clean formula, free of toxic ingredients, making it safer for you and the environment. Moreover, the formula has been created without using any animal-derived ingredients and contains a high percentage of vegetal derived raw materials. To eliminate waste, the highlighter will be packaged in a timeless, personal, and refillable compact. This product is designed by international brand intelligence, design, and architecture firm, centdegrés. The Pure Factory's participating companies include formula by Ancorotti, primary packaging by Toly, brushes and pouches by Pennelli Faro, machinery by Co.Pack, and ribbon by Nastritex.
The Factory activation will also feature international make-up artist Celeste Duquesne, who will perform makeovers on guests Sunday, July 28th and Monday, July 29th and use make-up and tools from participating Cosmopack and Cosmoprof exhibitors.