Robertet Hosts Private Tour of CAMP: Notes on Fashion at The Met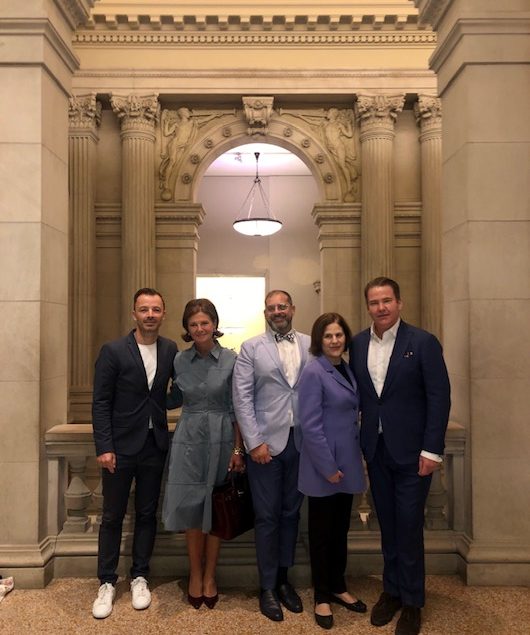 Fragrance industry insiders joined The Robertet Groupe for a morning of wild inspiration and delight during a private tour of the CAMP: Notes on Fashion exhibition at The Metropolitan Museum of Art. 
Led by The Met's Helen Lee, while the museum was closed to the public, the group explored the theme of the artificiality, parody, pastiche, humor, irony and exaggeration and how these themes have been expressed in fashion.  Susan Sontag's 1964 essay "Notes on Camp" provides the framework for the exhibition, which traces the history of CAMP from its origins with Moliere to modern day Moschino.
"The hallmark of Camp is the spirit of extravagance. Camp is a woman walking around in a dress made of three million feathers," wrote Sontag.
Hosted by Robertet's North America CEO, Bob Weinstein, along with Piero Savio, Pierre Wulff and Perfumer Jerome Epinette and orchestrated by Austin Advisory Group's Paul Austin, guest's included Ann Gottlieb; Atelier Cologne founder Sylvie Ganter; Fragrance Foundation President Linda Levy; Nest Fragrance's Laura Slatkin; CEW's Carlotta Jacobson; Luxe Brand's Noreen Dodge; Coty's Renaud Salmon; Parsons School of Design's Shelley Fox and Joff Moolhuizen; Interparfum's Jennifer Mullarkey, Baerbel Beurick and Walter Johnson; Byredo and Dyptique's Julian Gommichon; Philosophy's Cailin McCarthy, Reckitt's Laura Clark; Target's Gloria Hoo and Elizabeth Chon; and Maesa's Dana Steinfeld; and Sarah Brown.