Marc Jacobs Daisy Love: #TFFA Social Media Campaign of the Year & Consumer Choice Women's Prestige Fragrance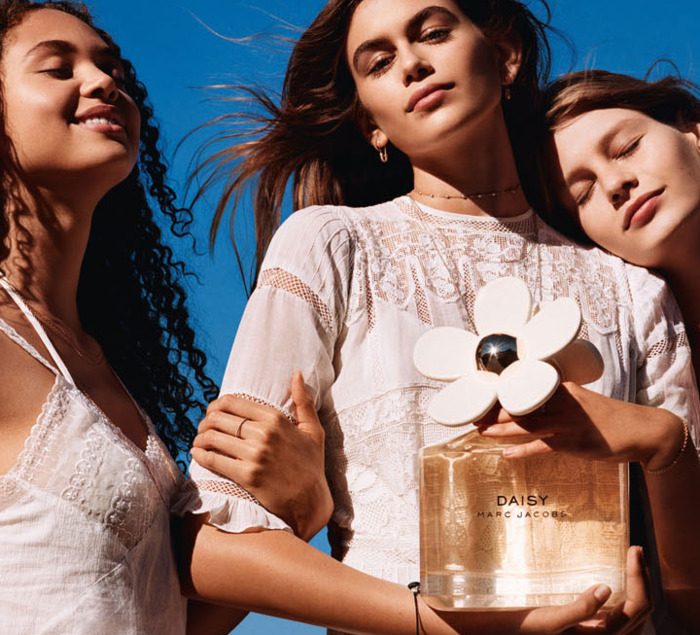 UNDER BLUE SKIES ON A GOLDEN BEACH
LOVE FILLS THE AIR AND THE CAREFREE SPIRIT OF DAISY SHINES
A NEW CHAPTER OF SISTERHOOD BEGINS
DAISY LOVE MARC JACOBS
Marc Jacobs Daisy Love took home two awards from the prestigious Fragrance Foundation Awards on Wedsnesday night, June 5th, at Lincoln Center in NYC…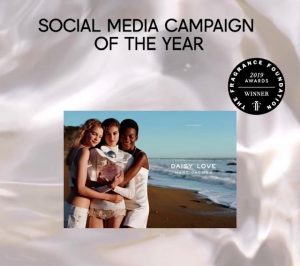 SOCIAL MEDIA CAMPAIGN OF THE YEAR —This award honors the best use of social media by a brand. It is judged on concept and execution on social media channels and resonance of the message. This category is judged by an expert panel.
This award was accepted by Andra Mielnicki, Vice President, Global Influencer Marketing, Luxury at Coty.
We asked Andra how she felt about winning Social Media Campaign of the Year, and how she made this campaign such a success…
"It was a true honor to be recognized for the launch of Daisy Love Marc Jacobs. Our entire team is proud to be a part of this win. Our mission was to leverage the power of social media to engage consumers online, and to offer them an unexpected, immersive brand experience in real life. The Santa Monica pier takeover was an invitation into the playful Daisy Love universe, creating the perfect opportunity for authentic influencer storytelling and larger-than-life #DaisyLove UGC moments. We are constantly seeking ways to generate meaningful consumer engagement, and could not be happier with the overwhelmingly positive response for Daisy Love," she told us.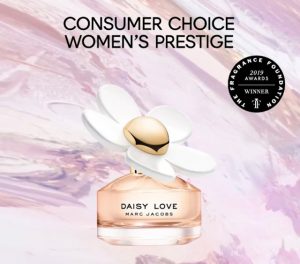 CONSUMER CHOICE WOMEN'S PRESTIGE FRAGRANCE
This award was accepted by Peggy Elsrode, Senior Vice President North America Luxury at Coty.
We asked Renaud Salmon, Global VP Marc Jacobs Fragrances, what makes the Daisy Marc Jacobs collection such a success, and what makes Daisy Love relevant and different…
"We believe that the success of the Daisy Marc Jacobs collection lies behind a few fundamental elements. First of all, it is built on universal core values that feel particularly relevant today: sisterhood, optimism and carefree spirit. Secondly, the Daisy fragrances are well-crafted, enjoyable, bright, floral creations – the perfect, easy, go-to scents in a girl's fragrances wardrobe. Finally, Marc has always proposed an extremely visually appealing universe with Daisy: the campaigns and bottles come to life beautifully in the digital space – and we know how crucial it is with our young audience," he told us.
"When it comes to Daisy Love specifically, Marc wanted to explore a sweeter chapter of the Daisy story. From the fragrance (a more gourmand take on the Daisy signature floralcy), to the bottle (a unique oversized Daisy) to the campaign (the sweetness of a moment at the beach). We are thrilled to see that it resonated with consumers, making Daisy Marc Jacobs the fastest growing franchise in the top 10 US women's fragrance in 2018, and of course winning the Consumer Choice for Women's Prestige Category at the 2019 Fragrance Foundation awards," he continued.
THE ADVERTISING
FOR MORE THAN A DECADE, DAISY MARC JACOBS HAS WON HEARTS ALL OVER THE WORLD WITH A YOUTHFUL SPIRIT AND SPONTANEOUS CHARM.
THIS SPRING, DAISY LOVE MARC JACOBS TRANSPORTS DAISY'S BELOVED UNIVERSE FROM VERDANT FIELDS TO A SUN-DRENCHED BEACH WHERE LOVE AND HAPPINESS SHINE WITH A NEW RADIANT GOURMAND FRAGRANCE AND VISUALLY STUNNING ADVERTISING CAMPAIGN STARRING DAISY MUSE KAIA GERBER.
SHOT ENTIRELY ON FILM BY CELEBRATED BRITISH FASHION PHOTOGRAPHER ALASDAIR MCLELLAN, THE IMAGERY CAPTURES KAIA AND MODELS AUBE JOLICOEUR AND FAITH LYNCH AS THEY REVEL BENEATH THE GOLDEN SUN ON A DREAMY CALIFORNIA BEACH.
THE CAMPAIGN CELEBRATES THE BEAUTY OF SISTERHOOD AND FRIENDSHIP THROUGH A SERIES OF VIBRANT VIGNETTES THAT MIRROR THE HIGH-SPIRITED ESSENCE OF THE FRAGRANCE AND STAY TRUE TO DAISY'S BELIEF IN LIVING LIFE TO THE FULLEST.
THE FRAGRANCE
DAISY LOVE FILLS THE AIR WITH RADIANT FLORALS AND SPARKLING GOURMAND TWISTS THAT EVOKE THE BLISS OF WATCHING THE SUN REFLECT ON THE OCEAN UNDER BLUE SKIES.
UNDENIABLY FEMININE WITH A YOUTHFUL YET SOPHISTICATED COMPOSITION, DAISY LOVE OPENS WITH A BRIGHT POP OF CRYSTALLIZED CLOUDBERRIES THAT EXUDE A MULTI-FACETED SWEETNESS. 
AT THE HEART, THE SOLAR YET CREAMY FLORALCY OF PETALS FROM THE DAISY TREE MINGLE WITH THE WARMTH OF CASHMERE MUSKS AND DRIFTWOOD FOR A DELICATE AND MEMORABLE DRY DOWN.
TOP: CRYSTALIZED CLOUDBERRIES
HEART: DAISY TREE PETALS
BASE: CASHMERE MUSKS, DRIFTWOOD
FRAGRANCE CATEGORY: RADIANT GOURMAND
FRAGRANCE HOUSE: FIRMENICH
PERFUMER: ALBERTO MORILLAS
THE DESIGN
AN ODE TO THE LARGER-THAN-LIFE SPIRIT THAT EMBODIES DAISY LOVE, THE NEW FLACON IS A COMPLETELY ORIGINAL DESIGN THAT COMPLEMENTS HER SISTER FRAGRANCES IN A PLAYFUL YET REFINED WAY.
LUXURIOUS IN CRAFTSMANSHIP, THE INNOVATIVE CAP FEATURES A SINGLE OVERSIZED WHITE DAISY BLOOM AND A GOLD CENTER ACCENT FOR AN ELEVATED TOUCH. 
THE CLEAR GLASS BOTTLE IS ELEGANTLY FACETED WITH RAISED PETALS AT THE TOP TO GIVE THE ILLUSION OF THE SUN CASTING A FLORAL SHADOW AND IS STRUCTURED WITH A SLEEK CIRCULAR BASE THAT HIGHLIGHTS THE WARM GLOW OF DAISY LOVE'S JUICE WITHIN.
THE OUTER PACKAGING IS CRAFTED IN A GLOSSY WHITE FINISH AND FEATURES AN EXPANDED DAISY EMBLEM IN A PEARLIZED PEACH HUE THAT WRAPS THE FRONT FACE OF THE CARTON.
BOTTLE DESIGNER: MARC JACOBS IN COLLABORATION WITH COTY
PRINT & TV ADVERTISING SPECS
CREATIVE AGENCY: COTY LUXURY STUDIO
CREATIVE DIRECTOR: KATIE GRAND
ART DIRECTOR: JOSEPH SALAH
FACE OF DAISY: KAIA GERBER
ADDITIONAL TALENT: FAITH LYNCH, AUBE JOLICOEUR
PHOTOGRAPHER: ALASDAIR MCLELLAN
STYLIST: KATIE GRAND
HAIR: ANTHONY TURNER
MAKEUP ARTIST: MIRANDA JOYCE
LOCATION: RANCHOS PALOS VERDE, CALIFORNIA
DATE: OCTOBER 21 – OCTOBER 23, 2017