BEAUTY MADE IN ITALY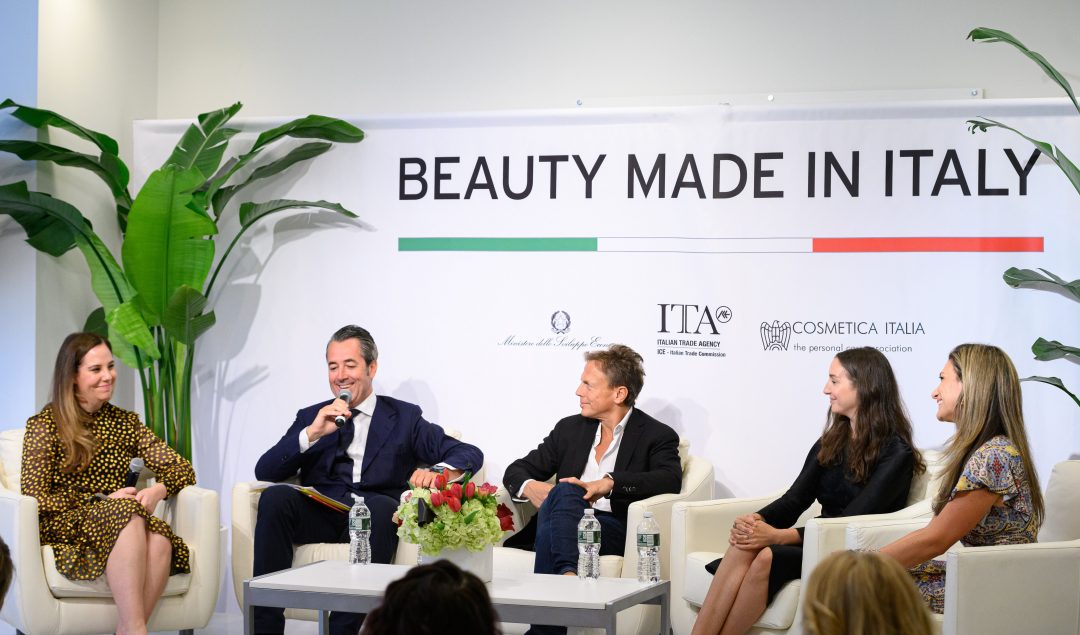 This week, Beauty Made in Italy and the Italian Beauty Council (IBC) hosted their first panel discussion of the year on Italian Beauty 360: From Concept to Consumer at the Italian Trade Commission in New York City.
Welcome remarks were given by Italian Trade Commissioner in New York, Maurizio Forte. The discussion was moderated by Liz Ritter, Executive Editor from NewBeauty and featured panelists Fabio Berchi, CEO of SiFarma & Cosmetica Italia Board Member in charge of Internationalization, Ian Ginsberg, President of CO Bigelow Apothecaries & Bigelow Trading Ltd., Mary Ann Guarino, US Vice President of Ancorotti Cosmetics, and Alyson Lord, Senior Partnerships Manager of Ipsy. Guests included beauty industry executives, retailers, brands and press.
The panel discussed the Italian beauty market, how products are designed and developed, how they're imported and distributed, how they're discovered and sampled and ultimately purchased by American consumers. In addition, the event covered beauty's association with Korea and explored Italy's break out story and opportunity for I-Beauty (Italian beauty).
IBC is part of the 'Beauty Made in Italy' program launched by the Italian Trade Commission and Cosmetica Italia to promote the awareness, availability and excellence of Italian beauty brands and products to the US market and consumer. The Italian Beauty Council was created to support this program and help guide the conversation on I-Beauty. This advisory group of Italian professionals and specialists from the beauty industry offer valuable advice, knowledge and personal experience to the 'Beauty Made in Italy' member companies.
'Beauty Made In Italy' will host two additional panel discussions this year on September 18 and November 1, 2019. The September panel will take place during 'Beauty Made in Italy's' US Beauty Summit and will discuss 'Italian Brands & the US Market: Strategies for Success.' To celebrate the September IBC event during the Summit, an exclusive Leonardo da Vinci traveling exhibition, Leonardo: Genius and Beauty, will be on display at the Italian Trade Commission outlining his cosmetic inventions as well as early recipes for beauty products. IBC will close out the year with their November panel that will explore 'Italian Fragrance & the US Market: The Opportunity for Growth.'
Launched in 2017, Beauty Made in Italy is a joint program of the Italian Trade Commission and Cosmetica Italia, that aims to promote the excellence, awareness, and availability of Italian beauty products and brands to the US market and consumer. This goal is realized by educating participating companies on the particularities of the US market, by hosting promotional events and initiatives, and by creating a shared, cohesive brand and message of Italian beauty to the American market. Positioned as the singular entry point for all things Italian beauty (I-Beauty), the program is divided into two different tracks for companies based on their experience in the US market: Business Incubator to educate early-stage companies who do not yet have US distribution and Brand Accelerator to guide larger, high-potential brands with existing US distribution.
High quality ingredients, innovative formulations and luxurious products come together to define I-Beauty. The ultimate beauty regimen, I-Beauty empowers women and men to embrace their most superior form of self-expression with its overt, but elegant sense of sexiness. 'Beauty Made in Italy' is excited to share all the facets of I-Beauty and spread the supreme distinction of Italian culture through the beauty industry. A selection of the Accelerator Brands in the program includes: Acca Kappa, Carthusia, Herbatint, Jusbox, Marvis, Perlier, Proraso, and Skin&Co Roma.