COSMOTALKS Beauty Influencers: How Consumers Discover New Brands Today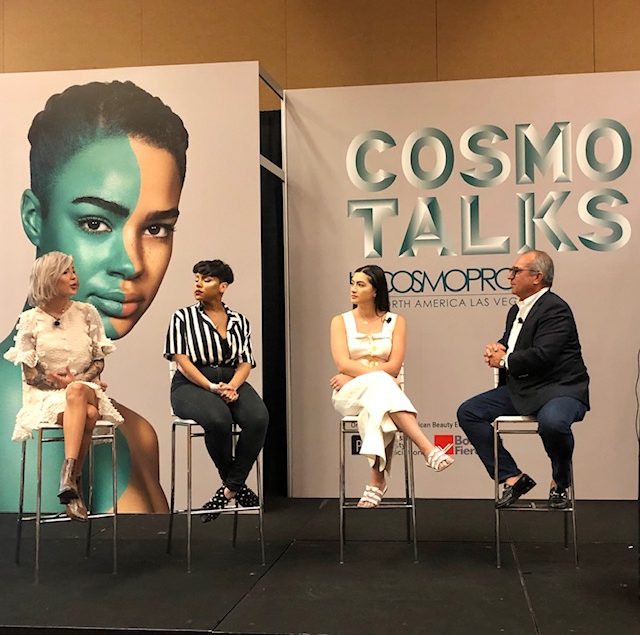 At Cosmoprof Vegas 2019, The Beauty Influencers' George Ledes moderated a Cosmotalks panel of beauty influencers including Naty Ashba, Lauren Elyse and Andreea Cristina on Beauty Influencers: How Consumers Discover New Brands Today.
The power of social networking today is such that the number of users worldwide is expected to reach some 3.02 billion by 2021. An estimated 750 million of these users in 2022 are expected to be from China alone and approximately a third of a billion from India. The region with the highest penetration rate of social networks is North America, where around 70 percent of the population has at least one social account.
Clearly, social media –and the influencers driving the various social platforms, are one of the important ways consumers discover new brands today.
As of May 2019, MAC Cosmetics was ranked first as the most popular beauty brand on Instagram with 21.98 million followers, and Anastasia Beverly Hills ranked second with 19.36 million. Instagram is certainly one of the most popular social network for brands to connect with digital audiences, and beauty brands have been making inroads on the platform due to its visual focus and strong presence of social media influencers.
While Mexican beauty blogger Yuya was the most subscribed beauty content creator on YouTube with 23.59 million subscribers to her channel in April 2019. Fashion and beauty-related content such as makeup and skincare tutorials, cosmetics hauls and product recommendations are among the most popular content on YouTube.
So, what do brands need to know about working with influencers to help engage with consumers?
Ledes stated, "Moderating the panel with three extremely bright, talented and well informed influencers was a real eye opener. I was thoroughly impressed by their knowledge of product and passion for doing good. Some of the things that stood out for me were their desire to be independent and completely in charge of what they post. It also said to me there was a great need for communication with the brands they are working with. They also felt very strongly about being a voice for good. They all seemed to want to inspire as they empowered their followers, and worried about the excess of product they receive as an environmental issue which needs to be addressed in our industry. In that vein, they also disavowed random gifts that had little or no relevance to what they were doing. All in all, I think we need a system that  encourages a frank and regular dialogue. I also think a lot of waste can be avoided by the brands if they would take the time to listen to the influencers the work with. They main things being support and understanding. This will in turn  allow for a more constant and focused message."
With 1.1 million followers on Instagram, Andreea Cristina @andreeacristina is a Natural Skincare, Makeup and Body positive advocate. Originally from Romania, she transitioned from finance to cooking and then to beauty, and remembers Nivea as her first beauty favorite product. She urges brands not to use the same talent over and over; to encourage creators' creativity; conduct more cross promotions and to assist creators by reporting the content they create for a brand.  She also asks brand to be more conscientious about waste citing a huge box she recently received with lots of packaging materials for just two small eyebrow pencils!
With 288K followers on Instagram, Lauren Elyse @laur_elyse is a Luxe Makeup Artist (MUA) and Hair Stylist whose focus is on individuality, self expression and creativity. She referenced MAC as one of her favorite brands to work with and we discussed the relevance of the drag community in makeup today and how RuPaul was a real pioneer in this area and the importance of marking the 25th Anniversary of the Viva Glam campaign and foundation which has raised more than $500,000,000 for the MAC VIVA GLAM Fund.  Every cent of the selling price of VIVA GLAM Lipstick is donated to the M·A·C VIVA GLAM Fund to support the health and rights of people of All Ages, All Races and All Genders. She also stressed the importance of allowing creators to create, saying, "otherwise, just use a model and hand them a script!" And that PR should be more aware of what products they are sending and to whom to avoid waste.
And, with 1 million followers on Instagram, Naty Ashba @natyashba is a beauty blogger of Italian/Spanish origin now living in Las Vegas who cited her experience as an immigrant as being one the most formative in her life. Her passion for beauty, fitness and wellness came from her mother but it was her interest in body positivity, and understanding cultural differences that lead her to blogging when she could not a get a regular job as an immigrant. She stressed the importance of authenticity over numbers when looking at influencers and again encouraged brands to allow creators to "do what they do best, create!" And she encourages creators to use their voices and platforms to create positive change. She also referenced the responsibility of brands to develop sustainable packaging and for influencers to demand it.
Follow George Ledes @thisweekwithgeorgeledes
For more information on Cosmotalks, visit www.cosmoprofnorthamerica.com