LANCÔME ADVANCED GÉNIFIQUE NEW FORMULA WITH MICROBIOME SCIENCE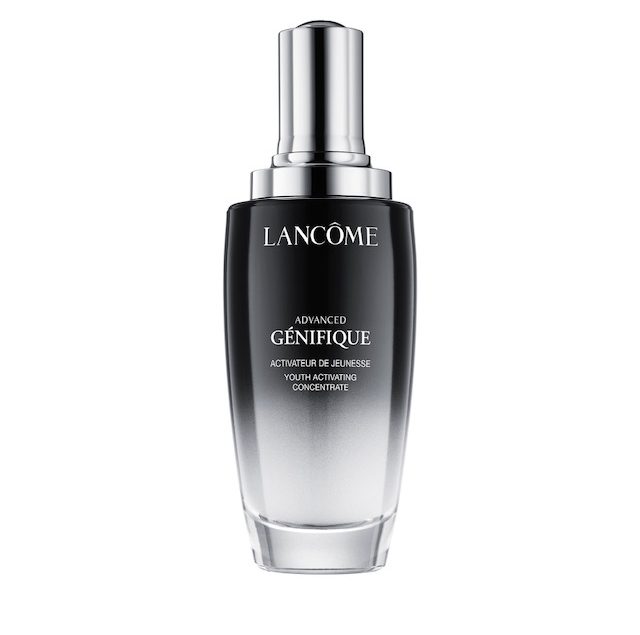 Since its launch in 2009, Lancôme Advanced Génifique has led the way in cutting-edge innovation and pioneering science, to deliver skincare like no other. Across the world, millions of women have turned to Advanced Génifique serum for its breakthrough formulation – a product born of more than 197 formulation trials, that has been tested on 4,000 women1. Renowned for its efficacy and ability to activate 10 signs of youth, it has received over 170 awards, 10,000 5-star reviews and 97% of women who use it would recommend it to others. It is no wonder then, that 25 million bottles have been sold worldwide – and that a serum is purchased every six seconds.
A decade later, in its 10th anniversary year, the remarkable story continues with a new vision of skin biology – and a new paradigm for skin health and appearance. As the culmination of 15 years' worth of research into the skin microbiome, this vision is new Advanced Génifique serum. It raises the bar for the global skincare industry, acting on the microbiome and delivering outstanding proven results for younger-looking skin.
Just as the original serum has stood the test of time to become a true beauty icon of the past decade, so too the new and updated version promises to become timeless – beloved by women everywhere around the world.
Discover your skin's inner strength with new Advanced Génifique serum. Enriched with 7 pre- and probiotic fractions, it acts on the microbiome. Now, skin recovers faster, feels stronger and looks visibly younger.
We know that microbiome science is a promising new field of research, that has the potential to offer endless possibilities in terms of our overall health and skincare. That's why we are very proud to launch new Advanced Génifique, which harnesses microbiome science and the research conducted by our own teams, in collaboration with the world's leading scientific experts."
                           Françoise Lehmann, Global Brand President Lancôme International
THE MICROBIOME
A NEW BIOLOGICAL PARADIGM
The microbiome is a captivating new field of research; we are only at the beginning of our journey and understanding of its full potential to unlock the secret of health and beauty.
Our vision is that this new understanding about the skin microbiome will disrupt the future of cosmetic products. Over 15 years ago, our Research began groundbreaking studies, exploring the link between the microbiome and the skin's health and appearance.
A team of 50 experts – from physicists and clinicians to dermatologists and computer scientists, based in different global centers – has been involved in this research. Together with other leading experts, we have built more than 23 scientific partnerships around the world.
During our 57 clinical trials, 10,000 skin microbiome samples were analyzed and over 500 million raw data generated. Such is the power of our research into the skin microbiome that it has formed the basis of 18 scientific publications – and stands apart as an exceptional breakthrough for the global skincare industry.
Do you know your skin microbiome?
If we take a closer look at the body, we can see that we are made of 50% human cells and 50% bacterial cells. Our microbiome is a symbiotic part of us.
As a precious partner for our skin, our first microbiome is a gift we receive from our mother. It is our mother who gives us the essential building blocks for microbiome development, which begins at birth and evolves throughout our lives.
Scientists have discovered that each of us have a unique skin microbiome. Just like a signature, it is as individual as our DNA or our fingerprint. It is a beneficial living ecosystem of microorganisms and an integral part of the skin surface. Its balance is essential to skin's health and appearance.
By the time we reach adulthood, our skin microbiome contains up to 1,000 species of bacteria, with as many as 2 million bacterium existing on every 2cm2 of skin. The most prevalent of all are Cutibacterium, Staphylococcus and Corynebacterium.
When our microbiome is balanced, our skin is able to defend and recover. The 3 key roles of microbiome are:
Protect: A balanced microbiome provides antimicrobial defense against pathogens and liberates antioxidant proteins.
Regulate: It modulates excessive inflammation.
Repair: Then enhances epidermis cohesion and strengthens the skin barrier to build resilience.
So, the microbiome is a powerful means of supporting the skin in its ability to defend itself, and recover.
Thanks to a collaboration with Pr. Hattori, from Waseda University, Sōdai, Japan, our Research has been able make an unprecedented discovery, revealing that the skin microbiome changes as we age.
By comparing the microbiome of young and older subjects, we have identified 38 differentiated bacteria species, demonstrating that both groups have a different microbiome signature (Cutibacterium is for example less abundant in the older group). Moreover, the microbiome diversity has also been shown to increase as we age.
Vital but invisible, our microbiome is not invincible
Our unique microbiome can be compromised by our lifestyle and surrounding environmental conditions. UV rays, pollution, diet, medications and hormones are just some of the factors that can undermine the ecosystem – and could affect the essential partnership between our microbiome and skin.
Pollution is considered to be one of the primary causes of skin problems, leading to premature aging, dryness, wrinkles and dark spots – as well as an uneven tone and texture.
Together with Pr. Lee, from the University of Hong Kong, our Research has proven that when living in a polluted environment, the skin microbiome is modified. Its composition evolves, the presence of Cutibacterium diminishes and its diversity increases.
Delving deeper into this discovery, our scientists have found that women living in a polluted environment and display premature signs of aging (such as wrinkles and pigmented spots) present a skin microbiome signature closer to that of an older woman.
So, like a secret power held within our skin, maintaining a balanced microbiome is a key factor for a healthy-looking and beautiful skin. Empowered by this discovery, Lancôme set about creating the ultimate formula to act on the skin microbiome.
What if the microbiome was the new answer to healthy and beautiful skin?
NEW ADVANCED GÉNIFIQUE
ACTIVATE YOUR SKIN POTENTIAL
To continue and strengthen Lancôme's proud tradition as a scientific pioneer, new Advanced Génifique has been enriched with a unique blend of 7 pre- and probiotic fractions, each offering distinct benefits for the skin and its microbiome:
Prebiotics: Provide a vital source of nutrients for beneficial bacteria to grow.
New Advanced Génifique contains 3 plant or biotech-based prebiotics: Mannose, α-Glucooligosaccharides and β-Fructooligosaccharides.
Probiotics: Probiotics are live microorganisms providing overall health benefits to their host.
At Lancôme, we use probiotic fractions derived from Lactobacillus casei and Lactobacillus acidophilis, in addition to Bifidobacteria (Bifidobacterium longum) and Yeast (Saccharomyces cerevisae). They are obtained through biotech and purifying processes that make them especially suited and compatible for the skin:
Fermentation: Living probiotics are grown at a rapid rate of thousands of cells per day.
Fragmentation: Ultra-sound and enzymatic hydrolysis are used to release the essential elements from the probiotics.
Purification: By heating and cooling elements in a process known as tyndallization, or by filtration or pasteurization, the probiotic fractions are extracted and purified.
Our unique blend of 7 pre- and probiotic fractions has been selected to deliver essential resources such as sugars, amino acids and lipids, to the skin and its microbiome, in order to help the skin better defend and recover.
Contained within Lancôme's iconic packaging, the patented, self-loading dropper releases 30 million pre- and probiotic fractions at each application.
An addictive weightless texture within iconic packaging
Refreshing, lightweight – a soft, weightless veil for the skin; new Advanced Génifique serum is easily and rapidly absorbed by the skin. Fusing instantly with the skin, it penetrates and begins to deliver results, with immediate effect.
The patented, self-loading dropper delivers just the right dose for the face and neck to reveal skin's true radiance and visibly reduce signs of aging.
FASTER ACTIVE RECOVERY
STRONGER, YOUNGER-LOOKING SKIN
As a result of 43 studies, Advanced Génifique has been tested on 4 continents by 4,000 women. It suits all skin types, even sensitive skin.
Clinically proven to produce outstanding results on all major signs of aging, its new formula acts on the skin microbiome and delivers faster active recovery. Skin is stronger and looks visibly younger.
New Advanced Génifique acts on the skin microbiome
When skin is aggressed, its microbiome becomes unbalanced.
In order to study the effects of Advanced Génifique on the skin microbiome, our researchers developed a special, standardized protocol in which the skin and its microbiome are submitted to a reference aggressor.
Collections of skin microbiome were made at different end-points before and after application of Advanced Génifique, and were analysed using highly sophisticated techniques such as powerful bioanalytical systems.
In order to explore the microbiome's recovery potential, two parameters were monitored: bacterial quantity and bacterial diversity.
The quantity of bacteria decreases after an aggression, indicating disruption of the microbiome. On bare skin, the recovery of bacterial quantity is very poor.
However, thanks to new Advanced Génifique, total bacterial quantity recovers better than bare skin, from the first application.
Along with the bacterial quantity, the aggression also disturbs the diversity of the microbiome and its composition. We have also proven a higher recovery of the bacterial diversity from the first application of new Advanced Génifique.
New Advanced Génifique delivers faster active recovery and stronger skin
Using a standardized protocol involving a mechanical aggression with stripping, we have demonstrated that new Advanced Génifique improves skin barrier function and natural skin recovery by 77%.
Skin appears stronger: 82%
New Advanced Génifique acts on major signs of aging, to deliver younger-looking skin
After only 7 days, skin is youthfully radiant.
Major signs of aging are visibly improved after 1 bottle.
Radiance + 52%

Fine lines -42%

Wrinkles -46%

Evenness +42%

Smoothness +43%

Elasticity +50%

Firmness +48%
For 85% of women, skin feels rejuvenated.
NEW ADVANCED GÉNIFIQUE
Lancôme skincare has an important role in bringing the most advanced, transformational science to women around the world.
Advanced Génifique has always been about the science of the skin.
It has taken 15 years researching, partnering, testing, and validating the link between the microbiome and skin's health and appearance. Today, new Advanced Génifique has a proven efficacy on the skin microbiome.
The skin recovers faster, is stronger and looks visibly younger.