The Ignacio Figueras Collection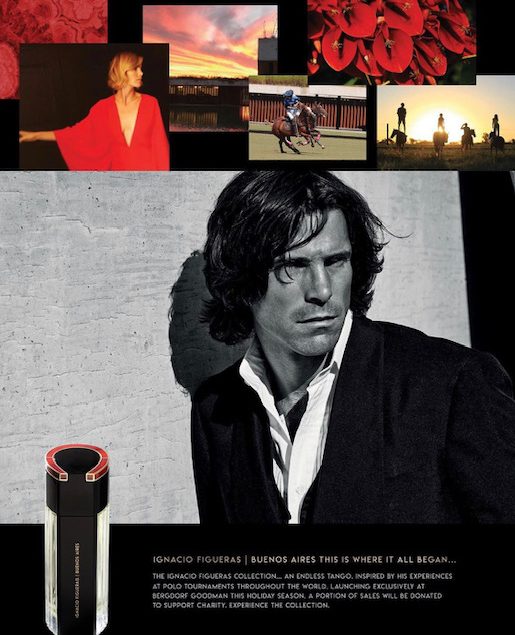 World-Renowned Polo Player Nacho Figueras Launches Fragrance Line "The Ignacio Figueras Collection" at Bergdorf Goodman This Holiday Season
The Six New Scents are Inspired by the Emotions and Colors of Nacho's International Polo Tournament Destinations, With a Portion of Sales Donated to Charity Organization Sentebale
This holiday season, renowned Argentinian polo player, advocate and charity ambassador, Nacho Figueras, launches his first luxury fragrance line, The Ignacio Figueras Collection, at Bergdorf Goodman. The collection, which will expand to stores internationally in 2020, is influenced by the lifestyle, emotions and colors of six international polo tournament destinations — Buenos Aires, Palm Beach, Aspen, Windsor, Jaipur and Dubai.  The luxury fragrance line was developed in collaboration with esteemed and talented perfumers from International Flavors & Fragrances, including work from Master Perfumer Carlos Benaim, whose creations include fragrances for Frederic Malle, Calvin Klein, Givenchy and Prada.
Figueras crafted the collection so each scent has notes and design cues that portray the stories connected to these grand locations, such as the southern nights in Palm Beach, fiery evenings in Aspen, and the stillness of dawn in Jaipur. With this fragrance line, Figueras encompasses these one-of-a-kind, lush landscapes and shares his passion for travel, polo and his work with the world.
Each bottle in The Ignacio Figueras Collection sports an elegant and modern design. Mirroring the appearance of a gem, each location is represented by a specific color, creating a stark contrast between the sleek black, the colored gem tops and the champagne coloring of the fragrance inside.
The Ignacio Figueras Collection supports the charity Sentebale, of which Figueras is an ambassador, with a portion of the sales donated to the organization. Sentebale supports the mental health and wellbeing of children and young people affected by HIV in Lesotho and Botswana.
"When we began to work on this collection, I knew we wanted this to be a culmination of all my experiences, bringing the feelings and scents from every kind of paradise to people across the globe, so they can indulge in the same sense of luxury wherever they are," said Figueras. "The locations that inspired this collection evoke sentimental memories of time spent there with my wife Delfina and our children. I'm looking forward to sharing these fragrances with the world, which allow me to bring my love for my family, polo, fashion and design together with my dedication to philanthropy."
Born in Argentina, Figueras is one of the top 100 polo players in the world and is captain of the US BlackWatch Polo Team. He is also a longtime model, and is considered one of the most photographed men in the world. Figueras resides in Argentina with his wife Delfina and four children.
The Ignacio Figueras Collection is available exclusively at Bergdorf Goodman.
Sentebale is a charity co-founded by The Duke of Sussex and Prince Seeiso in 2006. Sentebale began working in Lesotho, southern Africa, to rewrite the future for children and young people affected by HIV and extreme poverty, by providing vital access to care, education and, critically, psychosocial support.
Nacho Figueras became Sentebale's first ambassador in 2013 and over the years has dedicated his time and energy to raising funds and awareness of the issues affecting young people in Southern Africa.
For over a decade, the charity has been supporting thousands of children and young people affected by HIV in Lesotho, Botswana by delivering youth-appropriate HIV prevention solutions and testing services, and critical intensive weeklong residential camps and monthly Saturday clubs for those coming to terms with living with HIV.
Evidence shows adolescents have been left behind by HIV responses, particularly girls and young women. Misconceptions and stigmatisation hamper the prevention of HIV, access to treatment, disclosure, and hinder social support. Through their inspiring work, Sentebale's young advocates are normalising the conversation around HIV and help Sentebale identify and address the barriers they face in knowing and managing their HIV status.
Sign up to Sentebale's newsletter or donate via the website to support Sentebale's advocacy and support services. £25 could help train a young advocate to drive positive change and empower their generation to end HIV/AIDS.
Find out more at www.sentebale.org