2nd Annual Palm Beach Race of Hope to Defeat Depression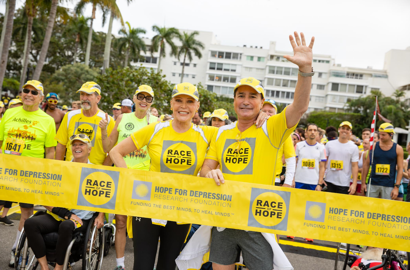 More than 600 men, women and children raised over $400,000 on Saturday, February 15 at the second annual Palm Beach Race of Hope to Defeat Depression.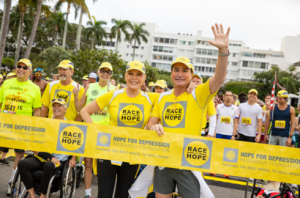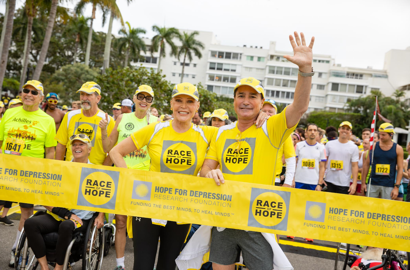 The 5K run/walk began at the Royal Poinciana Plaza shopping gallery, followed a trail by the North Lake and then returned through scenic streets back to the Plaza. The USA Track and Field-sanctioned race was led by Race Co-Grand Marshals, HDRF Founder Audrey Gruss, and Board member Scott Snyder.
Speaking from the starting gate, HDRF Founder and Chair Audrey Gruss said, "Depression is the No. 1 reason in the world for disability and current medications available only help 50 percent of people. We are so moved by the support from Palm Beach community."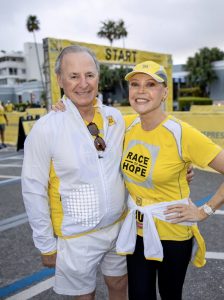 Gruss continued: "One of the most important things about the race is raising awareness, diminishing the stigma and getting people to talk about it more openly, ultimately saving lives. While research for this subject takes a while, here people are doing something active for the cause."
Hope was in abundant supply as everybody wore caps and gear in HDRF's signature sunshine yellow. First out of the gate was the wheelchair division cheered on by the crowd.   Then, the competitive runners burst across the starting line at the sound of a horn, followed by first-time runners, walkers, corporate teams, families, children, and plenty of canine friends.   After the race, participants were ready to hit the festival tents offering bagels and coffee, gelato, fruit, and sports massages.
In the closing ceremony, Audrey Gruss and Scott Snyder presented medals for best times in various age categories. Dixon McDonald won the best time in the Adult Male category, and Marie Sippus won the best time in the Adult Female category.  Paul Totman, 66, was the winner for the Wheelchair Division.  Ben Allina, age 15, won for best youth male (13-15), and Meredith Woods, age 14, won for best youth female (13-15). Gruss and Scott Snyder then presented Kimberly Bitterman and Kristina McCooey with an award to Sisters Sledge as the Top Fundraising Team, raising over $25,000; and presented Linda Olsson an award for Top Individual Fundraiser for raising $1,767. The award for Largest Fundraising Team went to Livingston Builders, with 26 runners, and was accepted by Lila Remez, daughter of Livingston Builders owners Teresa and James Remez.
All race participants received a finisher medal, finisher hat, short sleeve tech shirt and lightweight jacket. The first, second, and third place winners received cash prizes of up to $500. Successful fundraisers also received prizes for raising upwards of $250 and $1,000.
This year's Race of Hope once again was the grand finale of the Week of Hope, a town-wide campaign in Palm Beach to raise mental health awareness.  The Week of Hope started with the lighting of the Royal Park Bridge in sunshine yellow on February 4.   On Wednesday, February 5, more than 50 stores at The Royal Poinciana Plaza such as LoveShackFancy and Paul Labrecque Salon & Spa "turned yellow" by placing two-foot-wide yellow balloons (environmentally safe and re-usable) by their front door in a statement of hope and commitment to raising mental health awareness. Additionally, on Wednesday, February 12, Worth Avenue's Via Bice hosted a shop and sip where guests enjoyed music and refreshments while all stores in the Via donated a percentage of the day's sales back to Hope for Depression Research Foundation.
The Race of Hope was supported by Palm Beach residents Lynne Wheat, Deborah & Philippe Dauman, Diana & E. Llwyd Ecclestone, Maria & Kenneth Fishel, Myrna Haft, Mrs. Nataly Langner, Susan Lloyd, Renée & Carlos Morrison, James R. Borynack & Adolfo Zaralegui, Anna de Peyster, Jennifer & David Fischer, Laura & James Freeman, Mrs. Todd Goodwin, Ellen & Ian Graham, Lawrence Herbert, Ann & Charles B. Johnson, Eleanora Kennedy, Iris & William Kontes, Judy & Leonard Lauder, Melanie & Roger Lawson, Ambassador & Mrs. Howard Leach, Chris Leavitt, Mr. Sam Lehrman & Ms. Lisa Kenna, Muffy & Donald Miller, The Honorable Mary Ourisman, Jeff Pfeifle & David Granville, Amy & John Phelan, Pauline Pitt, Thomas C. Quick, Felicia Taylor, Debbie & Jack Thomas, Bruce Bierman & William Secord, Kimberly Gaines Bitterman, Geoffrey N. Bradfield, Scott Diament/CEO Palm Beach Show Group, Lisa Dobbs, Tina Fanjul, Alexander Federbush, Inez Fogel Heery/Betteridge, Susie & Vere Gaynor, Trish Figge Glowacki, Mrs. Roni Goldsmith, Darcy & George Gould, Jamee & Peter Gregory, J. Ira & Nicki Harris, Harriet & Ashley Hoffman, Herb & Eva Jacobi, Darlene & Gerald Jordan, Jayne T. Keith, Sir Christopher & Lady Louise Lewinton, Kristina Grimm McCooey, William A. Meyer, Peggy Moore, Lucia Nielsen Musso, Mario Nievera, Fernanda Niven, David G. Ober, Linda Olsson, Sallie B. Phillips, Ande Phipps, Robin Pickett, Daniel E. Ponton, Marzia Precoda, Adi Rappoport/Gunster Law Firm, Joanna Roland, Frances G. Scaife, Barbara & Randall Smith, Mary & Daniel Stanton, Betsy & Wally Turner, Lis Waterman, and Clelia & Thomas Zacharias.
The Week of Hope and Race of Hope in Palm Beach kick off Hope for Depression Research Foundation's 2020 activities. HDRF will host its annual Week of Hope in Southampton from July 24 through August 2, 2020, with the Fifth Annual Southampton Race of Hope on Sunday, August 2, 2020.
Audrey Gruss founded HDRF in April 2006 in memory of her mother Hope, who struggled with clinical depression. Today, HDRF is the leading nonprofit organization focused solely on depression research and public education. The World Health Organization has declared depression as the leading cause of disability worldwide, but despite its prevalence, depression is still misunderstood, underfunded and under-researched. The mission of the HDRF is to fund innovative neuroscience research into the origins, medical diagnosis, new treatments, and prevention of depression and its related mood disorders – bipolar disorder, postpartum depression, post-traumatic stress disorder, anxiety disorder, and suicide.
To date, HDRF has provided more than $30-million through over 125 grants for breakthrough depression research that promises to transform the way depression is viewed, diagnosed, treated and prevented.
What is HDRF, and a quick overview of their work/achievements in the past decade:
HDRF is the leading non-profit dedicated solely to advanced depression research.
Audrey Gruss founded the organization in 2006 in memory of her mother, Hope, who struggled with depression.
The mission of HDRF is to fund cutting-edge neuroscience research into the origins, diagnosis, treatment and prevention of depression and other related mood disorders.
In 2010, HDRF launched its Depression Task Force – a collaboration of nine leading scientists, at the frontiers of brain science, from different research institutions across the U.S. and Canada. To accelerate breakthrough research, they share ongoing results, in real-time, at the HDRF Data Center.
HDRF has invested over 36 million dollars in advanced depression research to date.
About Depression:
In the United States, depression affects over 20-million adults each year – that is one in 10 adults.
Depression is the leading cause of suicide. In the United States, one person dies by suicide every 11 minutes – over 47,000 people per year.
Depression is the number one cause of disability worldwide.
Depression costs society $210-billion annually – 60% of which represents reduced efficiency at work and costs related to suicide.
The Crisis in Research and Treatment: 
Over 50% of those diagnosed with depression do not respond to existing treatments.
In 35 years since the introduction of Prozac and other SSRI anti-depressants, there has been almost no change in the treatment of depression, just tinkering with existing approaches.
Although depression is one of the most serious and prevalent conditions in the US, it is ranked 77th (out of 250) in the amount of federal funding it receives.
Most of the major pharmaceutical companies have discontinued brain research
What Makes HDRF Different:
The Depression Task Force represents the most innovative approach to neuroscience research today
The Task Force has created an unprecedented research plan with each member executing a piece of the plan in their own laboratories.  By avoiding well-worn paths of research, the team is shaking up the field for answers that will finally lead to new treatments for depression.
They share results in real-time at a centralized data bank. This allows them to leverage data to accelerate research. This is unheard of in the entire scientific research field which is normally competitive and not collaborative.