Fragrance Foundation Collaborates with Artist Rebecca Moses for Fragrance Day March 21st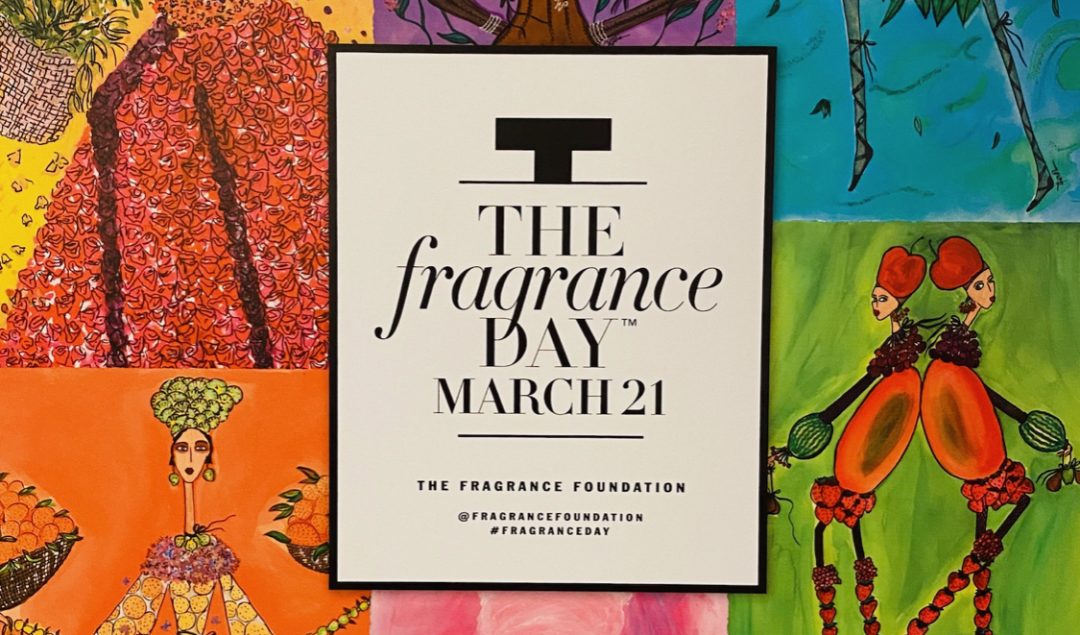 To celebrate International Fragrance Day, March 21, 2020, The Fragrance Foundation (TFF) commissioned world-renowned artist and designer Rebecca Moses to create original artwork spotlighting 7 scent categories encompassing notes and ingredients: Floral, Fresh, Citrus, Fruity, Sweet, Woody, and Spicy.
"Fragrance is considered an invisible art form. Rebecca's sophisticated yet whimsical art and digital creations bring fragrance notes and ingredients to life," said Linda G. Levy, President of The Fragrance Foundation. "Through Rebecca's extraordinary visual interpretation of scent categories, the ultimate goal is to engage consumers and raise awareness and sales for fragrances worldwide."
The Fragrance Day campaign will appear in retail stores, online, as well as in TFF's social media platforms with the additional support of an Influencer campaign. All TFF members are uniting to celebrate Fragrance Day with consumers across the USA and beyond including retailers (Bergdorf Goodman, Macy's, Bloomingdales, Saks, Victoria's Secret, Ulta, and Sephora), brands (Tom Ford, Ralph Lauren, Giorgio Armani, Diptyque, Byredo, Atelier Cologne, Carolina Herrera, Kilian, Marc Jacobs, Creed, Frederic Malle, Hermes, and more) as well as fragrance houses and perfumers.
TFF in association with Madison Avenue BID (Business Improvement District) in New York City will also debut an inaugural Fragrance Week (March 19-28). Participating fragrance brands and retailers will offer an array of sensory and olfactory experiences to inspire consumers to discover the artistry and passion of fragrance.  Rebecca Moses' artwork will appear on Madison Avenue banners from March 2 to March 30; and in TheFragrance Day Pop-Up Store located at 824 Madison Avenue (on the South West corner of 69th street) – open from March 19 to March 22.
Fragrance Week VIP Night receptions will be held at participating stores on Thursday, March 19 with opportunities to meet the world-renowned perfumers and ambassadors, and to discover the stories behind new and signature scents. Participating stores will also curate exclusive events during Fragrance Week including Saturday, March 21, the official Fragrance Day.
Fifteen percent of fragrance sales during the Fragrance Week Debut Night, March 19th, and all-day Fragrance Day March 21, will be donated to NEXT For AUTISM, the official Give Back charity partner for The Fragrance Foundation. The funds will support programs and benefit people on the autism spectrum and their families.
About Rebecca Moses
The delirious, ingenious drawings of Rebecca Moses remind us of fashion's rapturous possibilities. Her enchanted girls, exquisitely and improbably adorned, are reminiscent of Diana Vreeland's Harper's Bazaar column "Why Don't You?" in which the divine Mrs. V. asked her readers, "Why don't you … use a gigantic shell instead of a bucket to ice your champagne? …" This same spirit of over-the-top whimsy—the great Why Not? —infuses every line of Rebecca's fashionable universe. Taking full advantage of her medium, she offers up a world of fantastical, fashionable possibilities.
Rebecca is ever-transforming. The fashionable mind, artful vision and a deft hand, so evident in her artwork, has made her a fashion powerhouse both in the U.S. and Europe. As one of the first American fashion designers to enter the The European market in the 1990s, she gained renown for modernizing Italian ready-to-wear house Genny, revolutionizing cashmere with her eponymous designer label and turning old-world stationer Pineiderinto a full lifestyle brand. Some of her most prolific work, however, lies in the field of fashion illustration where elite publishers and global brands like Italian Vogue, Vogue Japan, Marie Claire Italia, MAC Cosmetics, Fratelli Rossetti, Panerai, Kartell, Alcantara, Vera Wang and others seek out her stylish eye and wit.  Her first book, "A Life of Style", published by Monacelli  Press is a showcase of her creative vision and highlights her importance as a style force and inspired Ralph Pucci, who only works with the most influential innovators of this time,  to commission her to do a full line of mannequins based on her girls.  Moses has had several exhibitions of her art in New York, Miami, Los Angeles, Milan, and Tokyo. She is represented by Ralph Pucci International in New York and Nilufar in Milan.